Bollywood came together to ring in Sridevi's 50th birthday in style at Amar Singh's bash for the actress. Although a lot of the A-listers were missing on the red carpet, the event saw its fair share of rare faces. More importantly the red carpet saw its fair share of good and bad outfits.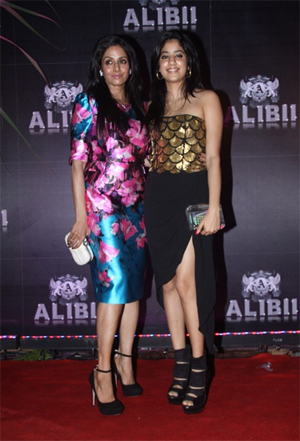 Sridevi & Jhanvi Kapoor

Ditching the sarees the birthday girl went for a Prabal Gurung midi dress. Definitely a good call seeing as the event was hardly an occasion for her usual Sabyasachis and Manish Malhotras. The outfit worked great as did the hair but definitely not feeling the makeup.
The younger Kapoor, who has been stealing lime light in fashion columns, definitely fared much better than mum. Not only was it a great choice of outfit but brilliant minimalistic styling.
Verdict:
Sridevi: Hot (minus the makeup)
Jhanvi: Hot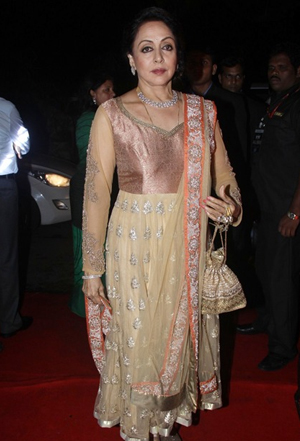 Hema Malini
Dream Girl Hema Malini was golden on the night, literally and figuratively. Minus the horrible choice in shoes she pulled off the anarkali very effortlessly. Great to see her giving the heavy silk sarees a break.
Verdict: Hot!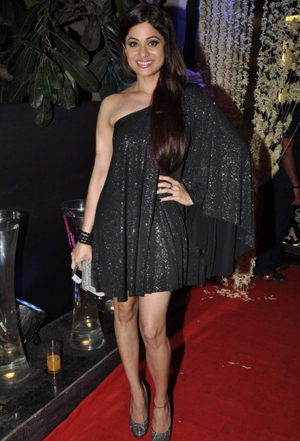 Shamita Shetty
One to not always give us a winning look, Shamita Shetty pleasantly surprised on the night. The one shoulder sequinned dress was the right amount of fun and formal for the event. Love the styling also.
Verdict: Hot!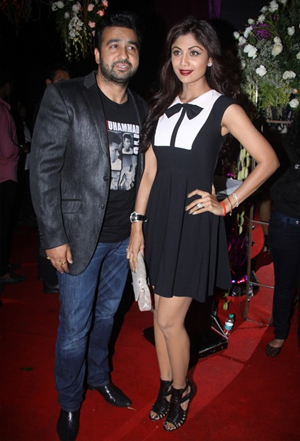 Shilpa Shetty
Older sister Shilpa wasn't far behind with her own winning look for the night in a Ted Baker. How fast she returned to her killer figure post pregnancy continues to amaze all and looks like she clearly won't be hiding it. Loved the styling of the Ted Baker minus the clutch. Of the many sporting dark lips these days, Mrs Shetty-Kundra actually gets it right.
Verdict: Hot!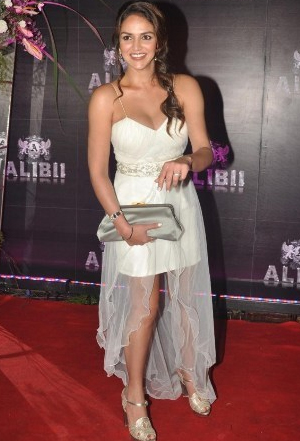 Esha Deol
After a string of 'hot' appearance we land on one we just wish we'd not seen! Esha's first post-marriage appearance really is not what anyone would want circulating in the newspaper pages or on websites. Lets not even begin pulling this one to pieces because from the looks of it someone realised the dress was  a no-goner and already attempted to shred it to pieces, sadly Esha picked it up before the person could complete the task.
Verdict: Not hot!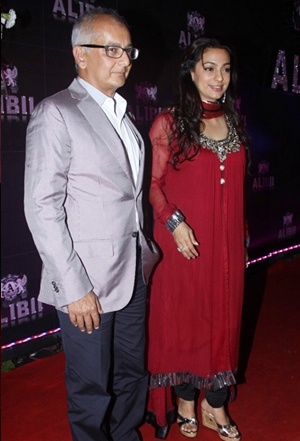 Juhi Chawla
So its great Juhi has moved away from the materialistic filmi world, claims to adopt a zen attitude to life, does a lot of very influential social work and makes equally influential films BUT that's not to say she can't look great doing so, right?! These dated and boring anarkalis and 'that' hair needs to go, pronto!
Verdict: Not hot!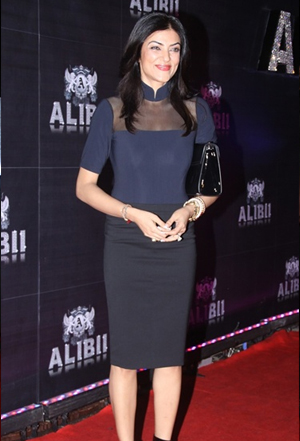 Sushmita Sen
Never one to stick to the norms Sushmita went for an overly formal look with this black dress. Almost looked like she was going to strike some business deal instead of party it up with the Kapoors. The hair and makeup didn't help her case anymore. What a waste of a rare appearance from a stunning lady!
Verdict: Not hot!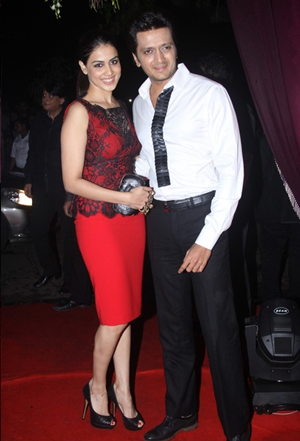 Riteish & Genelia Deshmukh (Gauri Nainika)
Now that's what you call a good looking couple! The Deshmukhs were classy and uber fashionable on the night with even Riteish experimenting with that shirt. Genelia looked effortlessly stunning in the Gauri & Nainika dress. People tend to always go for the designer duo's gowns so its refreshing seeing one of their lesser OTT pieces being picked up for a red carpet.
Verdict: VERY HOT!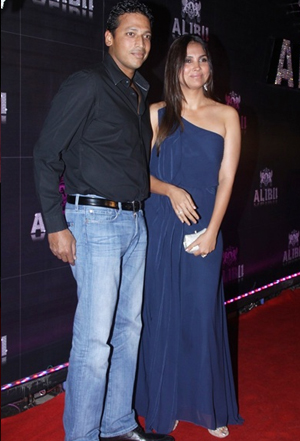 Lara Dutta
It wasn't a good night for the Ex-Miss Universes. At least with Lara the dress works but what doesn't work is the makeup and hair, which seem to have gone completely ignored.
Verdict: Could have been hot.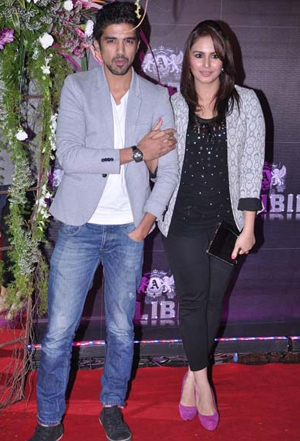 Saqib Saleem & Huma Qureshi
The brother-sister sibling of Saqib and Huma were each other's dates for the night. Whilst Saqib looked super suave in his attire for the evening, can't say the same for Huma. Waist up it work but the cropped pants and pop of color in the heels just don't. Wish she'd spiced things up and left the corporate look for perhaps for some stylish palazzos.
Verdict: Saqib is hot, Huma is not!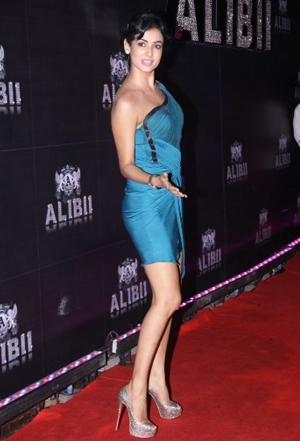 Sonal Chauhan
Getting it completely right on the night was Sonal Chauhan in an Amit Agarwal dress. The design itself is a bit questionable, especially how it handles the chest area which looks a bit messier from up close. However Sonal's confidence and styling made it a winner look. Great hair and the pink lips were the highlight of the styling.
Verdict: HOT!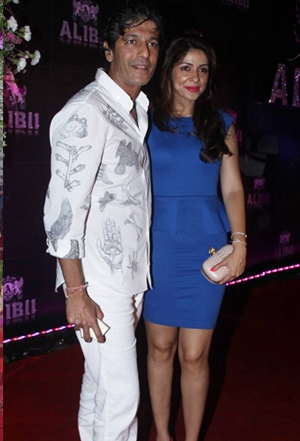 Bhavna Pandey
Bhavna also went for a blue dress and pink lips on the night. Seemed to be the lucky combination for the night because like Sonal her look worked as well. What didn't work was the occasion she was sporting it to, a bit too business-y for a birthday bash.
Verdict: Wrong event, otherwise hot!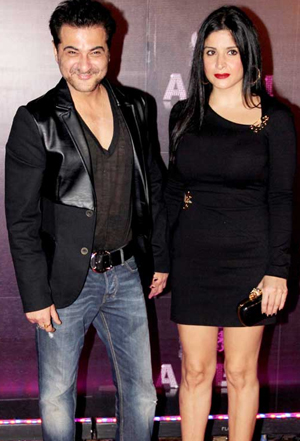 Mahdeep Kapoor
It was a simple black dress with an asymmetric neckline for Mrs Sanjay Kapoor. Whilst the dress looked great on her, the styling let the look down.
Verdict: Could have been hot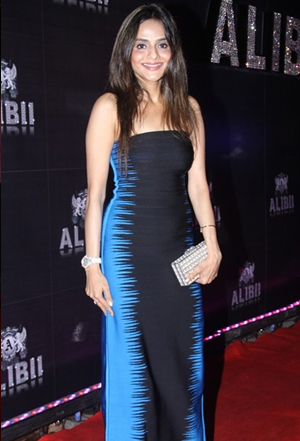 Madhu
We had a rare sighting of a Herve Leger maxi. Whilst Madhu pulls it off well, can't say the design is of much appeal though nor were those clunky shoes.
Verdict: not hot!