I love a good turnout at an award show because it just gives you twice as much fashion to scream and shout about! Whilst I did miss some of the biggies at the Stardust Awards (who may just have been preoccupied by the hush hush wedding of David Dhawan's son in Goa), the attendance at the award function was nonetheless impressive! Here's what the fashion looked like on the red carpet.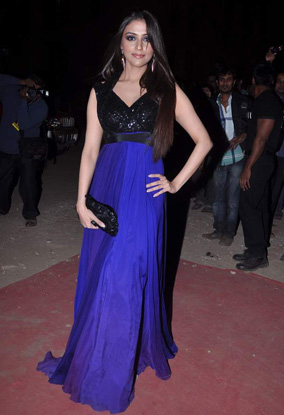 Aarti Chabria
Ms Chabria looked ravishing in the blue/black gown. I have absolutely no qualms from the look. The hair was a lovely touch to add to the flow of the gown because an up-do could have totally ruined it. Quite flawless!
Very Hot
---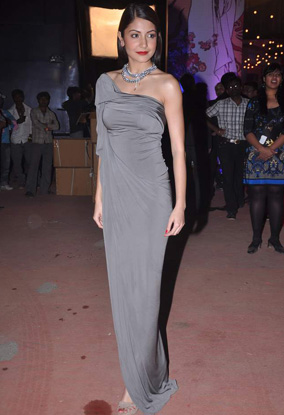 Anushka Sharma
I love that Anushka never bores you with the same designer or style and takes risks however this particular risk didn't pay off. The Donna Karen gown isn't the problem but pairing that color of a gown with the nude makeup, sleak hair and then that striking lip color, brings the look to a 'too-eccentric' level for my taste. What do you all think?
Not Hot
---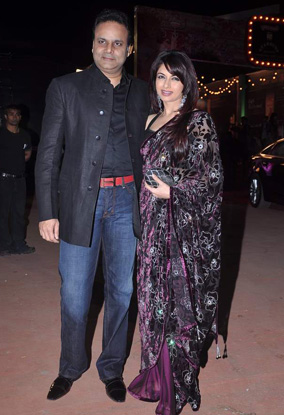 Bhagyashree
It was a half and half saree for Bhagyashree, which is a design I usually love but not this time around. A total disaster!
Not hot
---
Bipasha Basu
Bips went for a Bengali look with a Sabyasachi saree. It's quite rare that I would pick faults in a Sabyasachi outfit but for this one I'm really not feeling the puffy sleeved blouse. In addition the one sided loose hair-do is tipping over the balance in the outfit, wish it was to the opposite side. The outfit definitely had potential but missed it by quite a margin.
Not quite hot
---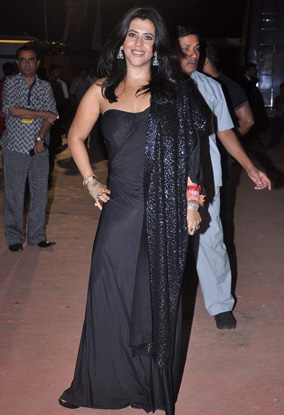 Ekta Kapoor
Rather unsurprising that Ekta went to her trusted designer Malini Ramani for an outfit for the evening. Whilst it may not be the boldest of choices, she knows she pulls it off well and I definitely don't disagree!
Hot
---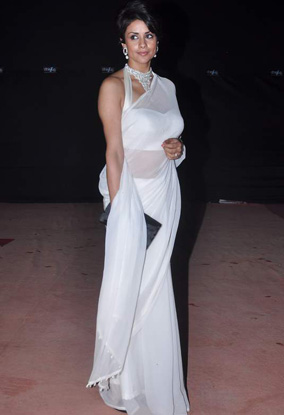 Gul Panag
White and silver was the theme for Gul on the night. I don't have much problem from the saree but considering Gul has such a striking hair style I thought the necklace and the neckline of the blouse was a bit too much!
Not Hot
---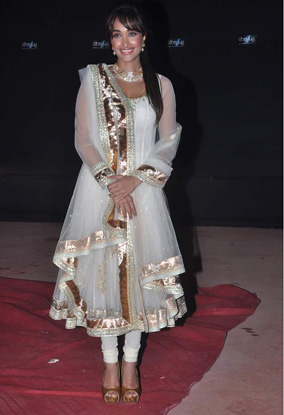 Jiah Khan
Jiah was a decked up Indian doll on the night in this gold and white anarkali. Although the flash is not being kind to her in this shot, I think she looked quite lovely!
Quite hot
---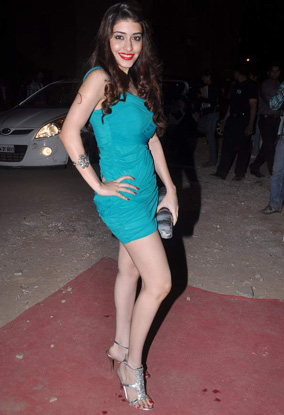 Kainaz Motiwala
Ragini MMS's Kainaz Motiwala was more appropriately dressed for a night out on the town rather than the red carpet. Really not feeling this look.
Not Hot
---
Kajol
No doubt Kajol stole the show on the night by putting in the slightest bit of effort in her look. Voila! Such a transformation. The hair is pulled back in the right direction, the Shantanu-Nikhil saree/gown fits her brilliantly, the accessorising is perfect and best of all she wears it with confidence! Love it!
Very hot!
---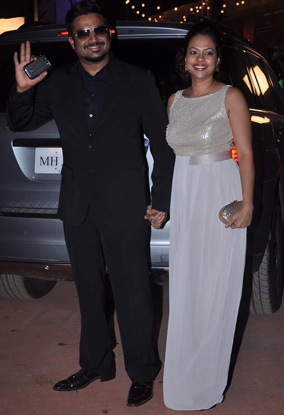 Sarita
Maddy's Mrs, Sarita, looked lovely in a cream and gold gown that perfectly complimented her dusky skin. I love that she kept to a no-jewellery theme. (And yes I'm conveniently forgetting about the man on her right wearing sunglasses at the inappropriate hour!)
Quite Hot
---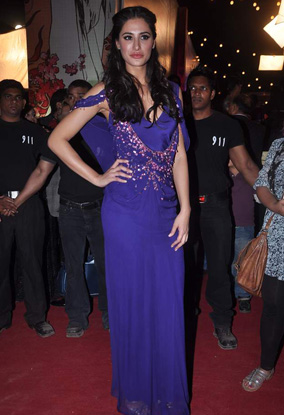 Nargis Fakhri
Imitiaz Ali find Nargis Fakhri was in a blue Dior gown on the evening. Really not feeling the embellishment on the gown or its sleeves. You may very well think otherwise though!
Not Hot
---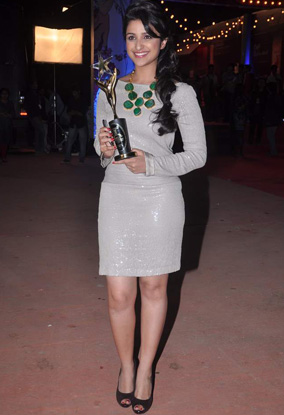 Parineeti Chopra
Okay Parineeti what is with these office style short dresses you keep opting for?! Granted this one has shimmer but still! They look quite lovely but get boring rather quickly. To add to the boredom the shoe choice is somewhat horrendous. Props for the hair and necklace though. We'd love for the pretty lady to give us a gown, saree or just a lovely decked up formal red-carpet look!
Not quite hot
---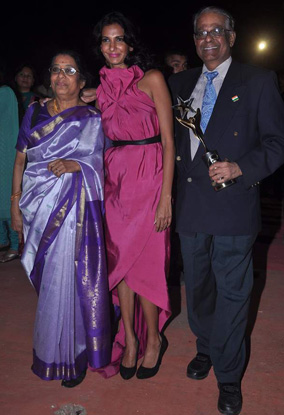 Poorna
Poorna was spotted on the night with her parents in a Prabal Gurung gown. I love the gown and Poorna wears it well but those shoes need to be sent far away from the reach of the lovely lady!
Quite hot, minus the shoes!
---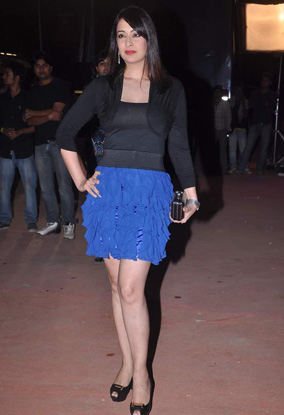 Preeti Jhagiani
It's always a rather depressing moment when a stunning lady doesn't know how to dress herself. This is one of those moments…why Preeti why?!
Not hot
---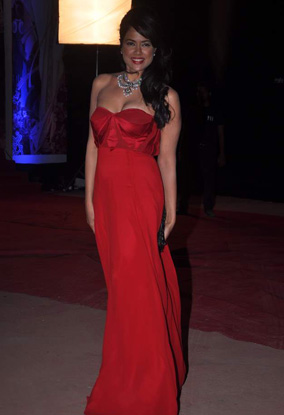 Sameera Reddy
Leaving aside the fact that the gown didn't fit all too perfectly waist up for Sameera, the look is quite lovely!
Red hot!
---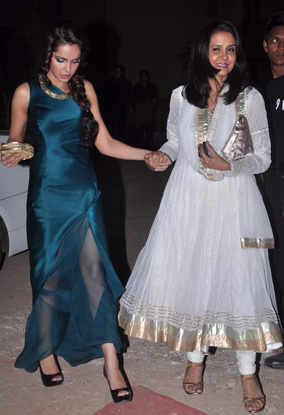 Shazahn & Sharon
Whilst we had daughter Shazahn doing western in a high slight gown, Mum Sharon went for a Desi look in a white anarkali. I think the mother daughter combo looked rather lovely don't you?! I especially love Shazahn's accessorising and hair.
Quite hot!
---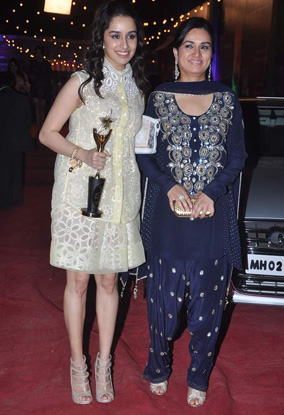 Shraddha & Padmini
Shraddha is always a delight to see out and about because she always opts for something interesting. Once again this outfit was interesting and would have been absolutely perfect had she tucked in that blouse! As for her aunt Padmini, I'm just not feeling this patiala suit.
Shraddha – Could be Hot
Padmini – Not hot
---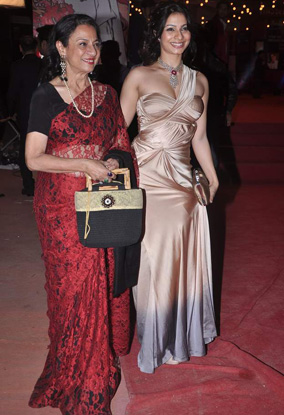 Tanuja & Tanisha
It was a red lace saree for Tanuja. Normally I hold a strong grudge against lace but Tanuja wear it rather well. I wish Tanuja had done a white perl look with the saree as it would have taken the look to a whole new royal level all too fit for the red carpet. As for daughter Tanisha, I quite love the gown and everything else she endorsed alongside it on the night.
Tanuja – Could be hotter
Tanisha – Quite hot
---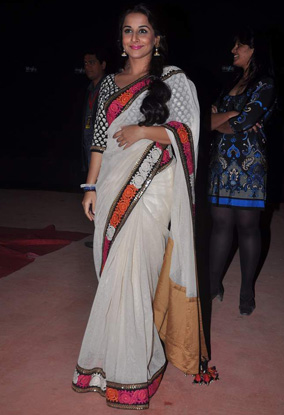 Vidya Balan
No doubt that the Sabyasachi saree Vidya opted for on the night is one gorgeous piece however I can't help but wish the blouse was different. Considering the outfit has a distinct pop of color, the black and white themed blouse seemed a bit out of place. Also don't you wish she'd given us a pinned up pallu look?
Could be hotter
That brings us to the end of Stardust 2012, do let us know what you all thought of the fashion on the red carpet on the night!