The year seems to have flashed by us! Here we are yet again eager to see the red carpet events unfold one after another as Bollywood gears up for another season of awards. Kick starting the season was Sansui Stardust Awards which is known for honouring the new and upcoming talents of the industry. The red carpet on the night so some yays and some major nays. Neutrals seems to be the shade of the night with only a few stepping it out boldly in brighter color schemes.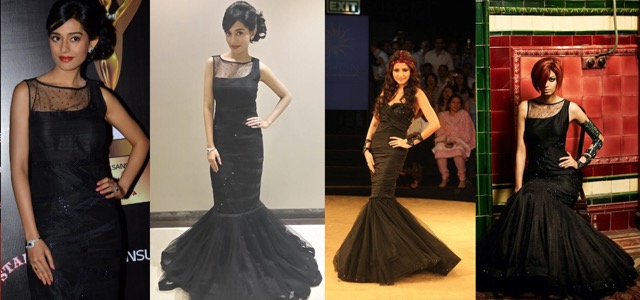 Amrita Rao
She's a rare sighting and unfortunately doesn't always choose attires that do justice to her. She Schön by Sakshee Pradhan gown. The gown itself has featured quite well on the ramp on Anushka and in catalogue shoots however Miss Rao didn't let the gown reach its potential by opting for a very run-of-the-mill styling.
Verdict: NOT HOT
Bipasha Basu
Miss Basu has had a string of appearance in light of her upcoming release Alone. Sadly though most of those appearances have featured looks which have been too 'in-your-face' for my liking. Thankfully though things were different on the Stardust red carpet. The Namrata Joshipura sheer gown kept to Bipasha inherent style sense whilst being effortlessly classy at the same time. The styling was not loud but intact rather tamed. The hair especially is what made this one work. Like Amrita she also balanced all the black with red lips.
Verdict: Sizzling hot!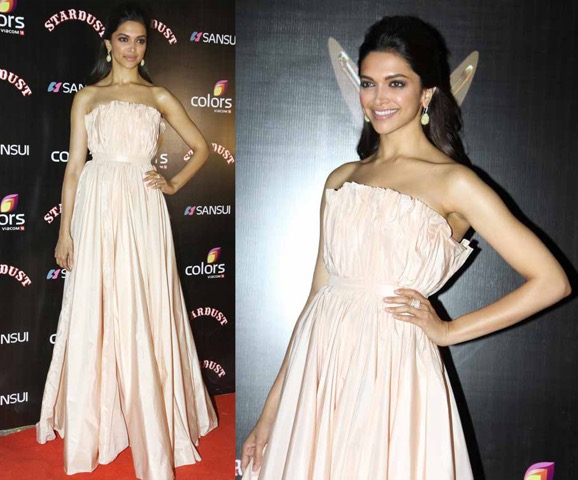 Deepika Padukone
The night saw a majority of looks which were structured and strong but Deepika stood out for doing something that was feminine and soft with a Dior gown. On most this gown could have looked rather overwhelming but of course Ms Padukone is known to pull things off which you and I cannot even dream of pulling off!
Verdict: HOT!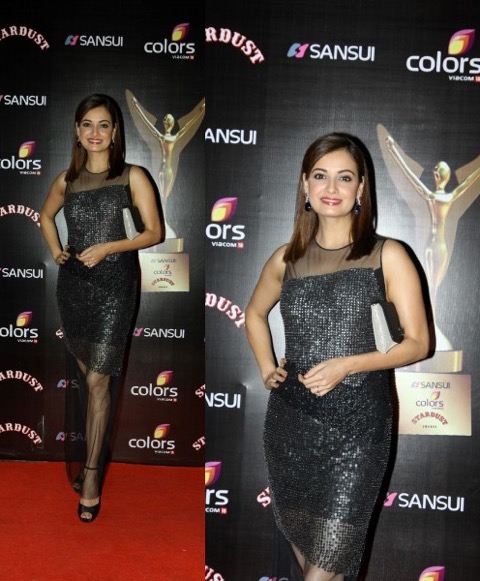 Dia Mirza
And you thought I was jumping to conclusions when I said black ruled the night! The trend continued with Dia Mirza in a  Rohit Gandhi and Rahul Khanna sheer gown. She styled it with Farah Khan earrings. Whilst we all know simplicity is Dia's USP, cannot help but feel an awards ceremony required something grand with the styling. Dare I say, this one was under styled…
Verdict: Borderline hot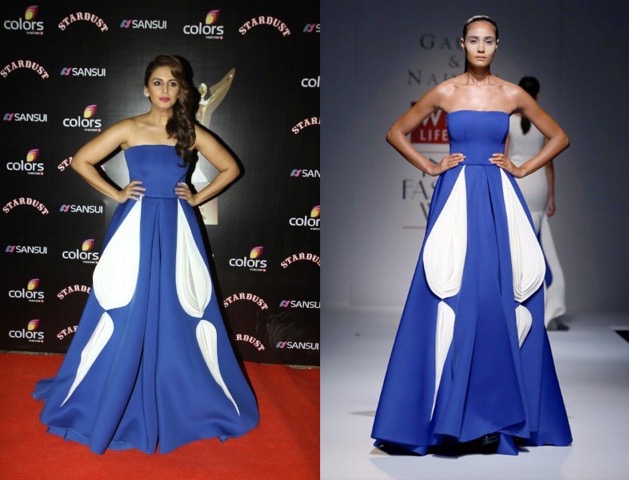 Huma Qureshi
My usual complaints with Huma is that she tries too hard and doesn't look comfortable. However with this red carpet appear she seems to be in her element. She was one of the rare ones doing colour and that too in a such a dramatic blue/white Gauri & Nainika gown.  She pulled off the look oozing a lot of confidence, which is the biggest winning aspect of this look. Side swept curls and ear cuffs completed the look perfectly. Completely in love with this appearance!
Verdict: HOT!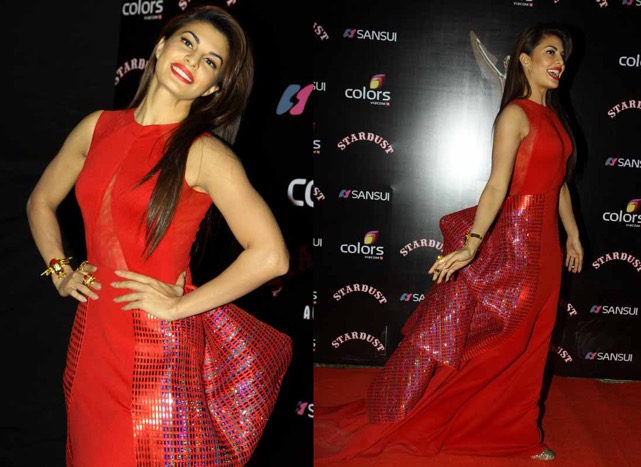 Jaqueline Fernandez
Always one to pull off the most dramatic looks with complete ease, Jacqueline's Stardust appearance was no exception. Love that she can wear something so grand as this Amit Agrrawal gown yet carry herself so casually on the red carpet. Usually one to be a bit weary when girls opt for a matchy-matchy lip color, this time around the choice was right for Jaqui.
Verdict: SUPER HOT!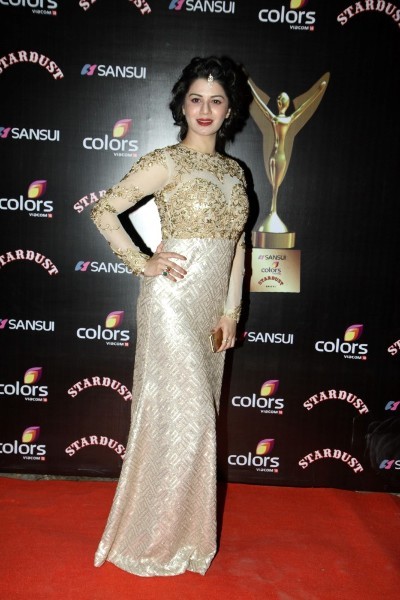 Kainaat Arora
There are some looks which you don't even want to discuss at great lengths because it was so far gone the dark side and no amount of discussion or changes to the look could make it better. In this event it was Grand Masti's Kainaat Arora's who's entire look for the night was beyond saving. The gown did nothing for her, the makeup let her down in a big way and the styling, especially with the mang tikka, did not help either.
Verdict: NOT HOT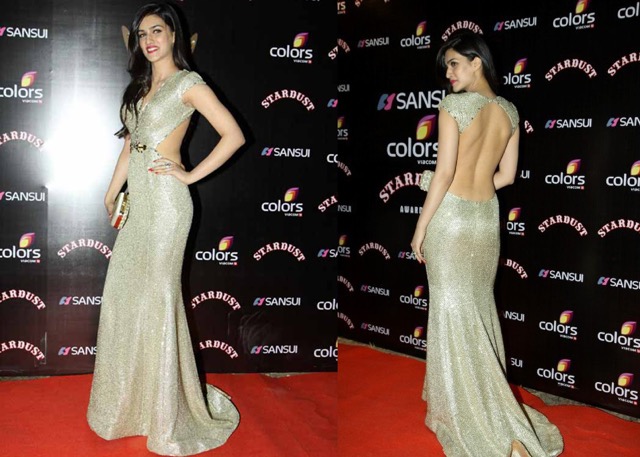 Kriti Sanon
Whilst gold really did nothing for Kainaat, it did wonders for Kriti who stood out of the crowd on the night in her backless Swapnil Shinde gown. Pink lips off set all the gold beautifully. Given that the gown was so ultra elegant, the soft side swept hair was a wise choice, anything more than that would have been overkill.
Verdict: SUPER HOT!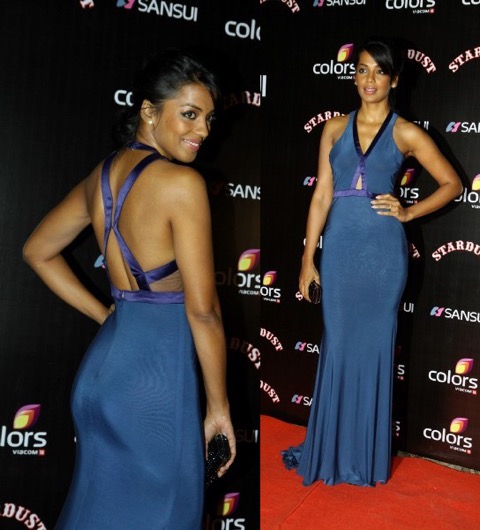 Mugdha Godse
Mugdha opted for a Gavin Miguel gown on the night. Whilst I love the styling with the sleek undo and natural make, the gown itself was the let down point of this look.
Verdict: NOT HOT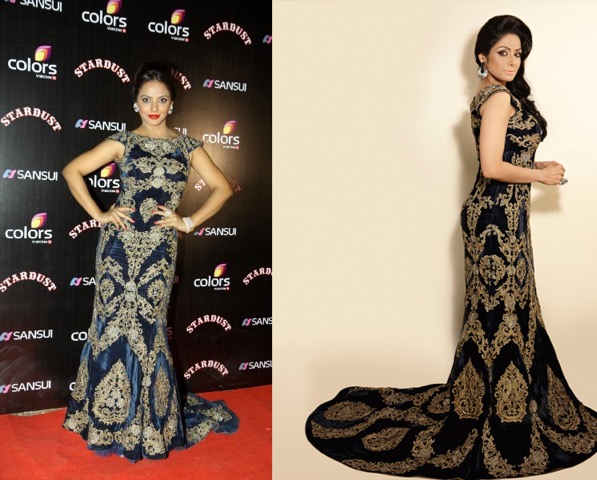 Neetu Chandra
Neetu put in an appearance in a Mayur Girotra embellished gown, one we'd seen Sridevi wear in an editorial. Whilst it does well as an editorial piece, off the camera it doesn't fair as well. Between the up-do, the ultra blingly jewelry and the red lips this one came across looking just plain gaudy. Less is more Neetu!
Verdict: NOT HOT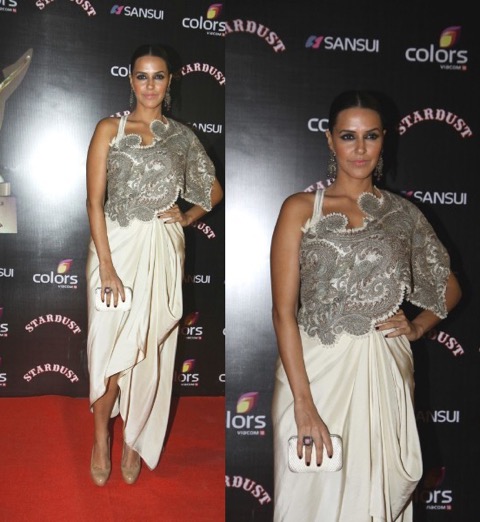 Neha Dhupia
Anamika Khanna was the designer of choice for Neha on the night. The unique Anamika silhouette that refuses to restrict itself to the confines of the usual gown silhouette made sure Neha stood out of the crowd. She pulled off the look effortlessly.
Verdict: SUPER HOT!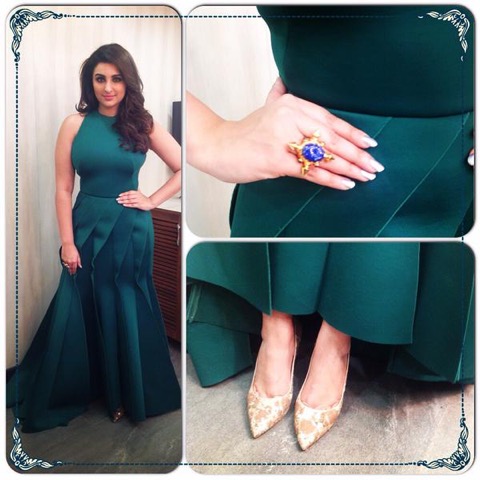 Parineeti Chopra
What is an awards night without at least two Gauri & Nainika sightings! Parineeti was the second sighting on the night after Huma. She looked simply ravishing! Usually one to have 101 gripes with Pari's styling, this time I couldn't pick even one fault! From the gown to the hair to the makeup to the Dior earrings. Props to stylist Nitasha for a flawlessly put together look.
Verdict: SUPER HOT!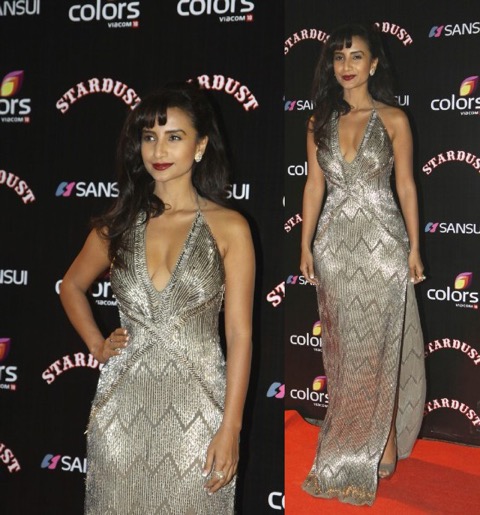 Patralekha 
Also doing Namrata Joshipura on the night was Citylights' Patralekha. Loved that some serious risks were taken with this look but sadly i didn't pay off. The gown didn't do much for Patralekha and the hair and makeup just didn't gel with the gown. Had the hair and makeup been altered maybe this look could have been a pass but for now it remains a fail.
Verdict: NOT HOT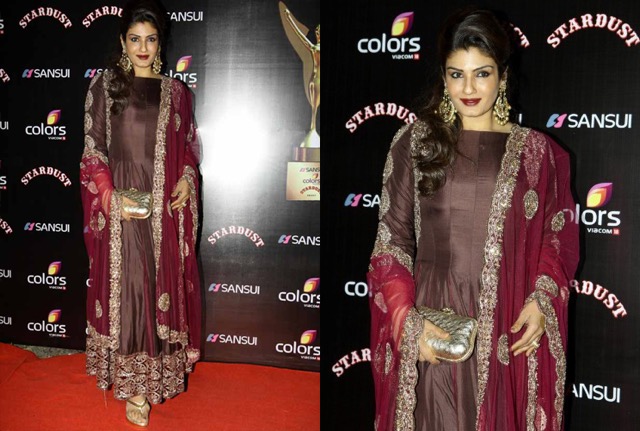 Raveena Tandon
Raveena was more aptly dressed for a big wedding night in a  glitzy Manish Malhotra anarkali. First of all, the collection that this anarkali hails from is definitely not a favourite. To add to that the ultra dark lips and the grand earrings. Given Raveena's amazing body and ability to look so confident in anything she wears, I really do wish she would take some strides on the fashion scene because the potential is so great!
Verdict: NOT HOT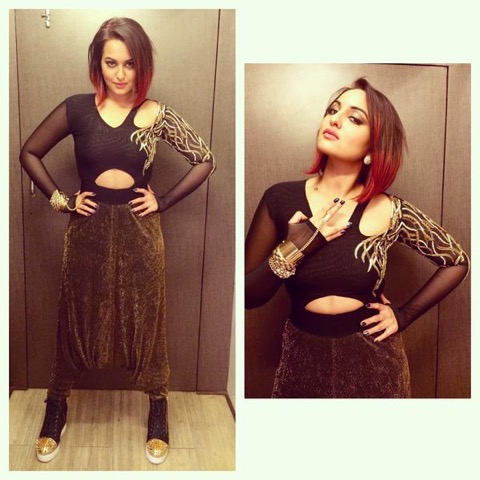 Sonakshi Sinha
Whilst we didn't spot Sonakshi on the red carpet, Instagram snaps of her backstage pictures have flooded the net. Whilst some are horrified at her 'rebel child' look featuring Sakshi Mehra, Jeffrey Cambell and Koesch, I for one think this is the best looks she's given us since she's adopted this ultra hipster persona with highlighted short hair. Loving the makeup, especially the eyes, the handcuffs and the nails. Quite a cool look even if it was just for a performance.
Verdict: SUPER HOT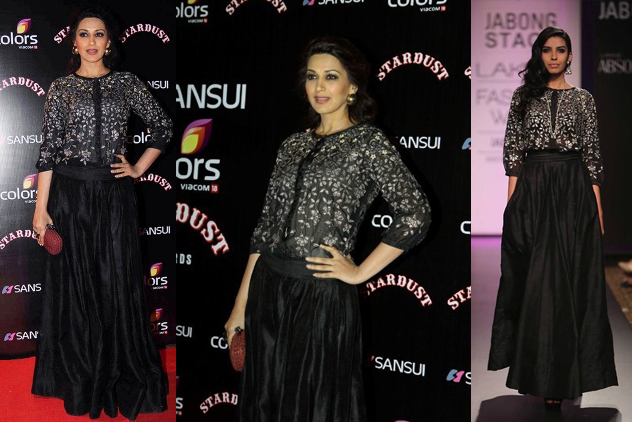 Sonali Bendre
Now here's a 90s woman who doesn't mind taking fashion risks. For Stardust she opted for Arpita Mehta blouse and skirt . Firstly I had to do a double take to actually check this one was Arpita's given the designers affinity towards more colourful palettes. But rest assured it is an Arpita Mehta from the Fall/Winter 2014 collection. Whilst Sonali did look flawless, can't help but prefer if the skirt was worn high waist rather than as a hipster.
Verdict: QUITE HOT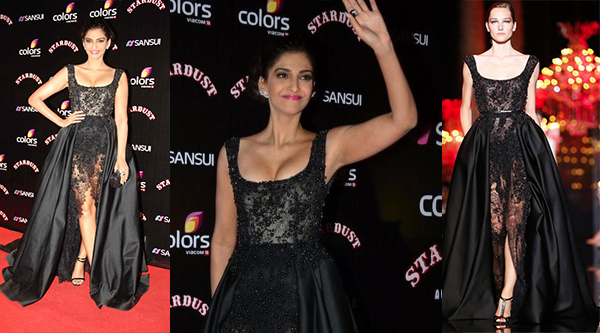 Sonam Kapoor
Sonam's has had her fair share of Elie Saab looks in the past and so the fact that she opted for one during this award season doesn't surprise. This Ellie Saab Fall 2014 gown could have very easily gone the tacky/cheap way but somehow Saab's design works well with the risque lace portions. What however doesn't work is Sonam's make up and the bust fitting of the gown which just brought the classy level majorly down for me. Sadly the bust issue is something I've seen a few too many times on Sonam recently (remember her appearance on Niranjan Iyengar's talk show!). Really want to like this look but the bust fitting is a deal breaker especially when you expect nothing but a very classy sophisticated look from Sonam.
Verdict: Borderline Not Hot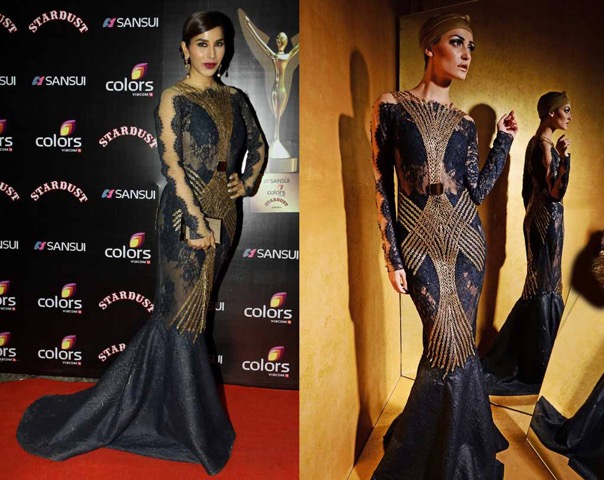 Sophie Chaudhry
Sophie also did sheer and lace play on the night with a Tanieya Khanuja gown. This one is borderline overwhelming with the hair makeup and all that bronze and lace but somehow it remains at borderline overwhelming and doesn't tip over.
Verdict: BORDERLINE HOT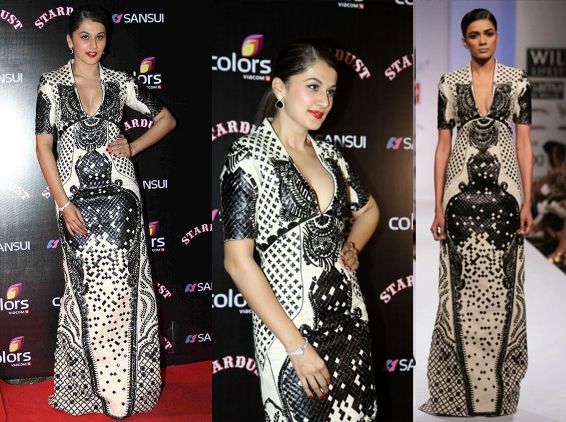 Taapsee
The ultra gaudy look of the night goes to, sadly, Taapsee. The Sahil Kochar gown doesn't even deserve a discussion. The makeup and hair are no use discussing given that NOTHING could have saved that gown. Unfortunately for Taapsee, this one is a wright off.
Verdict: DEFINITELY NOT HOT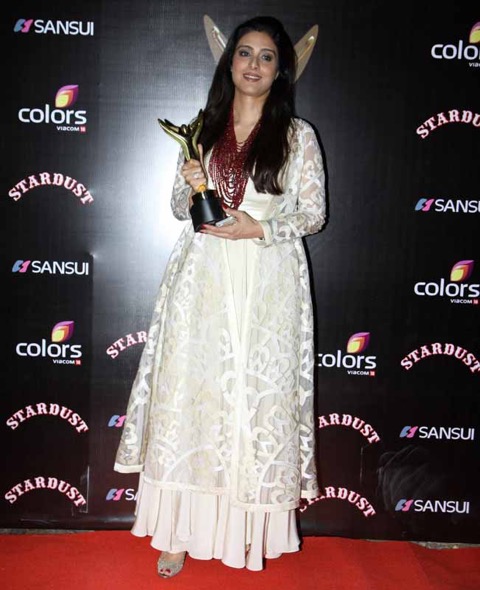 Tabu
Given that we've had a major Tabu release this year I'm hoping we'll see her throughout the award season before she retires into her secret sanctuary again. These days she seems to be favouring Abu Jain and Sandeep Khosla. Stardust was no exception as she opted for a very elegant and subtle piece by the designer duo.  She broke the sea of white with a red statement beaded necklace. The anarkali was perfectly suited for Tabu as was the styling.
Verdict: SUPER HOT