Bollywood choreographer Vaibhavi Merchant held a star studded premiere for her sister, Shruti Merchant's musical directorial debut Taj Express.
Abhishek Bachchan, Rani Mukherjee, Yash Chopra and Sonam Kapoor were just some of the stars that attended the red carpet premiere, held at the NCPA Theatre in Mumbai last Sunday.
As with all red carpet events, we had our eyes on the fashion to see which stars were looking fashiontastic and which stars were not! Click on to see who's hot and who is not!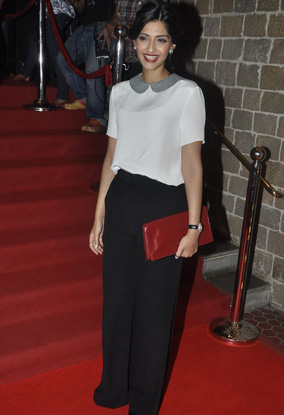 Sonam Kapoor looks very stylish in this simple but effective outfit. The wide leg trousers are very trendy at the moment and look chic paired with a white top. I do like that Sonam has added colour to her outfit by opting for a red clutch and lipstick!
Verdict – Sonam Kapoor is HOT!