Who knew that a WHWN for the Screen Awards would be BS's most lengthy fashion feature in a long time! And outstanding turn out with fashionistas bringing their best, and sometimes their worst, to the red carpet. Read on for a full fashion low down for the evening!
1. Nimrat Kaur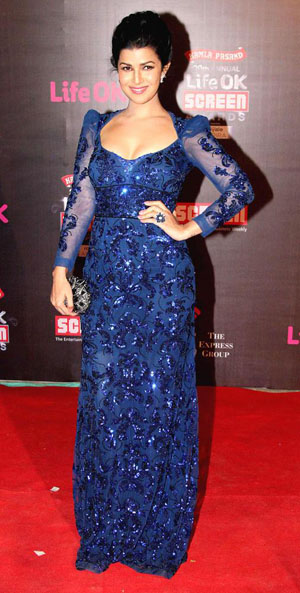 It was a blue embellished Amit GT gown for Nimrat for the awards night. I truly want to like this look, but the gown itself, especially the neckline cut, is stopping me from doing so. What I do love is the hair and makeup. Lets hope Nimrat fares better at the next awards show.
NOT HOT
2. Sona Mohapatra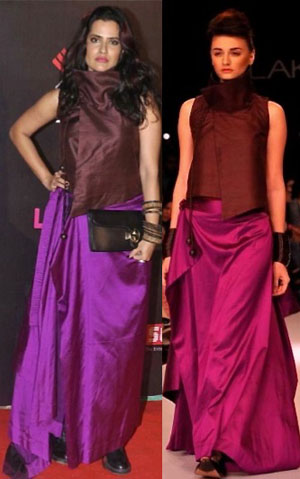 One to always stick to her unique style, Sona did it no different for Screens. The Payal Khandwala combo worked in concept and definitely on the ramp, but sadly the way the top was worn made it look like our beloved singer was drowning in the overwhelming attire. Sadly it was just this messy execution of a fabulous outfit that makes it a not hot.
NOT HOT
3. Raveena Tandon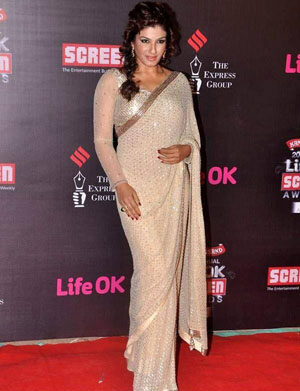 Our 90s actresses continue to prove my theory that they're struggling to catch up with the times. The embellished white saree that Raveena opted for just looked supremely dated, as did the hair and the overdone makeup. What a shame, because with a great outfit, Raveena still has what it takes to set the red carpet on fire!
NOT HOT
4. Kajal Agarwal

Special 26 girl Kajal put in a rare B-town appearance, and sadly it isn't one that we wanted after a series of absentees from the young actress. The Vizyon gown may have worked, had it not been for the ultra tacky styling, particular the messy lips, the mismatched necklace and the bracelet. The hair also didn't help. Better luck next time Kajal!
NOT HOT
5. Sonali Bendre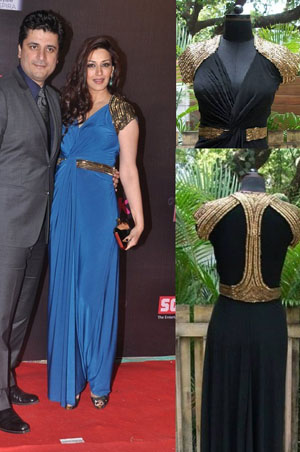 Being a constant exception to my 90s-actress-theory was Sonali Bendre in her favourite Surily Goel. The blue gown with embellished shoulders was effortlessly elegant, not overly formal but not inappropriately casual. We managed to track down close-ups of the maxi in its black form and fell in love with the gown all over again. Sonali's side curls to the side was a lovely way to finish off the look. What a striking appearance!
HOT
6. Amrita Puri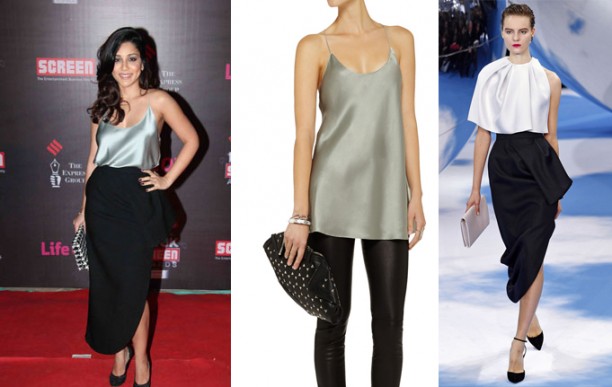 One of the most stunning appearances of the night came from Kai Po Che's Amrita Puri. It was a well-put together outfit, following in the tracks of how Dior had presented the pencil skirt, except that Ms Puri swapped the Dior top for a T by Alexander Wang one. Nevertheless, she looked uber stylish! The hounds tooth clutch was another drool-worthy aspect of the appearance. Amrita also proved that less is more with makeup by keeping it rather minimal.
VERY HOT!!!
7. Preeti Desai
It was all drama, drama and more drama for Preeti Desai on the night. Not only did she walk in with her brave beau, who was taking a rather dramatic stand for Hindi music industry, but her look in itself was full of drama also! The Bare in Black gown was pulled off by the actress flawlessly. Updos are rarely done well these days and Preeti was a much needed exception with hers. Sizzling she looked!
VERY HOT!
8. Tamanna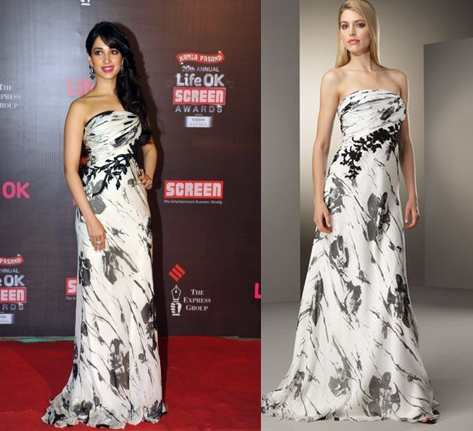 On the catalogue itself one doesn't think this particular Carmen Marc Valco gown would be so striking, but Tamanna makes me change my mind. She looked especially chic in the do and complimented it well with the girly-pink lipstick and side swept hair.
HOT
9. Richa Chadda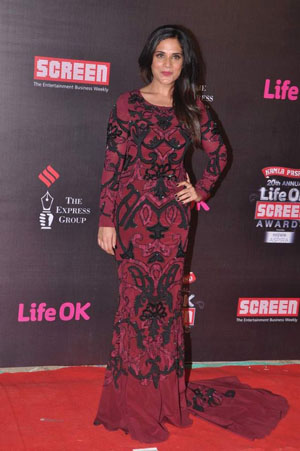 It's a constant hit and miss with Richa, but gladly this appearance is a hit! The Inanna by Monica and Karishma gown which was quite striking in itself. She kept her styling rather minimal as the gown had to do most of the talking. Even though the makeup leaves a bit to be desired, one can't help being glad that we finally get a near-perfect appearance from the stunning and talented lady.
HOT
10. Vaani Kapoor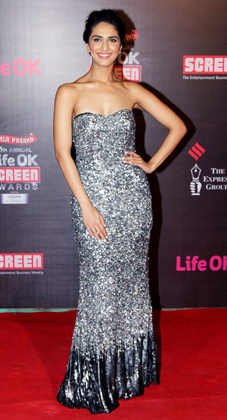 Still sitting on the fence about whatever I like the bottom half of the Vaani gown, but she did dazzle on the red carpet in the sequined strapless piece. No accessories and a neat up do made sure the gown was the centre of the attention.
HOT
11. Divya Kumar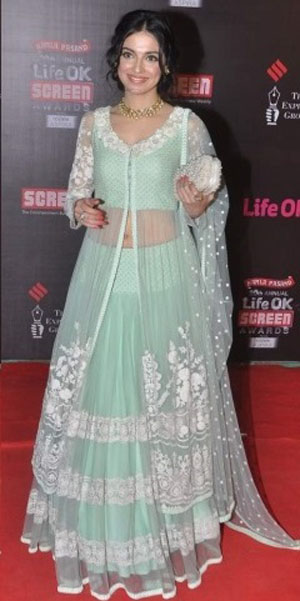 Starting to believe Mrs Kumar thinks there are no designers on the planet except for Sabyasachi. We get it, the man does wow you, but there is such a thing as a Sabyasachi overkill and if you don't believe me, go through Divya's string of appearances lately. The mint lehenga could have worked on someone else, but on the petite model-turned-director, it looks rather overwhelming. And I'm not even going to get started on what appears to be a very mismatched kundan necklace that wasn't made for this outfit.
NOT HOT!
12. Neha Dhupia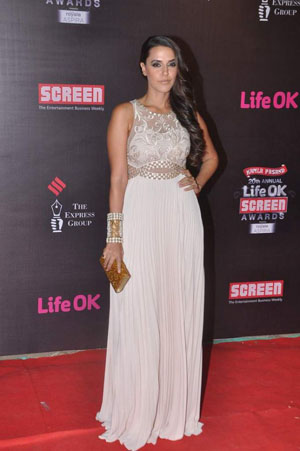 *sigh* Our effortless style diva Neha is at it again, wowing us and how! Ranna Gill was the weapon of choice for Neha. The lust-worthy stacked bracelet was a lovely way to balance out the one sided hair look. The gold clutch I'm not too sure about, but when you've got a lady looking as stunning as Neha does, it's not as if you'll look at the clutch long enough to dislike it!
VERY HOT!
13. Aditi Rao Hydari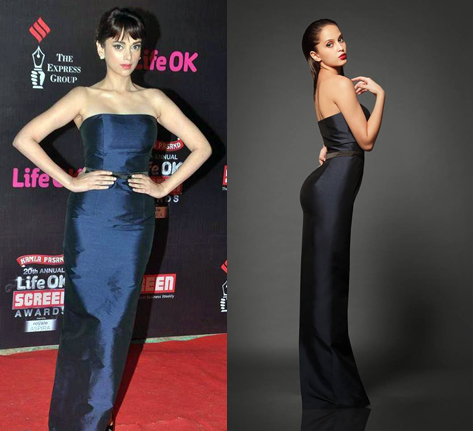 Ms Hydari is at it again, try-hard outfits that she looks uncomfortable in and forced hand-on-waist pose and an expression that belongs on a fashion magazine and not on the red carpet. Not feeling the look even though the Harsh Harsh gown wasn't the worst choice.
Not hot!
14. Priyanka Alva Oberoi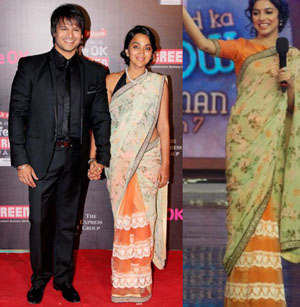 Priyanka also opted for a Sabyasachi on the night, one which Divya Kumar had worn on her latest I-only-wear-Sabyasachi-campaign oops! I mean film promotional campaign. Not sure if the blouse was the best choice, but Priyanka does come close to convincing me. The pearl addition was nice as was the low hair updo. Loved that she dressed down a Sabyasachi, which until this appearance I didn't was possible! Minor issue with her make-up, wish she'd focus more on it, but not big enough of an issue to make me dislike this appearance.
Quite hot
15. Shruti Haasan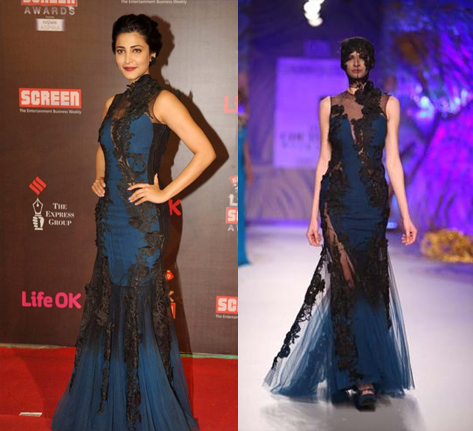 Effortless style is what all Shruti is always about! She owned the red carpet in the Gaurav Gupta gown! The pop of color on the lip was a great addition. If I'm forced to pick a flaw, I'd have to point at the studs she opted for.
HOT
16. Sophie Chaudhry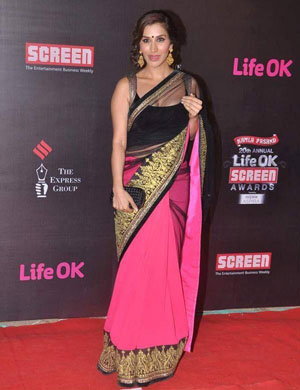 Going Desi on the night was Sophie in a Manish Malhotra net saree. Is it just me or does it look very Sabya inspired to anyone else? Regardless, Sophie looked amazing and worked the whole attire very well!
VERY HOT!
17. Sonal Chauhan
A very controversial sheer gown was Sonal's choice for the night. What a shame because design wise the gown was quite okay but the color just looked ultra tacky!
Not HOT!
18. Sonakashi Sinha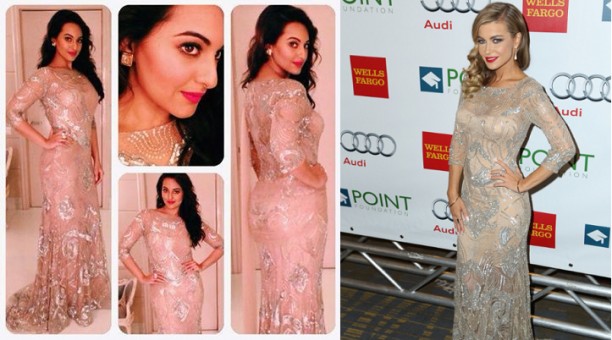 I'll tell you who gets sheer right on the night, SONAKASHI! Absolute stunner of an appearance by the actress in an Amit GT gown. From makeup to hair to accessorising, everything was very well put together. (FYI – you'll see on the right Carmen Electra sporting the same Amit GT gown. Gotta love it when our Desi designers get global recognition!)
VERY HOT!
19. Swara Bhaskar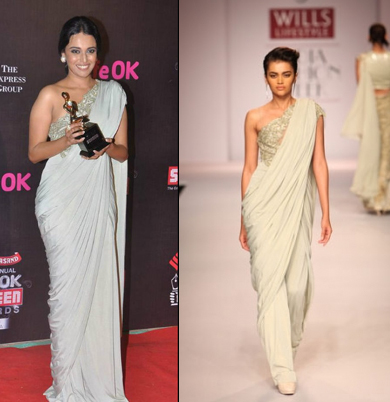 After Amrita, the spotlight-stealer on the red carpet was Swara Bhaskar in her Rabani and Rakha concept saree. The actress looked simply ravishing! Loved that it was all rather minimalistic, with a big stud and ring by Renu Oberoi being the only accessories the actress wore. Simply wowed by this look!
VERY VERY HOT!!!
20. Chitrangada Singh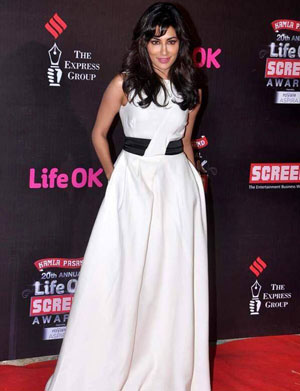 She's always daring to do something different, but has a knack of overwhelming herself with the styling. I'm delighted to report this Chitrangada appearance didn't suffer from that. It was effortlessly chic. The Dior gown was worked especially for not being overly structured, which would have been overkill for a desi award show red carpet. Do think that the hair covers the neck design a bit, but can't complain much as the whole look still looked pretty darn good!
HOT!
21. Kajol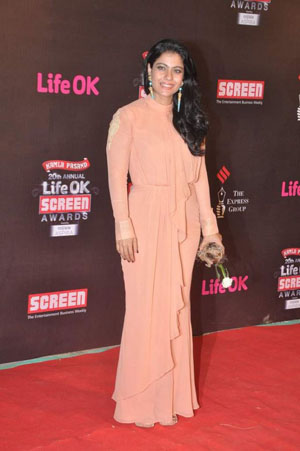 In concept, this Shantanu & Nikhil do with House of Chic earrings worked for Kajol, but the execution was a bit messy. The makeup was oily, and the hair definitely needed to be in a sleaker do, considering it's a long sleeve gown with ruffles!
Not quite hot!
22. Bipasha Basu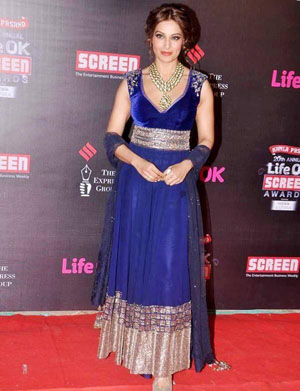 Unlike Sophie, picking the wrong Manisha Malhotra was Bipasha on the night. It is like that anarkali popped out of a time capsule, it is such a dated design! Not feeling the outfit at all and the kundan necklace didn't help. What I did love was the hair do.
NOT HOT
23. Deepika Padukone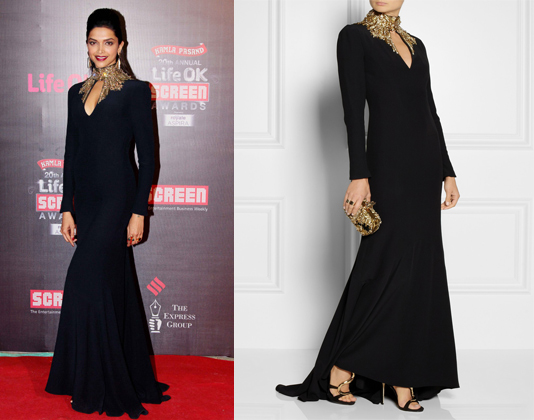 Ladies and gentlemen, the moment you thought that could never come has actually happened, Deepika Padukone finally got it wrong! The Alexander McQueen gown was not the issue at all, because as you see from the still from the left it is quite a stunner of a piece! But how it was styled was a huge problem! To start with this was a completely no-earing attire considering the highlight is an embellished high neck. The lips were just odd looking on the dress and the hair needed to be softer because the outfit itself was the bold element. Oh well, it's one bad look amongst so many which are beyond perfect, hope Deepika gets her mojo back soon!
NOT HOT
24. Kalki Koechlin
So if you're keeping score, you know that the highlights have been Amrita Puri and Swara Bhaskar so far, but they've just been overtaken by Kalki in a stunning Nikhil Thampi saree, featuring Kathakali dancer motifs in the sheers portions. Oh so glad Kalki styled it as per the ramp presentation of the piece.
VERY VERY HOT!
25. Huma Qureshi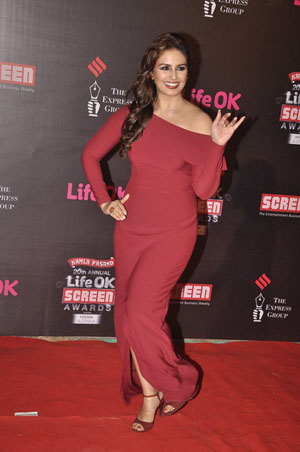 Whilst Kalki did a Thampi saree, Huma went for a Nikhil Thampi gown. One that she looked extremely good in! Love the one sided hair that let the ear cuff shine. Haven't jumped on the ear-cuff bandwagon yet but Huma makes a compelling case in this do.
HOT!
26. Divya Dutta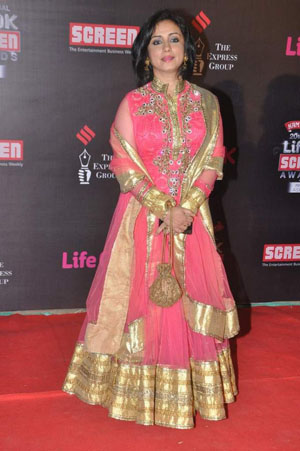 Petite women should truly stay away from the floor length anarkali obsession everyone is indulging in. Our beautiful Divya just looked way too overwhelmed and stifled in this OTT floor length anarkali.
NOT HOT
27. Juhi Chawla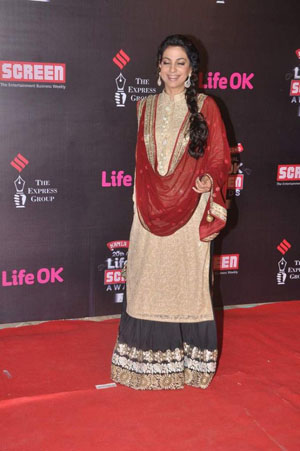 Always one to sport a Desi look, this appearance from Juhi was no different. Although I wish the lehenga featured a shorter top, because lets face it, Juhi isn't tall enough to pull off that floor-length-kurta-lehenga look. But other than minor gripe with the kurta style, Juhi faired quite well considering she usually slacks off with a simple salwar.
Nearly hot!
28. Neetu Chandra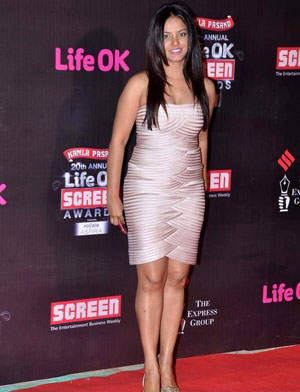 It was a light pink bandage dress for Neetu on the night. No doubt she's got the body to pull it off, but sadly with the lack of styling this look ended up being a colossal disappointment.
Not hot!
29. Shazahn Padamsee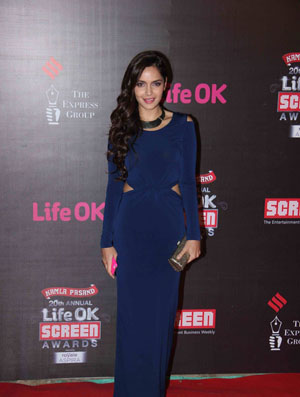 Shazahn styled herself for the night in a blue cut-away dress. She kept it simple and sexy with a statement necklace, sequined clutch and stacked ring. The side swept hair was nice to highlight the cut design on shoulders.
Hot!
30. Tara Sharma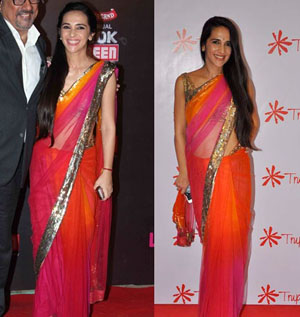 Making me do what I rarely do, fall in love with a Trupsel 3 colored net saree, was Tara Sharma on the night. It's one she'd sported already at the launch of the brand, but given that I love the saree, I can't blame her for bringing it out for a second outing. She looked stunning in the ombre saree featuring a sequined border. Kudos for styling it well also.
HOT!
31. Maryam Zakaria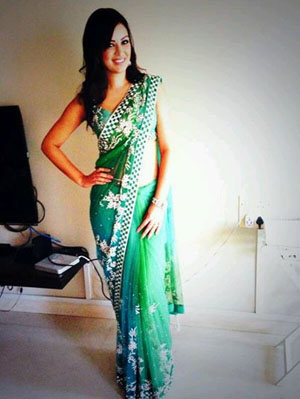 After a good net saree, we end up at a bad one! Motifs need to be banned on net sarees. Sorry Maryam, it's definitely not looking good this time for you.
NOT HOT!
32. Nicole Faria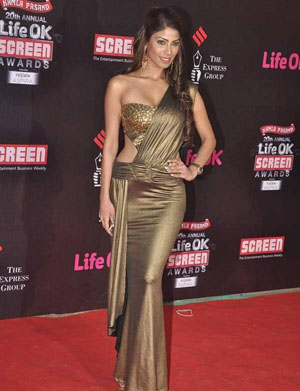 Now here's an example of a bad concept! Really not feeling this look by Yaariyan's Nicole Faria.
Not Hot!
33. Shilpa Shukla

I want to like this look, I really do, but somehow it looks like it belongs at a beach evening get-together rather than an awards night! And that clutch is also an additional deal breaker.
Nearly hot!
34. Tanisha Mukherjee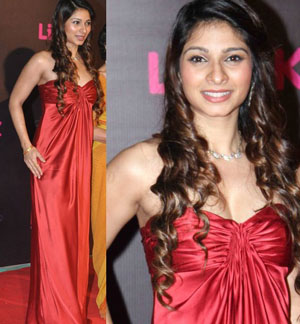 You know sisters share clothes, shoes and jewellery, well the Mukherjee sisters clearly don't! How on earth did Tanisha end up looking like 'that'. It makes Kajol's look a clear winner. Tacky is an understatement for this and that hair is just too high-school-prom to have me even consider it!
NOT HOT!
35. Anjana Sukhani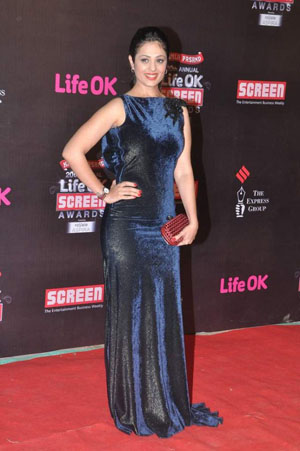 The flash's effect on photos makes it hard to decipher if its an all blue sequin gown or an velvet gown that Ms Sukhani opted for on the night, either way its not working!
Not hot!
36. Pooja Chopra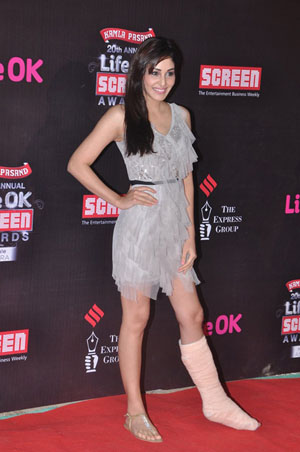 Effortlessly pulling off her cast-legged look, which I'm sure she didn't plan, was Commando actress Pooja Chopra! If there's an above knee dress that belonged on that red carpet it was this one! Kudos for styling this so well!
Hot!