Another award show, another night of great and not so great fashion. Read on to find who fared well and who didn't!
Adhuna Akhtar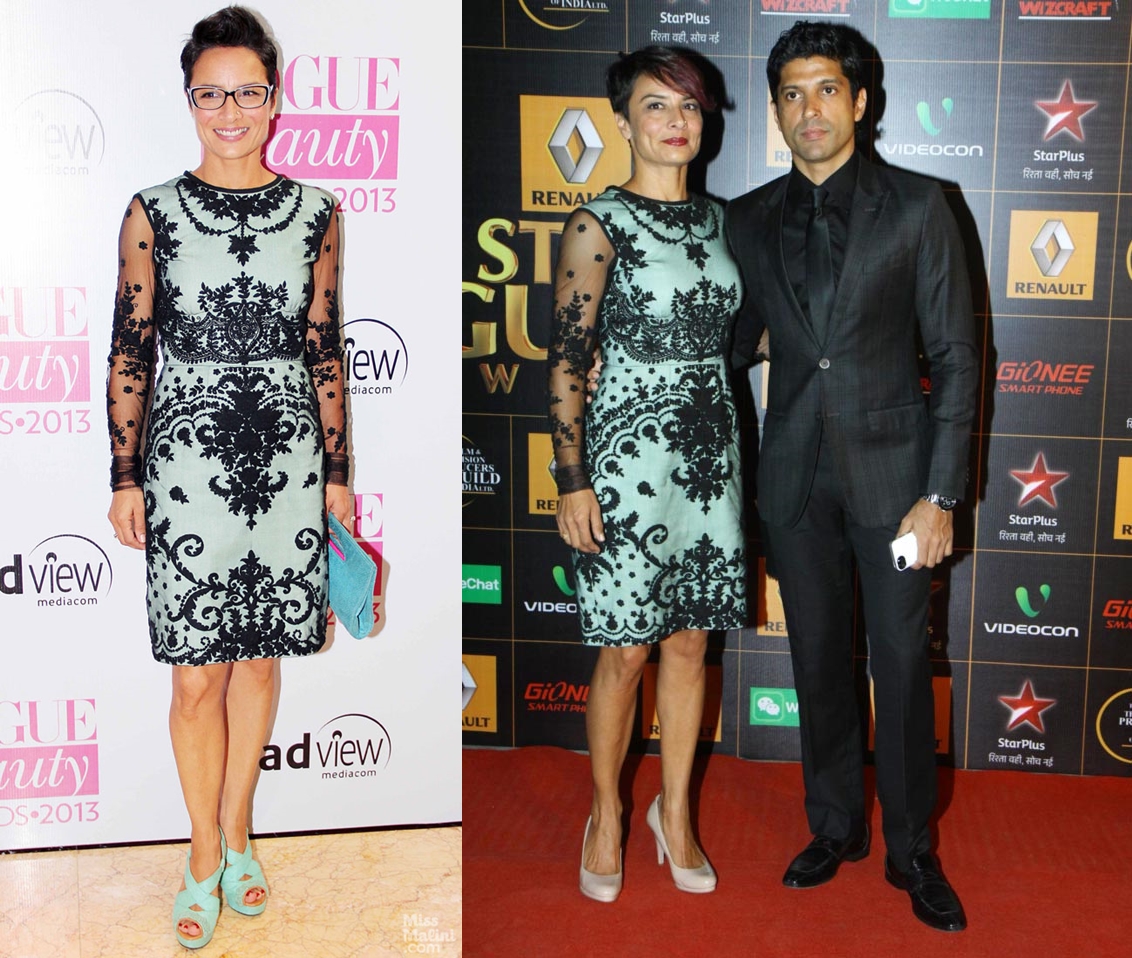 Adhuna took her mint embroidered Sabyasachi for another night out. However, unlike its first appearance of her in it, at the Vogue Beauty Awards, this time around she swapped the mint peep toe sandals for nude pumps, a change that didn't do anything to save the look but in fact made it worse. Those who read my WHWN for the VBA know that this piece is just not one Sabya's finest moment.
Verdict: NOT HOT
Arpita Mehta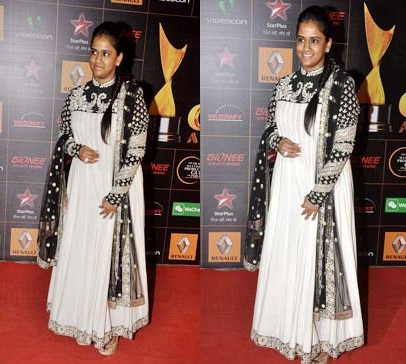 Also doing Sabyasachi on the night was Arpita Mehta. By now we've all figured out Ms Mehta is a huge fan of the designer as she is rarely seen in anything else. Sadly she has a knack for picking his most overwhelming pieces, well at least those pieces which are overwhelming for her. This anarkali may have worked on someone else but sadly Arpita looks like she's drowning in it!
Verdict: NOT HOT
Bipasha Basu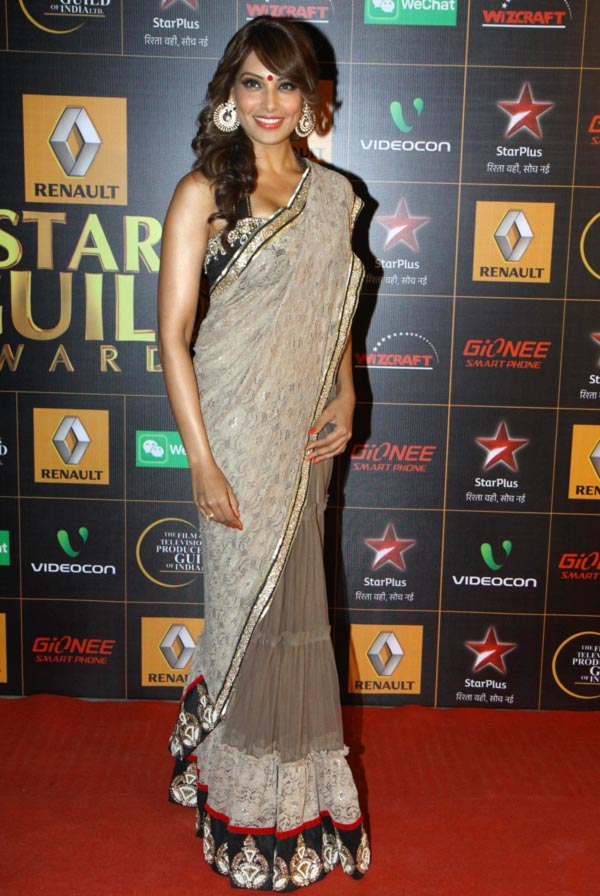 Bipasha went desi with a Binal Shah saree. Loving the saree but it was ruined by 'that' blouse, those earrings and the bindi which should have been given a miss this time around.
Verdict: NOT HOT
Deepika Padukone
Ms Padukone was seen in a Shehlaa Khan crop top and skirt. Not many could have pulled off this look off the ramp and Deepika is one of the rare ones. Since it could have ended up look quite informal she stepped it up with drop earrings and curls which added to the elegance of the whole do. But of course how can I resist saying that the best accessories she sported on the night were the Gunday on either side of her! Now that's called rocking a look!
Verdict: VERY HOT
Divya Dutta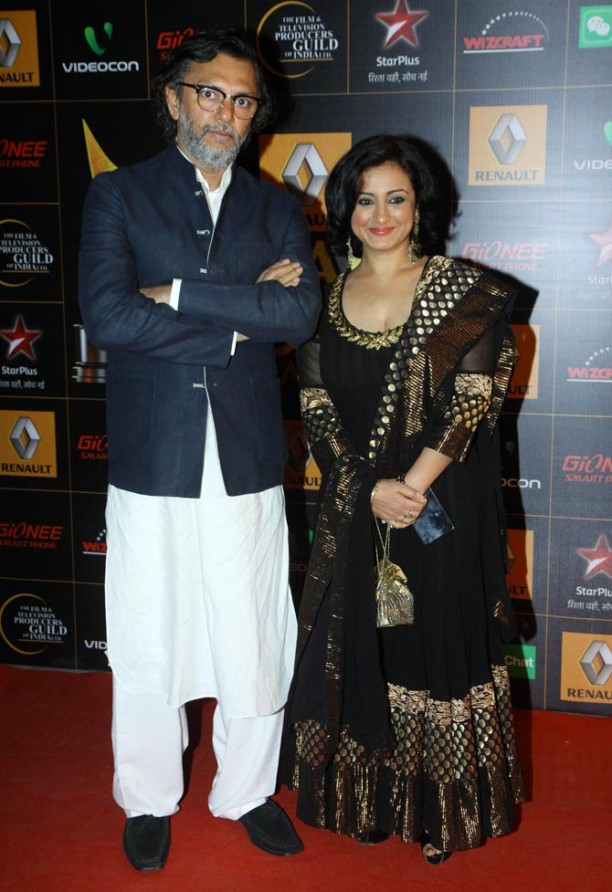 I probably sound like a broken record for all those who read this sentiment often but I have to say again. Floor length anarkalis are not for everyone! Whilst Divya does look sweet one can't help but wish she'd chosen something less heavy which would do more for the petite actress.
Verdict: JUST OKAY
Divya Khosla Kumar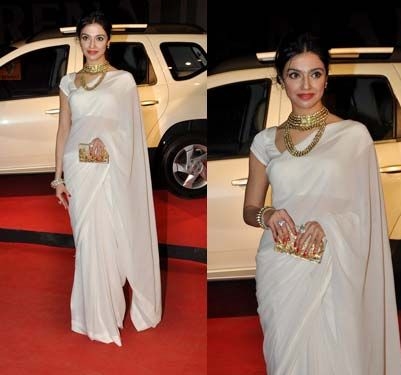 It was a Nachiket Barve for Divya and given the plainness of the saree she blinged it up with very Indian jewellery. I really would like to like this look but the double necklace and the hair stops me from doing so.
Verdict: NOT HOT
Drashi Dhami
TV's Madhubala Drashti Dhami was seen in a black gown featuring an embellished collar. Quite happy with her appearance though a different clutch and extra attention to hair style would have gone a long way in making this more striking.
Verdict: JUST OKAY
Huma Qureshi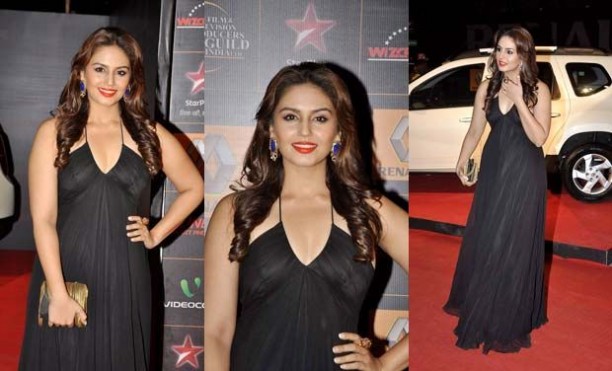 Given that Gauri & Nainika are a powerhouse in the world of evening gowns one wonders why Huma chose what is possibly the biggest disappointment, in terms of design, to come from the designer duo. Really not feeling this one.
Verdict: NOT HOT
Jacqueline Fernandez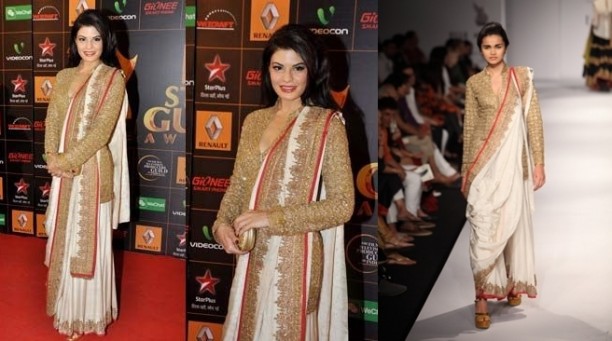 That amazing moment when you favourite fashionista wears your favourite designer, this was it for me! Jacqueline looked effortlessly stunning in her Anand Kabra lehenga. This piece would have all too overwhelming on many but she styles it well.
Verdict: VERY VERY HOT!
Kareena Kapoor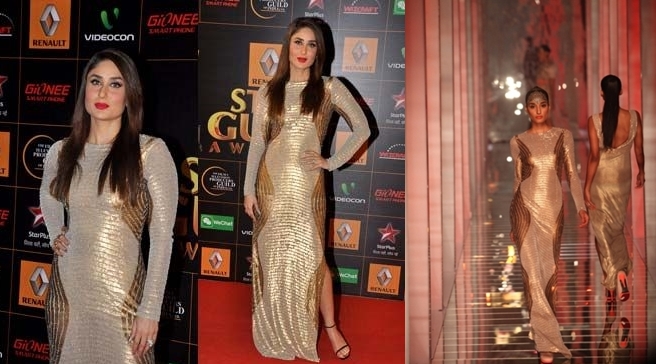 Bebo was packing in some serious glamour in a sequined Namrata Joshipura gown. One which she pulled off rather effortlessly! Sleek hair and red hot lips finished off the look. Wouldn't have minded a sleek pony tail for this look either.
Verdict: VERY HOT!
Nimrat Kaur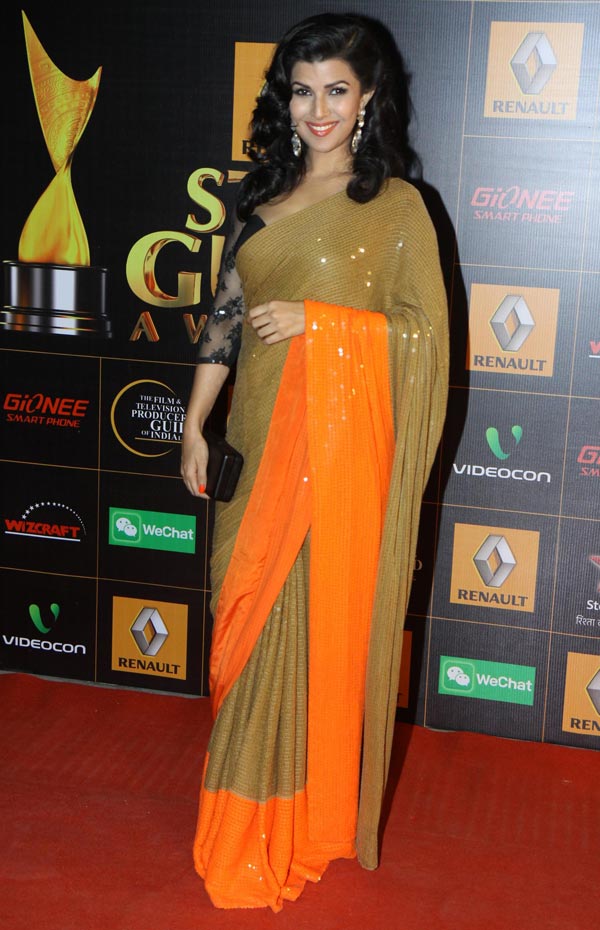 Looks like it is going to be a hit and a miss season for Nimrat. After a miss at Screens and a hit at FF Nominations Bash, we're back to a miss. The Atsu saree and the blouse combo didn't work for me. Wish she'd worn her pallu up. As for the hair, although intended for a classic look ended up looking dated.
Verdict: NOT HOT
Nin Dusanj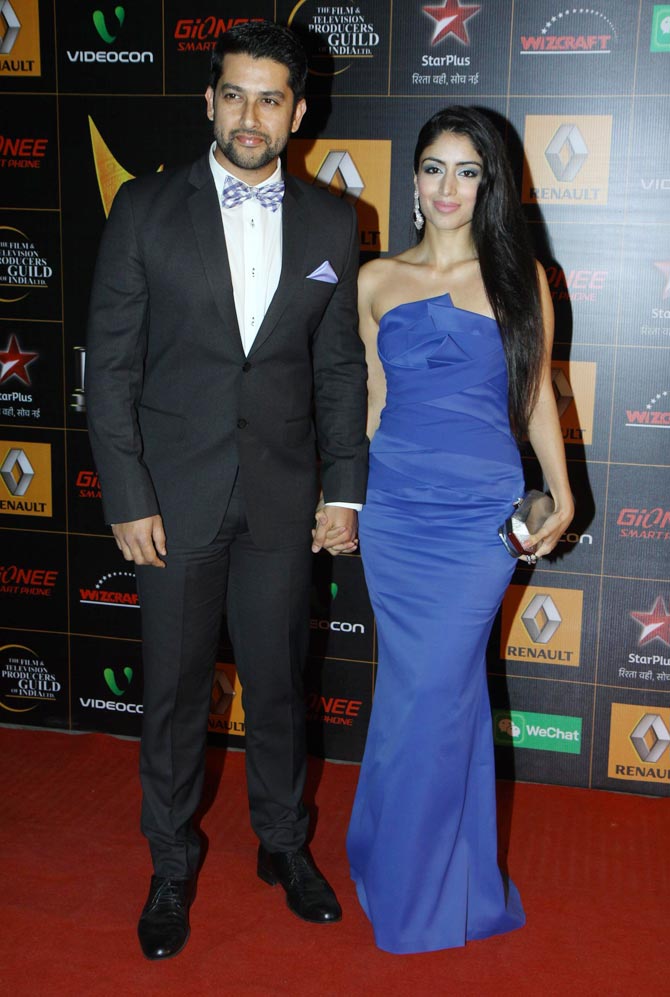 Aftab's soon to be Mrs sported an origami cut strapless gown on the night. One I'm quite a fan of! Still on the fence about her earrings choice but do like the fact that she left her neck bare given that she was not opting for an up-do.
Verdict: QUITE HOT
Raashi Khanna
Madras Café's Raashi Khanna was a vision in black on the night in a Rocky S creation. The designer had presented the piece with dark accented makeup but Raashi transformed the whole feel of the gown sporting very nude-esque makeup and a soft upstyle. No doubt she's one of the definite spotlight stealers for this event!
Verdict: VERY VERY HOT!
Rhea Chakrobarty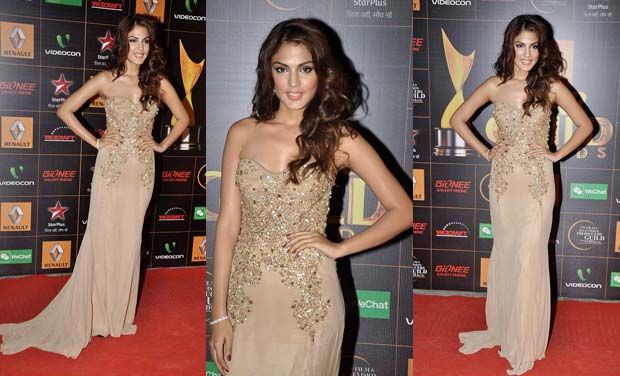 Mere Dad Ki Maruti star Rhea Chakraborty went with a strapless nude gown featuring an embellished bodice. It was a very striking gown hence the limited accessories choice paid off. She looked great!
Verdict: HOT!
Richa Chaddha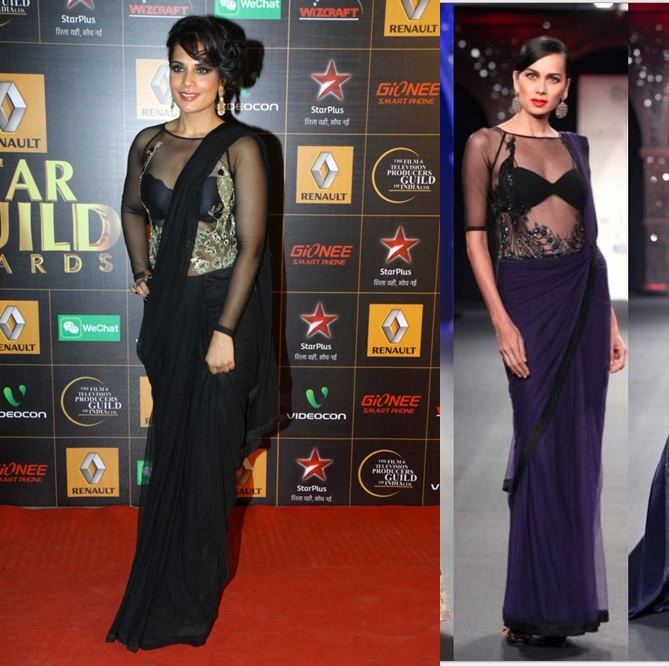 Doing risqué on the night was Richa in a Varun Bahl saree. Whilst I appreciate a bold outfit as much as the next person, this one just didn't grab my attention in the right way from it very first appearance on the ramp.
Verdict: NOT HOT
Swara Bhaskar
Two award shows thus far and Swara has wowed in both. This sets the bar quite high for the actress this season. Loving the simplicity of this appearance yet it ensures you don't miss her. The cut of the gown was refreshing as everyone else seemed to go for trails or ultra-figure hugging cuts. Statement necklace and sleek hairdo finished her look to perfection.
Verdict: VERY VERY HOT!
Shraddha Kapoor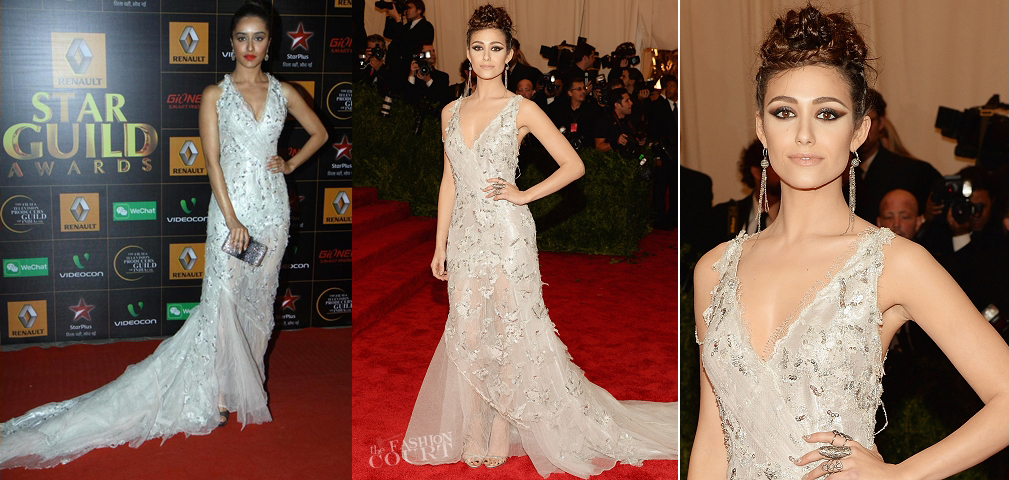 Shraddha's appearance on the night clearly had a lot of planning put into it. The stylist, or Shraddha herself, ensured they followed Emmy Rossum's execution of the same Donna Karan Atlier gown to the T but sadly it just could be pulled off by Shraddha. A worthy lesson to be learnt, just because someone else pulled it off doesn't mean it would automatically look good on you! Shraddha's makeup and hair was the biggest let down. Understandably she was trying to go for the same hair do Emmy went with but the result proves that perhaps she should have gone with something better suited for her.
Verdict: NOT HOT
Sonakshi Sinha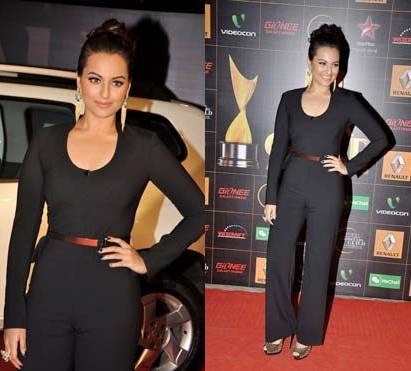 A striking jumpsuit can be every bit as formal as a gown and Sonakshi's appearance proves just that. She rocks this Rachel Roy jumpsuit! The highlight of course was the lust-worthy Atelier Mon earrings. It would be wrong to overlook and not comment on the flawless makeup which was very clean and neat, something which is rarer than you may think!
Verdict: VERY HOT
Sunny Leone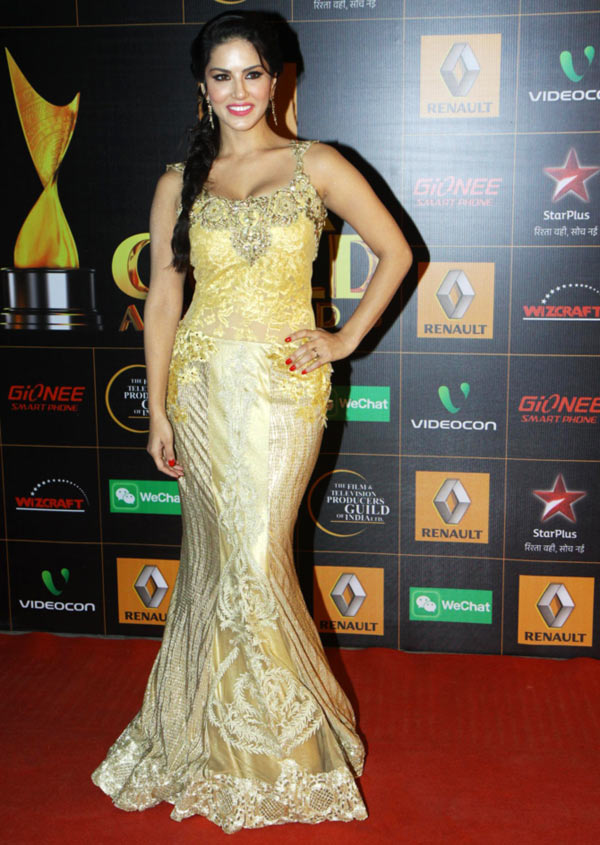 I generally am of the opinion that there isn't much hope for an appearance that features a Rohit Verma creation and sadly this Sunny appearances doesn't negate my position. Oh dear!
Verdict: NOT HOT
Tanisha Mukherjee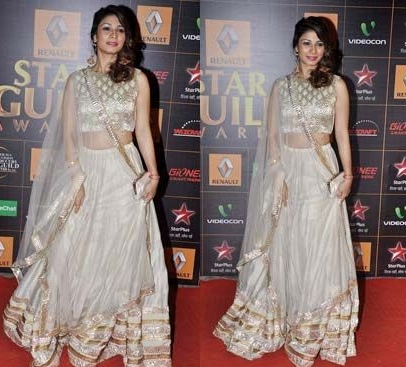 Tanisha went with her all-time favourite Payal Singhal on the night. This would have been a great appearance had it not been for the sizing of the lehenga which really needed to be altered for Ms Mukherjee's height. Given that it is already a multi layers lehenga, wrong sizing just left it all looking too messy.
Verdict: NOT HOT
Vaani Kapoor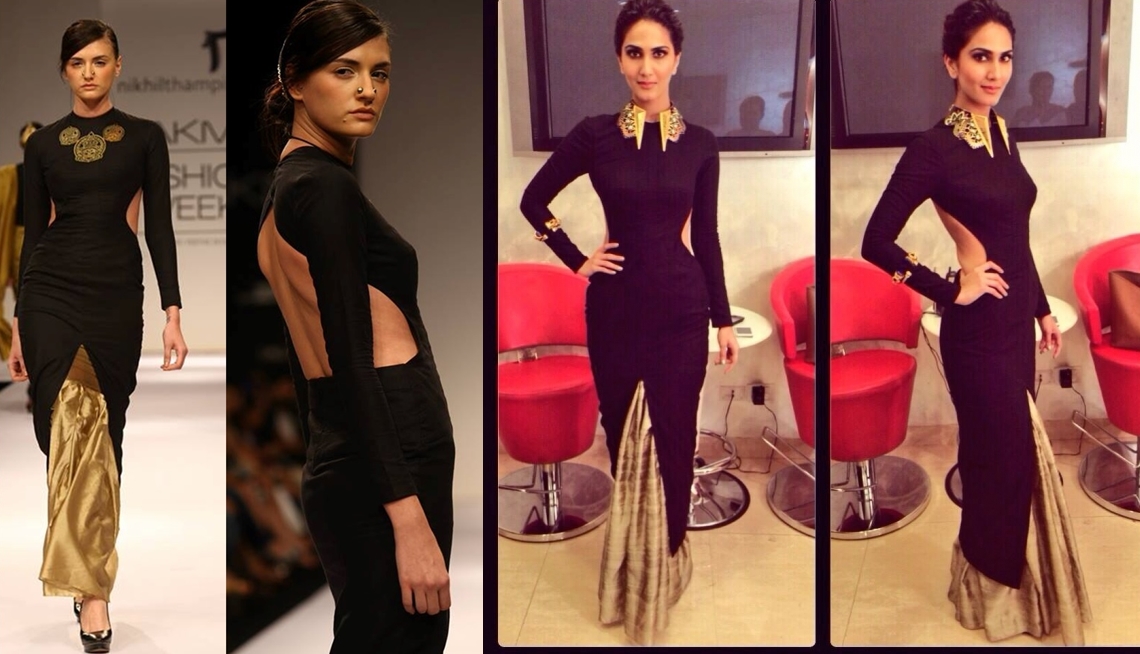 It is truly exciting to see a favourite collection of a designer's make it off the ramp. Nikhil Thampi LFW A/W 2013 collection was one of the most exciting collections at the event for the season and its finally getting its due respect with multiple outings this award season. After Kalki at Screens it was Vaani who went with a Thampi piece. One which she wore extremely well! And though I did miss the kathakali broaches on the neckline I don't mind the statement necklace she opted for.
Verdict: VERY VERY HOT