Deepika decided to end the year on a high note by celebrating all her hard work in 2013. Its been a rollicking year of grand blockbusters and immense appreciation of her talent. We've seen her pull off comedy, romance and drama all in one year. The bash, as expected, brought in the best of the best to the red carpet. Gold/Black was the theme of the party and whilst many excelled at meeting the theme's demands, others didn't and some just ignored it. Here's what fashion at Deepika's Success Bash looked like.
Not quite sure what Aamir was playing with on the night in his hoodie, pants, boots & Dhoom 3 hat but it definitely wasn't fashion! Wife Kiran on the other hand faired much better in a yellow midi dress. I'm guessing the yellow was the closest she had to gold in her wardrobe?
Verdict: Kiran is hot, Aamir is not!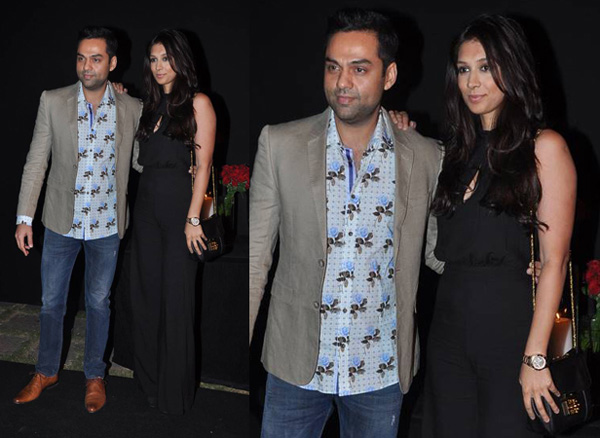 Abhay Deol and Preeti Desai
Working a floral shirt and how was Abhay with his other half Preeti in an all black keyhole jumpsuit. Both were styled to perfection! Especially love the combination of blazer, jeans, shoes and shirt that Abhay went for, that was some serious collaborative styling happening! As for Ms Desai she looked effortlessly elegant.
Verdict: Preeti and Abhay are hot!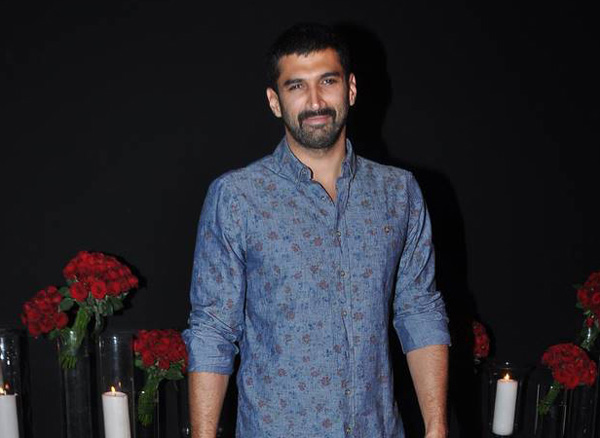 Aditi Roy Kapoor
From what little I see of Adi's floral shirt I like what he's opted for! Especially excited to see men working prints at this party, even if I don't know how exactly their choices fit in the dress code.
Verdict: Adi is hot!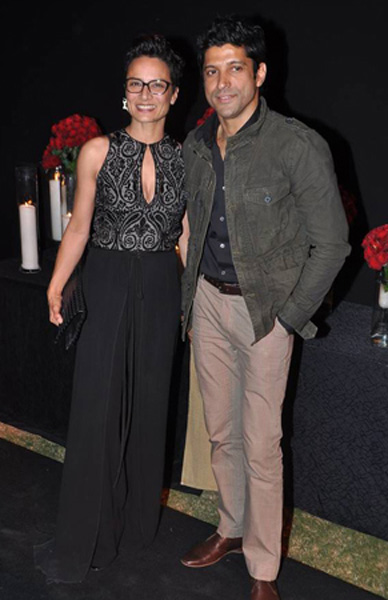 The Akhtars!
Now that's one hell of a good looking couple! Like Abhay Farhan to mixed up a killer combination of shirt, jacket, pants and shoes working in a very conventional yet creative pallet. Wife Adhuna kept it classy in a embroidered jumpsuit with a skirt overlay.
Verdict: The Akhtars are hot!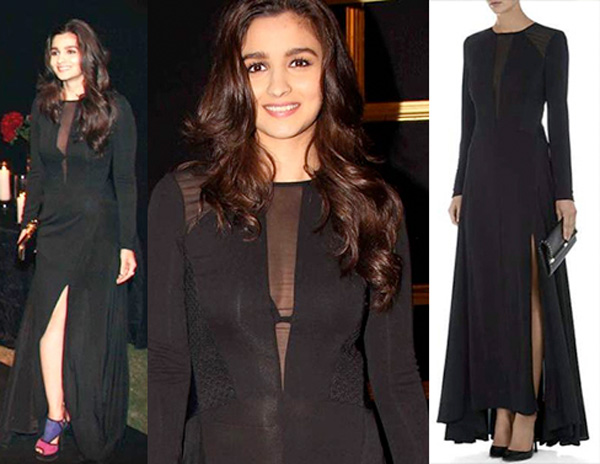 Alia Bhatt
Pulling off a risqué DKNY shear maxi with a high slit was Alia, also the same choice Huma Qureshi went for. Amazing choice of a black maxi that was conventional in ways but so unconcentional in others. Not quite sure what I think about the pop of color on the shoes. What do you guys think? One thing is for sure that its not detracting enough to warrant a not hot tag!
Verdict: Alia is HOT!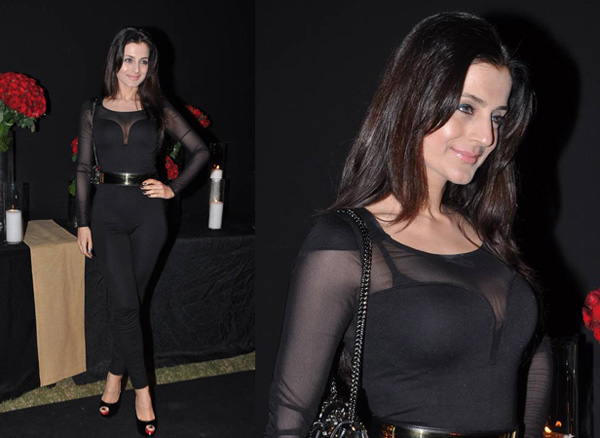 Amisha Patel
From good risqué shear attires to a very bad one! Truth be told the attire Amisha opted for isn't the problem, it's the fitting. Seems as if she couldn't find her size in the store and decided to squeeze into a 2-3 sizes smaller. (Don't believe us?! Go look at close-ups'!) And instead of sexy, it comes across looking rather off (and that is putting it nicely!) Better luck next time Amisha.
Verdict: Amisha is not hot!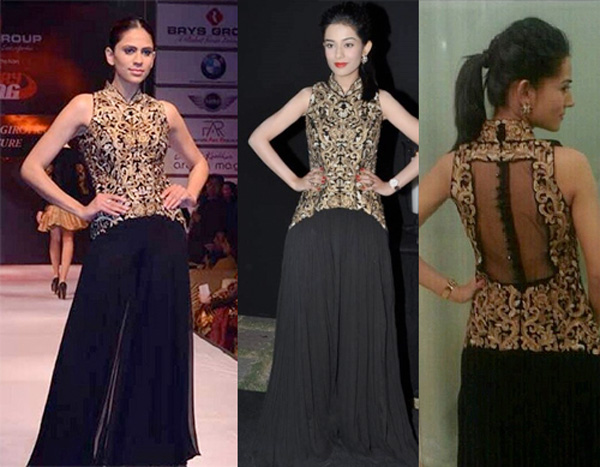 Amrita Rao
Making one of her better choices on the night was Amrita in a Mayyur Girotra dress. Granted the dress would have suited someone with a taller body length, Amrita still pulls it off well. Now if only she's stop posing so uncomfortably at red carpets we'd believe her looks more.
Verdict: Could be hotter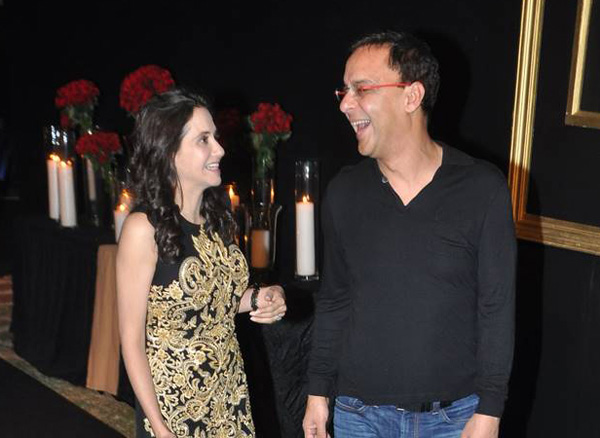 Anupama Chopra
Keeping strictly to the theme was critic Anupama Chopra in an embellished and embroidered black/gold body con. From what I see, I like!
Verdict: Hot!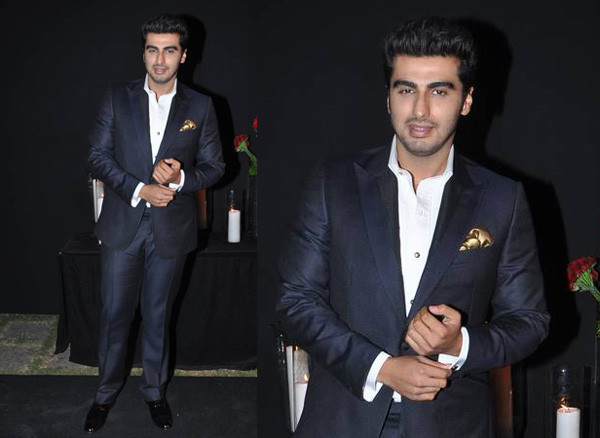 Arjun Kapoor
Arjun went for a suit with a gold pocket square that did a subtle nod to the theme. Loved that he left the inside of the suit casual by not opting for a bow tie or tie.
Verdict: Hot!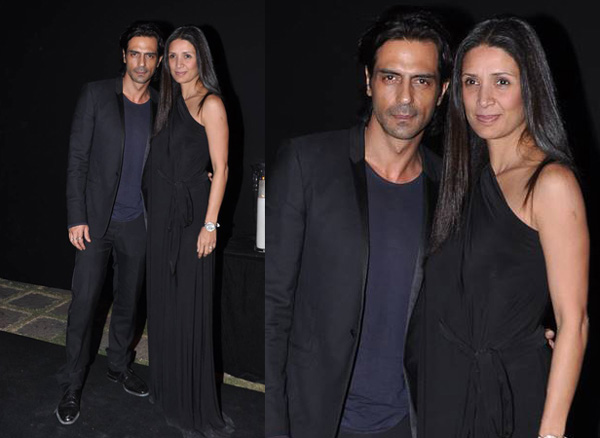 Arjun Rampal & Mehr Jessia
Here we are with our true fashionista of B-Town! The Rampals always look casual, relaxed and in style! This event was no different. Arjun's look was laid back yet totally well put together and not something he lazed off on. Same goes for wife Mehr whose one shoulder maxi was casual yet appropriate. No try-hard vibes but just effortless style! What more could we want!
Verdict: Hot!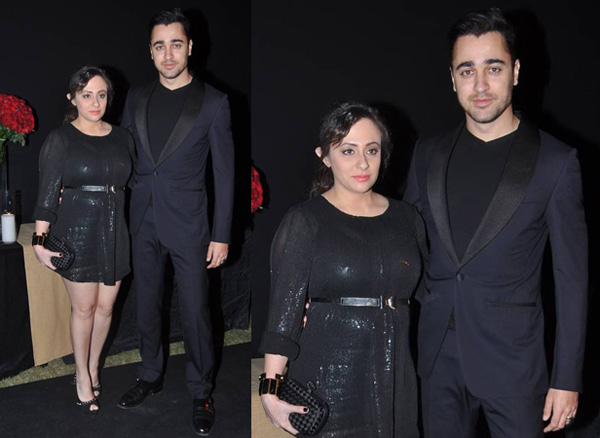 Imran Khan and Avantika Malik
From a very well dressed couple to a very badly dressed couple. *sigh* Imran's suit wasn't half as bad as what he chose to wore under his jacket was. As for Avantika…I'm lost for words to even start with this one.
Verdict: Not hot!
Sanjay Leela Bhansali
So who thought Bhansali would be such a natural fashionista! Wearing jeans, shirt and a scarf that fit his personality to the T yet was so well put together from a strict fashion POV.
Verdict: I can't believe we're saying, Bhansali is hot!
Bipasha Basu
Before we start with the outfit can we all acknowledge how little we're seeing Bips these days! She rang in the celebrations for her Bachna Aye Haseeno co-star in a Nandita Mahtani maxi from the designers 2013 resort collection. The red lips maybe debatable but nonetheless she looked good!
Verdict: Hot!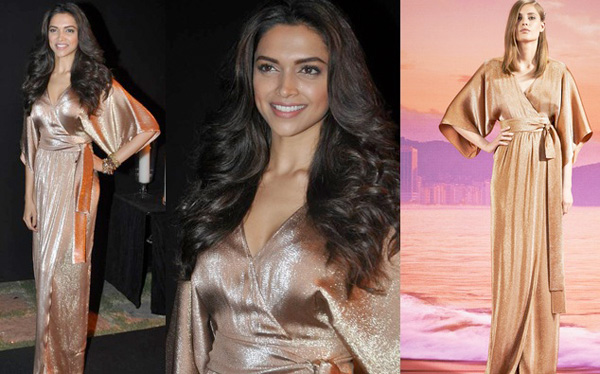 Deepika Padukone
As for the diva that was the centre of attention on the night, well she looked damn great! The Gucci wrap dress ever so fit for the occasion! Since it was such an impactful piece the blown out hair and nude makeup was oh-so-appropriate!
Verdict: Smashing appearance!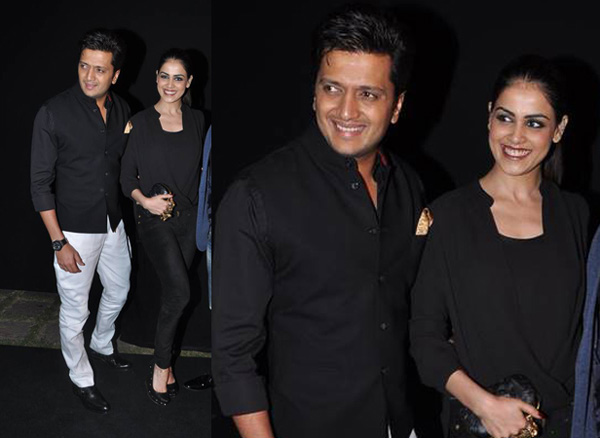 Deshmukhs
I must say that I was disappointed by the appearance of my fav B-town couple. It was a bit underwhelming appearance. Ritiesh's was just boring! Genelia was on a good start with the Nandita Mahtani dress but needed to add something to make the look really something to talk about. The appearance wasn't bad, but just underwhelming!
Verdict: Could have been hotter!

Divya Khosla Kumar
Finally we have a winning look from the Yaariyan director! Here's hoping this will lead to many more because its truly heartbreaking to see such a stunning lady being badly dressed. I loved the gold lace skater dress. The sleek hair and pop of color from the lips and nails were a brilliant addition.
Verdict: Hot!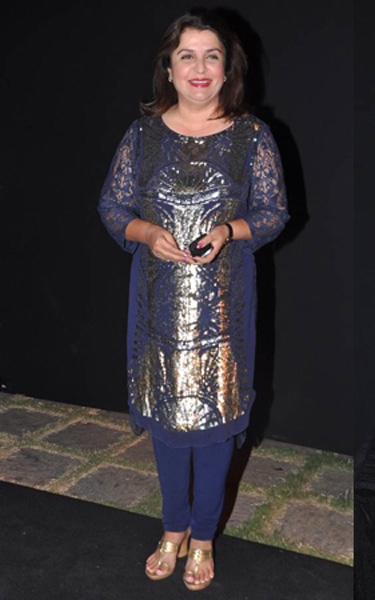 Farah Khan
Going for the gold option suggested in the theme meant Farah opted for a brocade kurti-pants set. Really like the outfit however wish Farah had not slacked off with the makeup and hair because this one had great potential! No reason why only the heroines can be scene-stealers at our events, Madame Director could have easily been one!
Verdict: Could have been hotter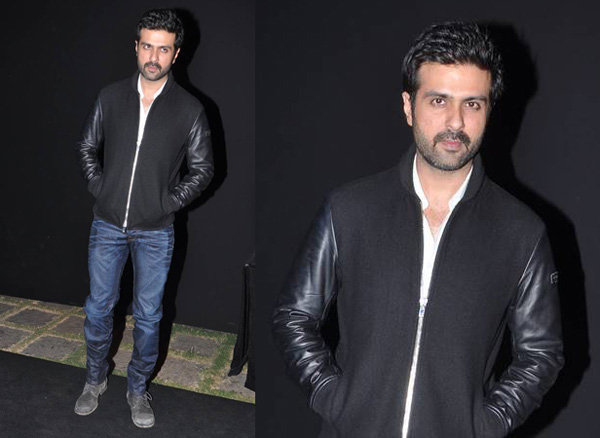 Harman Baweja
Thinking that maybe his lack of appearance on the screen would mean we'd leave him off fashion columns Harman Baweja gave us a very questionable look on the night. Not feeling this combo at all!
Verdict: Not hot!
Huma Qureshi
Accidently also turning up in the same DKNY shear panelled maxi as Alia was Huma Qureshi. She styled hers more formally with a slight more tweak with the hair and very feminine studs. It was great to see the two actresses being so sporting of what some may consider to be a big deal.
Verdict: Very hot!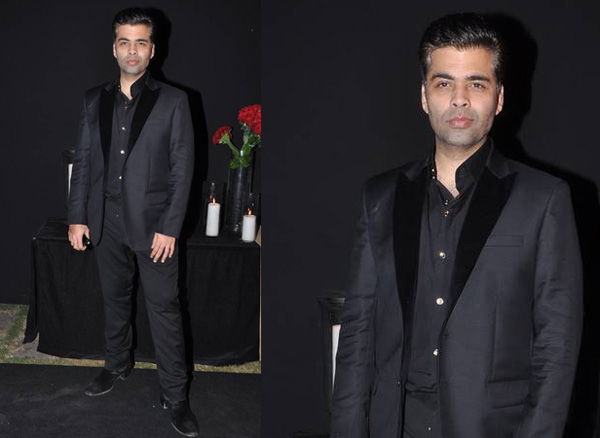 Karan Johar
Captain of the Dharma Production ship went all black for Deepika's bash. Not as exciting as of a look we'd hope to see from a fashion conscious man as he played it safe however that's not to say he didn't look good.
Verdict: Hot!
Anurag Kashyap
Not quite sure if Kashyap was rebelling against the theme or genuinely thought khakees would pass for gold? Joggers with khakhee and then the worst stripped t-shirt around, Anurag really know how to score a not-hot tag!
Verdict: Not hot!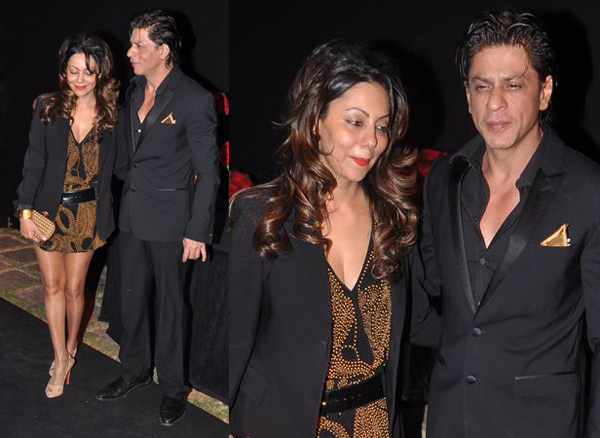 The Khan
Shahrukh Khan put in an appearance in all black and with a gold pocket square giving a subtle nod to the theme. Don't mind the outfit but the lack of closed buttons and that hair made the appearance a disaster! Why does the country's biggest superstar look like a mess?! As for wife Gauri, it was a studded drop waist dress and boyfriend blazer. Quite like the combination and the pop of red but wish she'd opted for different shoes and maybe a more subtle belt.
Verdict: Gauri is hot, Shahrukh is not!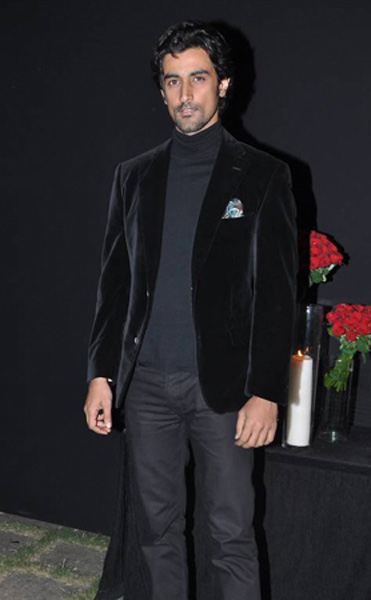 Kunal Kapoor
Rare sighting of a very good looking and talented young man and sadly its in 'this' attire! So yes its winter in India but turtle neck under suit? Why Kunal why!
Verdict: Not hot!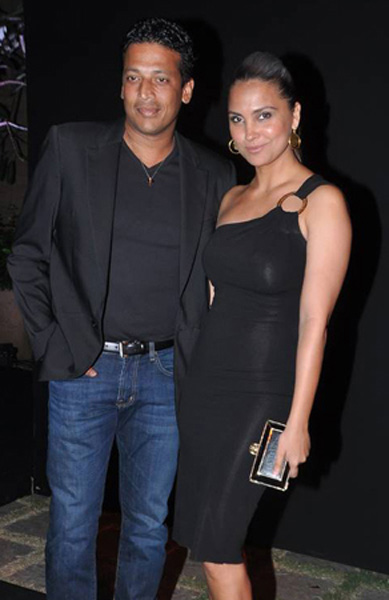 Mahesh & Lara
It was a let down appearance by the Bhupathis. Whilst Mahesh's look was nothing to get excited about, Lara opted for a dress that was flawed due to its sheer design.
Verdict: Mahesh and Lara are not hot!
Malaika Arora Khan
The moment we all wait for, a Malaika appearance! She went for a Stella McCartney dress, which featured a very unique shear detail. Since the dress is attention grabbing with let down curls and a pop of color on the lips, which finished the look to perfection!
Verdict: Very Hot!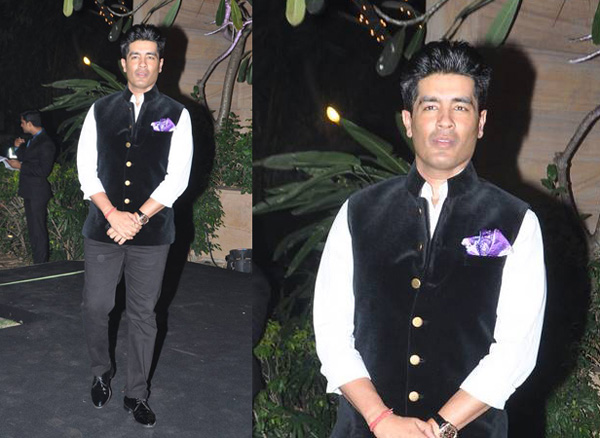 Manish Malhotra
Manish kept it simple yet absolutely striking in a white, grey and black combination. Loving that he stayed away from a gold pocket square, which was the obvious choice, everyone adhered to.
Verdict: Hot!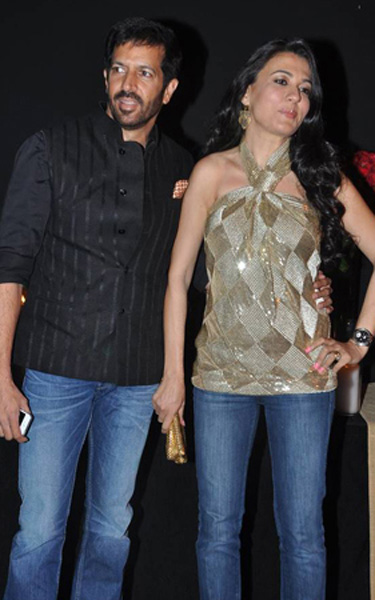 Kabir Khan & Mini Mathur
It was too much denim from these to. Both went for a formal-esque top and super casual bottoms and ended up looking rather mismatched.
Verdict: Not hot!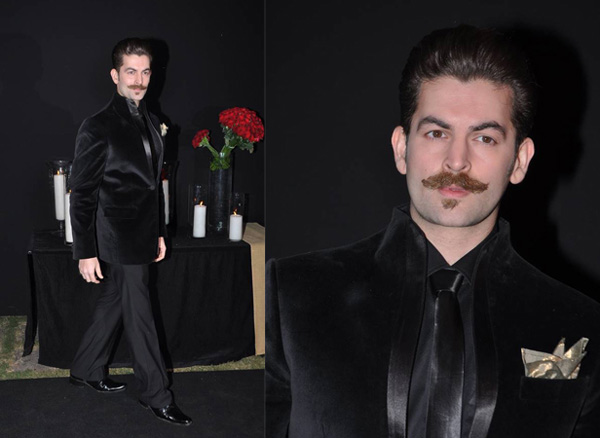 Neil Nitin Mukesh
Definitely too much black can make for a bad look especially with Neil's complexion and that facial hair! Can this man return to looking his good looking self?
Verdict: Not hot!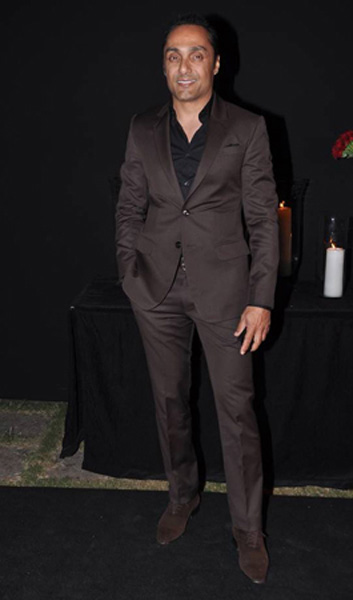 Rahul Bose
Hoping bronze passing off in the gold themed party was Rahul Bose. Picking a shirt to go with that suit was a tricky and I wish he'd gone for a white or cream.
Verdict: Could have been hotter!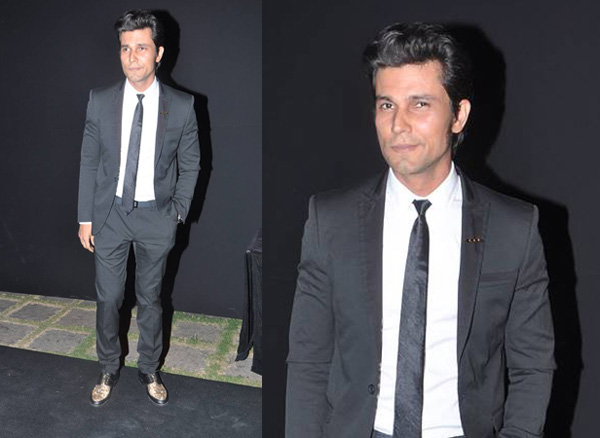 Randeep Hooda
Effortlessly stylish as always was Mr Hooda. Loving the hair especially! Not sure about those shoes though…
Verdict: Hot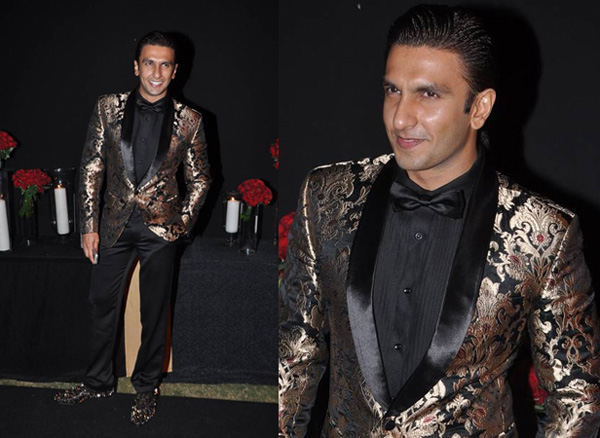 Ranveer Singh
We can at least never blame Ranveer for boring us with his appearance. An embellished jacket and studded shoes were the highlight of his look. Both rather bold but not bad choices. What didn't work was the ultra sleaked hair and super clean shaved look, which we just can't get used to. It all made the look a bit OTT.
Verdict: Not hot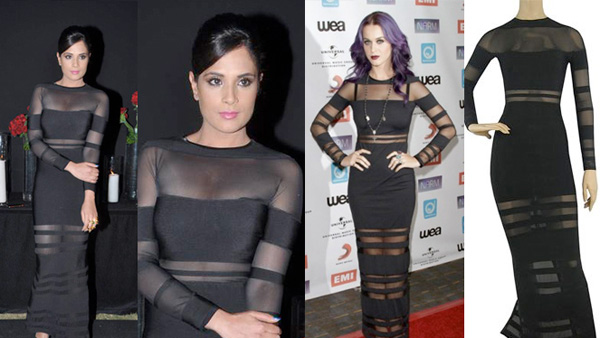 Richa Chadda
B-town really loves it some shear play! Richa went with a panelled bandage Herve Leger. The sleek do was a lovely way to make the look even more striking than it was. Kudos for refraining from accessories.
Verdict: Very hot!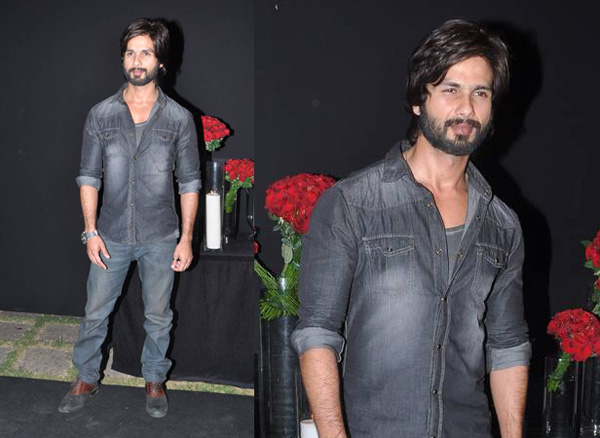 Shahid Kapoor
I'd be surprised that the security didn't stop Shahid at the gate with that look. Sure the look hair and facial hair is part of a role but the all denims left over mess appeal from R…Rajkumar clearly should have been avoided.
Verdict: Not hot!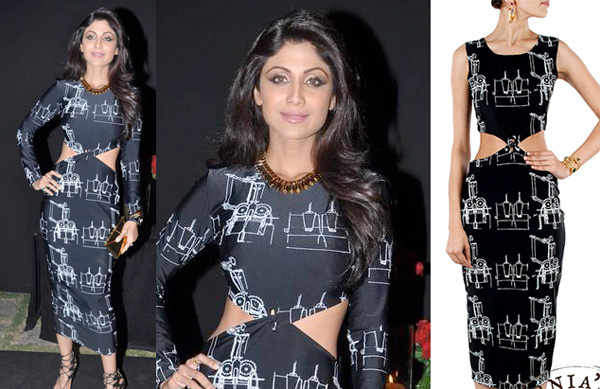 Shilpa Shetty
Showing the younglings how it is really done was our 90s thumka queen Shilpa Shetty in a Masaba cut out maxi. Statement necklace, blown out hair and gladiator sandals finished the look off. She looked simply ravishing!
Verdict: VERY hot!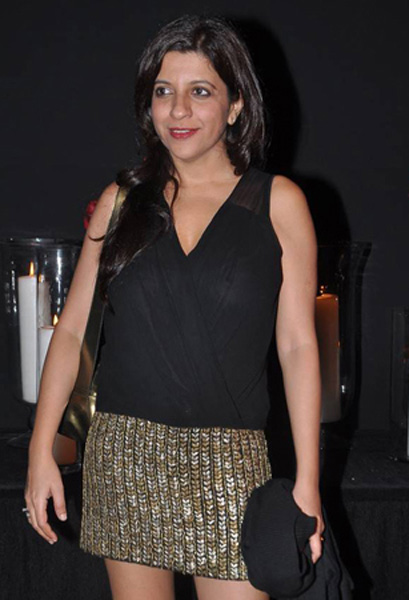 Zoya Akhtar
Surprise fashionista of the night was Zoya Akhtar in a drop waist sequence dress. Not only did she adhere to the theme, black and gold, but looked great whilst doing so!
Verdict: Hot!