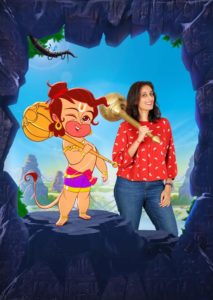 For a good year, director Ruchi Narain didn't tell anyone that the film they were working on had none other than Salman Khan in it….
It is a big deal to rope in an actor like Salman Khan for a film. While most other directors would be screaming the news from the rooftops, writer-director Ruchi Narain decided to keep the news all to herself.
"We dubbed first, and animation takes ages in the making because there are so many levels of pre-production work that I thought it best to not discuss anything initially… or maybe it just took that long for the fact that he did it to sink in! Naturally, we were brimming with excitement but we didn't even tell the other actors associated with the film that Salman Khan has already dubbed his part and is playing the titular role. We didn't want the news to come out so soon," shared Narain.
Written and directed by Ruchi Narain, HANUMAN DA DAMDAAR with an ensemble cast featuring voice overs by Salman Khan, Raveena Tandon, Kunal Kemmu, Chunky Pandey, Vinay Pathak, Saurabh Shukla, Makrand Deshpande and Javed Akhtar is been produced by R.A.T. FILMS, presented by RNB film in association with R.A.T films and is slated to release on the 2nd of June.