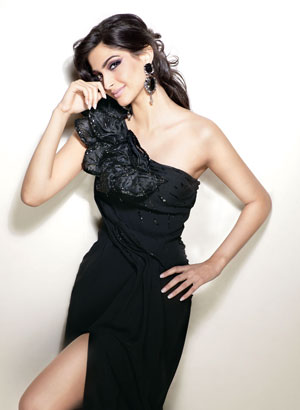 Since we write about what we love, which is Bollywood, one of the things we enjoy writing here at BollySpice is special features highlighting stars and their careers. Sometimes it is spotlights where we look at their whole career graph, sometimes it is a countdown of their best movies or their best scenes and sometimes it is just a list of why we think that star is so cool. To celebrate the release of Mausam, we thought for Sonam Kapoor we would change it up a bit. So, instead of listing why we think Sonam Kapoor rocks (Aisha, her beautiful style, I Hate Luv Storys and more) we polled some of her fans and asked them why they love her. Check out what they had to say!
I love Sonam for her ever smiling and straightforward nature. She isn't afraid to speak her mind. She has guts to say what she feels. She's simple, she's innocent, and she's loving and caring towards her fans. She always respects the fans and their wishes. She's not a fake person and most of all she just touches my heart with everything she does. She's charming and I can just feel the warmth and sunshine when she smiles. She just makes me happy. I can relate to her in many things. Love ya Sona forever. – Faryal, Toronto
I love Sonam because of her honesty and the charm that she got. She is real and beautiful from her heart. That attracts me most. – Sumeetaryan, Mohali
She's sweet and I'm happy being her fan because she's Sonam. She's unassuming, fun; very beautiful and very unlike anyone I have ever seen at least in Bollywood. – Abya, Gurgaon
I love Sonam because she's absolutely fabulous! She not only lights up the screen when we watch her act in movies, but she's the most stunning celebrity when it comes to photo shoots, and best of all her interviews are always the most fun to watch because of her incredibly warm and fun loving personality. Sonam Kapoor is a beautiful person, in terms of looks and heart! I love her all the more for how she's maintained contact with her fans right from her initial days in the industry… You can really tell how much her fans mean to her and that's rare in the industry!  – Manpreet, London
I love Sonam because of her chirpiness, randomness, and carefree attitude. – Anu, United States
I love Sonam because she is someone you can relate to. – Adity, United States
I love Sona cause she is super nice to her fans! She goes out of her way to make sure they are okay. Sometimes I forget I'm her fan and not friend. – Fariha, North Carolina
I have always admired and loved Sonam because she's simple. Relatable. Fabulous. Never manipulates. Speaks her beautiful heart. Very kind and loving to us fans. An inspiration to all of us. Wishing her all the best for Mausam. – Taabish, New Delhi
Mausam, which also stars Shahid Kapoor hits theaters this Friday!