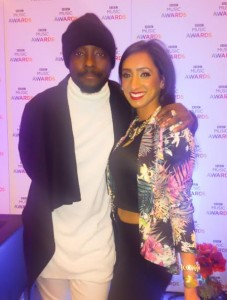 Bolly Flex have done it again! On Thursday 11th December we saw history in the making from none other than the choreographer of our favourite Bollywood dance group, Bolly Flex. Leena Patel was commissioned by the BBC to work with will.i.am for a Bollywood inspired fusion of his song 'It's My Birthday' which is a western track influenced by the popular AR Rahman song 'Urvashi'. The act was part of the very first BBC Music Awards event, which aired live from Earls Court and featured artists such as Sir Tom Jones, Coldplay, One Direction, Ellie Goulding, George Ezra, Take That, Labrinth, Ella Henderson, Calvin Harris, Ed Sheeran and may more.
We saw Leena's delicate and authentic Bollywood choreography start the piece with top end commercial dancers. The choreography was accessible for all audiences and a true representation of the art of Bollywood dance. As the atmosphere gradually built up, the track subtly changed over to Will.I.Am and Cody Wise's entrance to 'It's My Birthday' with choreography by IamDJDubz.
Leena says, "It was an absolute pleasure working on the Will.I.Am act. I feel very honoured to have been asked to work on such a high platform and to represent British Bollywood talent on behalf of the country. The team were a dream to work with and I hope to continue with this integration into the commercial industry."
The act received much praise for its fusion and first of it's kind. We have seen will.i.am work with the likes of Priyanka Chopra on her first single and we hope that this Bollywood inspired trend continues to filter through the mainstream industry and create a unity between the two identities.
Well done to Leena and Bolly Flex for introducing Bollywood dance to the mainstream industry, we hope that you continue to represent Bollywood at such a high calibre.