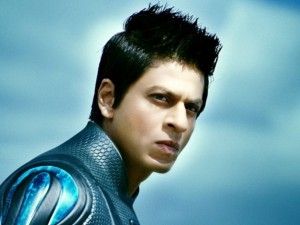 If the excitement was not huge enough that not only will Krrish 3 have, of course, the great Hrithik Roshan and fab Vivek Oberoi as the bad guy, we now hear there is a third superhero joining in the action. Apparently returning the favor for Hrithik's special appearance in Don 2, Shah Rukh Khan is expected to make a special appearance in the film.
Talking to TOI, a source said, "Hrithik and Shah Rukh have been meeting up to discuss Shah Rukh's cameo in the film.With SRK having already done a superhero film, it could be a Krrish and Ra.One union in one of the climactic scenes. Since they share a great rapport, it shouldn't be difficult for either one of them."
Fans are going to go gaga with all that hotness and talent on screen at one time!
Apparently Vivek's role as the super villain Kaal in the film is just as big as Hrithik's Krrish. Director Rakesh Roshan told Subhash K Jha, "It makes sense to pitch Hrithik's super-hero against an equally powerful villain. We've left no stone unturned to ensure it looks like a battle between equals. Vivek has done an amazing job."
Adding, "This is the most difficult film I've ever shot. I've had to create a balance between my son's character and Vivek's character. The two look evenly-matched on screen. And that's my biggest triumph."
Besides the romantic tracks, shooting is just about complete and the climax we hear is going to be incredible. "For the last five months we've shot only the action scenes. All I can tell you is, the fights are not about showing the super-hero throwing punches. His opponent is just as powerful."
About working with Hrithik, Vivek said in an recent interview, "He is a delight to work with. He not only makes sure of quality performance on the screen, but also how Kangana or me look and perform. There have been days when I have called him regularly on the sets even on his off-days to ask his opinion on a stunt that I am doing, or if my body language is right. He is happy to make time for us and comes to the shoot all the time to supervise."
Shah Rukh is also working in another way to make Krrish 3 a reality because the specialist VFX team at Red Chillies will be working on the film. Rakesh Roshan said, "Shah Rukh's studio is as good as any foreign studio. The key to get perfect results is time. And I have given them 15 months. Most of my VFX shots are over and they have already started the work."
Looks like we are in for a treat when Krrish 3 hits theaters next year! Yes, sadly we have to wait until next year but we will keep you up to date on all the Krrish 3 news!