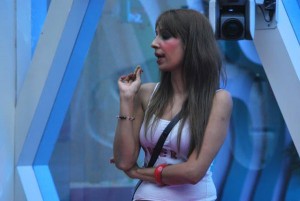 Even as the entire Bigg Boss House has alienated Pooja Misrra, the gritty lady continues to have her way, giving it back to the Housemates, while entertaining one and all outside the House.
"Pooja Misrra is undoubtedly the biggest TRP generator this season," points out celebrity publicist and Bigg Boss specialist Dale Bhagwagar, who elaborately counseled the VJ and actress, giving her survival tips and tricks a few days before she entered the reality show.
Dale, who is often labeled as Pooja Misrra's 'guerilla publicist' defines her as "a simpleton and a baby at heart; who, if rubbed the wrong way, can transform herself into a ferocious tigress within a nanosecond." Whoa!
The Bollywood publicist, who has earlier handled the media for maximum number of controversial celebrities on reality shows including Shilpa Shetty (Big Brother), Ashmit Patel, Rakhi Sawant, Kashmera Shah, Sherlyn Chopra, Diana Hayden (Bigg Boss), has also spoken to contestants Juhi Parmar, Shakti Kapoor and Mahek Chahal before the show rolled this year, and is officially handling Amar Upadhyay during Season 5.
"If Bigg Boss wants to escalate the drama at this moment, the best option would be to send Pooja Misrra to the Secret Room for a few days. This would not only give a breather to the other Housemates, but also give Pooja a good insight about who is her real friend and who is not," ideates Dale.
"Imagine how much the Housemates would bitch about Pooja if they think she's gone. Plus, she would find out who bitches about whom behind their backs. And then imagine, what would befall on her re-entry into the House. All equations would instantly change. Dushman dost ban jaayenge, aur dost, dushman. That's what I would call real double vaat," Dale adds with a mischievous grin.
Certainly, this is the best idea that anyone could have given Bigg Boss right now, and only a scheming publicist like Dale Bhagwagar could think of a spin like this. Now what remains to be seen, is whether Bigg Boss agrees with the blasting potential of this bomb of an idea.
About the Secret Room:
The Secret Room is a special room attached to the Bigg Boss House. There are times when Bigg Boss directs a Housemate to this room, while other Housemates are given the impression that the person has been evicted or has left the House for good. The Housemate kept in isolation, is given access to past episodes of the show as well as the privilege to secretly watch what is going on in the House. Equipped with all this knowledge, when the Housemate re-enters the main House, all hell breaks lose.