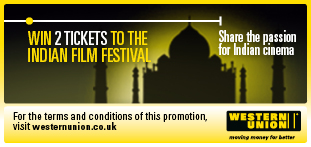 The London Indian Film Festival is almost upon us and we have a special contest just for you! Supported by Film London and Western Union, the festival, which begins on June 20th and runs to July 3rd, brings to UK audiences a selection of cutting edge films from some of India's hottest independent talents. Going way beyond Bollywood, these are films that challenge, shock, generate debate and present a more realistic view of India today in all its colour and diversity. This year it features a range of incredible films beginning with Anurag Kashyap's Gangs of Waseeypur!
Here are the details to win 2 tickets to the Indian Film Festival… Share the passion for Indian Cinema
With Western Union get a chance to watch your icons on Big Screen for free at the London Indian Film Festival.
Just visit us on the contest site to share your message for your favourite icon and you can get a chance to win free tickets.
For more information call us on 0800 833833
Terms & conditions available on www.westernunion.co.uk