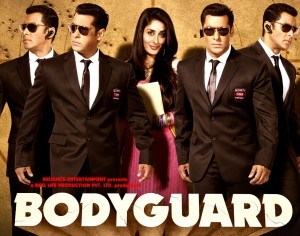 Coming up on August 31st is the Kareena Kapoor-Salman Khan action/romance Bodyguard!The film revolves around a young guy (Salman Khan) who has a very strange habit. He worships anyone that he thinks has even a trace of heroism. Whenever he develops one of his fixations on someone, he is compelled to shadow them as a sort of bodyguard. He will do anything to achieve this – and once he has done so he takes his role as bodyguard very seriously. Who does he end up guarding? You guessed it Kareena Kapoor, but of course there is much more to this story. Bodyguard is the story of conflict-between innocence and mischief, love and power, and life and death!
We have a special chance for our London readers to attend a special screening. You can win 1 pair of tickets to see a special preview for the hottest Bollywood film of the festive season, Bodyguard on 30th August in Central London at 7:30 pm.
Just answer one question!
What Tamil film is this a remake of?

Please email your answers to editors@bollyspice.com no later than August 28th!
Good luck!