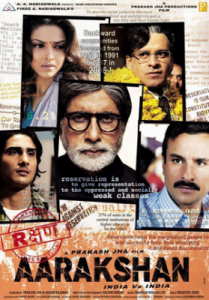 Reliance Entertainment presents one of the most controversial and thought-provoking films to emerge from India this year, Aarakshan, based on true accounts, releasing in UK and Worldwide on 12th August 2011
The debate and discussion will heat up this summer as Reliance Entertainment's Aarakshan, a high voltage, socio-political drama based on one of the most contentious Indian government policies of caste-based reservations in government jobs and educational institutions, releases in cinemas in UK and worldwide on 12th August 2011.
From the makers of Raajneeti, one of the top grossing Indian films of 2010, and based on real life events, Aarakshan is directed by the country's most fearless and hailed director, Prakash Jha, who exposes the corruption and caste discrimination rife in India's political and educational system. Flawless and compelling performances are delivered by the Indian film fraternity's finest acting talent, spearheaded by veteran of Indian cinema, Amitabh Bachchan (Black, Zanjeer, Sholay). Appearing alongside the screen icon are major artists from the industry's younger generation including the formidable Saif Ali Khan (Dil Chata Hai, Omkara, Kurbaan) beguiling starlet Deepika Padukone (Om Shanti Om, Love Aaj Kal, Housefull) and rising star of the Indian screen, Prateik (Dum Maaro Dum, Dhobi Ghat). Delivering exceptional supporting roles are industry veterans Manoj Bajpayee and Hema Malini.
To celebrate the release of Aarakshan in cinemas, we are giving away a pair of tickets to the preview screening for the film at 7.30pm on Thursday 11th August 2011 at Cineworld Cinema, Haymarket. For your chance to win, simply answer the following question and send your replies to editors@bollyspice.com. You have until Monday August 8th to get your answer in!
Q. Who is AARAKSHAN directed by?
'Prepare for a controversial exploration of the corruption and caste discrimination that continue to hold back one of the world's emerging superpowers and tie it to the dark ages, as Reliance Entertainment's Aarakshan causes waves across the nation and beyond from 12th August 2011.
In case you missed it have a look at the trailer for the film!