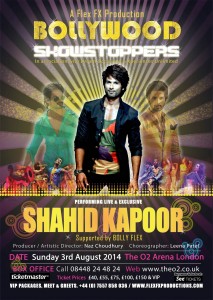 This is for the attention of every die-hard Shahid Kapoor fan! If you would like to have a once in a lifetime opportunity to dance with the superstar, then here is a special competition which you should take part in. Many of you will already know that Shahid is coming to London next month, along with Sonakshi Sinha, Mika Singh, Jacqueline Fernandez and Ali Zafar for the 2014 Bollywood Showstoppers concert at the prestigious O2 arena. The chief organizer of the contest, Mr Naz Choudhury announced the details of this unique competition over the weekend and gave this message to fans who would like to take part in it.
To all Shahid Kapoor fans!!! Here is a special competition I will be doing, so read closely. I will be giving away the chance for 1 lucky (Winner) fan to have a small dance with #ShahidKapoorlive on The O2 stage to the title track Saree Ke Fall Sa!
Competition Rules:
1. Take a Selfie with the official show poster from the train station, buses or phone boxes.
2. Upload online (Facebook), tag 50 people & upload on Twitter
3. (Hashtag) #BollywoodShowstoppers & #Showstoppers Selfie.
The most popular #ShowstoppersSelfie (live & shares) and creative (Original) selfie will win. I will be announcing the winner by 31st July! Good luck to everyone.
This is your chance to shine and win the chance to dance with the man who is famous for his hit dance numbers such as 'Mauja Hi Mauja,' 'Dhating Naach' and 'Move Your Body Now.' So what are you waiting for? Create your Showstoppers Selfie now!
Bollywood Showstoppers takes place on 3rd August 2014! You can book tickets here:
AXS – http://www.axs.com/uk/events/249681/bollywood-showstoppers-tickets?skin=theo2mars
Ticketmaster – http://www.ticketmaster.co.uk/Bollywood-Showstoppers-tickets/artist/1812038?tm_link=artist_artistvenue_module
Also check out the latest video trailer to Bollywood Showstoppers if you haven't seen it yet!
http://www.youtube.com/watch?v=wUaiegZn0lY