Yes, dear readers we have an exclusive contest for all of you! You can win exclusive Tere Naal Love Ho Gaya Goodie Bags! How? Well, we are getting there! Hold on!
Tere Naal Love Ho Gaya stars the incredibly cute real and reel life jodi of Riteish Deshmukh and Genelia D'Souza.
See…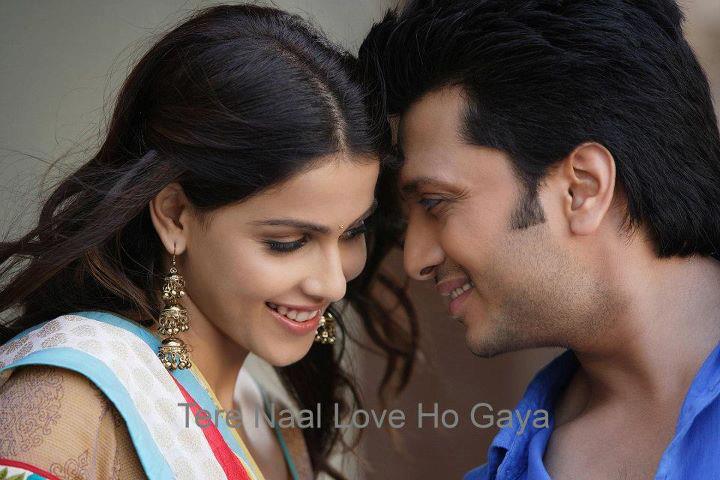 Everyone say awwww!
Tere Naal Love Ho Gaya is a rom-com with lots of com, directed by Mandeep Kumar opens in theaters this Friday, February 24th! It is the story of Mini and Viren. The world will always welcome love stories, they say, especially if they are funny, crazy and unconventional (Ghazab Kahani's). Tere Naal Love Ho Gaya is an endearing tale of how unusual circumstances bring people together and change their lives in ways they could have never imagined.
Meet Mini, a beautiful free-spirited tomboy who has what it takes to make her an extremely eligible bachelorette in the eyes of many local boys – a passport to Canada – and a heir to her father Bhatti's business. Bhatti, who is hell-bent on marrying her off as soon as possible, also is wide-eyed when it comes to money. After having brought up his daughter single-handedly, he is now looking to en-cash the best marriage proposal
But who does Bhatti have in mind? Sunny, a brash and aimless boy, whose sole purpose in life is to spend his wealthy father's money. Sunny with his 'Jat, Jameen aur Jipsy' thinks he can win the heart of any young lady. But are they going to have a fairytale ending? Will he be able to win our beautiful Mini's heart?
Meet Viren, Bhatti's mild-mannered employee who is ambitious enough to save money, start a small business and make it big in life. Mini meets Viren when he comes to her house to claim some pending money. Mini uses a small argument between Bhatti and Viren as an excuse to escape her impending marriage and flees with the latter in what appears to be a kidnapping.
But is this really a kidnapping? And if yes, who is being kidnapped? Together they come up with a clever plan, a sort of ransom settlement which could earn them money. While on the run, the fugitives begin to enjoy each other's company. A new twist in the tale takes them to a completely unexpected location where we meet Chaudhary whose unusual life and circumstances we get to discover.
Chaudhary and his bunch of hilarious family members, each one not to be outdone by the other, grow to love Mini's presence around the household. What happens while they wait for their ransom? Will Mini and her hero ride off into the sunset together? Will Sunny be able to save the day? You'll just have to watch to find out. In a dramatic climax involving a shiny horse and a beautiful car, that will leave you asking for more, Tere Naal Love Ho Gaya is a unique film where going beyond appearances truly is the mantra.
Check out the funny trailer!
httpvh://youtu.be/QU1NYZ28R8s
Now back to the contest! It is simple… all we want you to do is tell us:
What you think is the funniest moment in the trailer!
Email your name, address and your answer to editors@bollyspice.com. Now hurry because this will be a quick turn around and the funniest answers will get the cool surprise gifts!