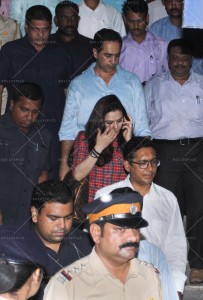 The bubbly Preity Zinta has been active in the headlines recently with her complaint against former boyfriend and business partner, Ness Wadia. She has lodged allegations against him for abuse and molestation and on Tuesday night she gave another police statement reiterating the allegations made previously.
She reports him screaming abuse at her, insulting her and attacking her character publicly. She has said this demeaned her dignity as a woman and humiliated her.
The actress' neighbour, Danish Merchant, has told police that he saw bruises on her arm on the 31st May, the day after she was allegedly abused by Ness Wadia. Danish Merchant is also one of the key witnesses of the incident at the IPL match at Wankhede Stadium on the 30th May.
Merchant's police statement reads:
"About 40 minutes after the match began; Wadia came and started screaming because he couldn't find a seat for his mother. He said, 'What the hell do you think of yourself? You f*****g w***e. You f*****g b***h. You have shown your class.' He then left. After the match, Zinta went down to ground and told us she would return in half-an-hour. Jean and I waited in my car. When she returned half-an-hour later, she looked disturbed and started crying. She was so distraught that I didn't ask her anything that night." 
The police aim to collect statements from all 14 witnesses named by Zinta by the end of this week. They have, however, remained unresponsive about their plans to question or summon Ness Wadia.