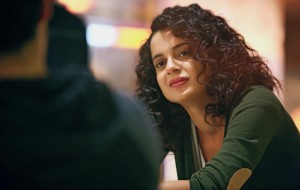 Emraan Hashmi, Kangana Ranaut, Randeep Hooda, Sanjay Dutt, and Neha Dhupia star in the fast-paced anti-corruption thriller UNGLI releasing this Thursday on Thanksgiving Day, November 27 in the US and on the 28th the world over. Directed by Rensil D'Silva and produced by Karan Johar Kangana plays Maya in the film noir tinged movie. See what the actress revealed about the film and working with a gang of boys in this Q and A.
The film follows a group of five friends on their quest to stand up to corruption, how was it acting with Emraan, Randeep, Neil and Angad?
It was hilarious; they are a funny group of guys. After filming with them for a few weeks it started to feel like we had known each other all our lives.
This is your third film with Emraan Hashmi, how was it working with him again?
Emraan is a great guy; he is really down to earth and is a very diverse actor. We get on really well outside of work and having worked together in three films now we have become very comfortable around each other. It's always fun to work with Emraan and I think our friendship in real life comes across in this film; it isn't hard to act like friends when you actually are!
People have been praising your character as the heroine of the story, why do you think everyone loves your character so much?
With this type of film, men have always been at the forefront of fighting crime and standing up to corruption. I think by having a girl in the group it shows how times are changing, and that women can kick ass as well. (Laughs)
Ungli has attracted a lot of attention, why do you think people are so interested in this film?
I think Ungli has a great team working on it, everyone is really focused on making this film the best it can be. It has everything that a great film needs; Rensil has done a fantastic job of combing humor and actually a really interesting message. People have been waiting for this film for years now and many didn't think it would ever actually get released so now that a release date has been set, I think everyone is really excited to see the outcome.