Some people talk the talk and others walk the walk. Vivek Oberoi, described as a Bollywood actor, social worker, adventure sports enthusiast, poet, pilot and dreamer, inspired over 120 guests to walk the walk as he does so gallantly at the Women Empowered event in support of Sewa Day on Tuesday July 1st.
The event, all organized in just 10 days, and sponsored by Sun Mark Ltd in association with Sterling Media, was sold out and those present were almost transfixed by the depth of Vivek's thoughts and left wanting to hear more. The event was to raise awareness for Sewa Day, an initiative to remind us that charitable giving is not always about donating money, it was, many a times about donating time – the concept of selfless service that generations of Indians (and many others under a variety of names) have known as 'sewa' was being revived to a mass audience.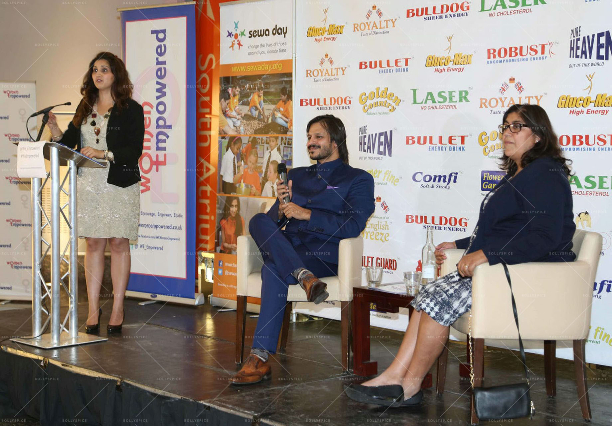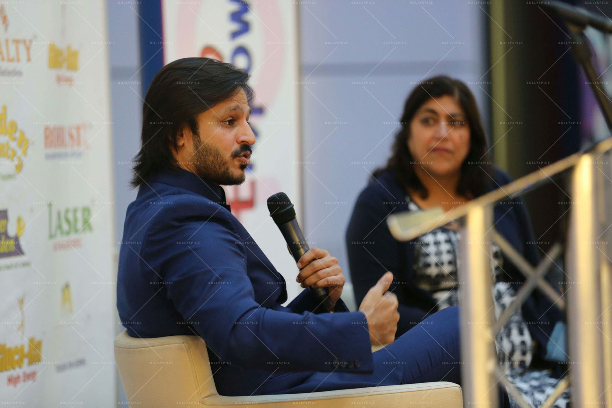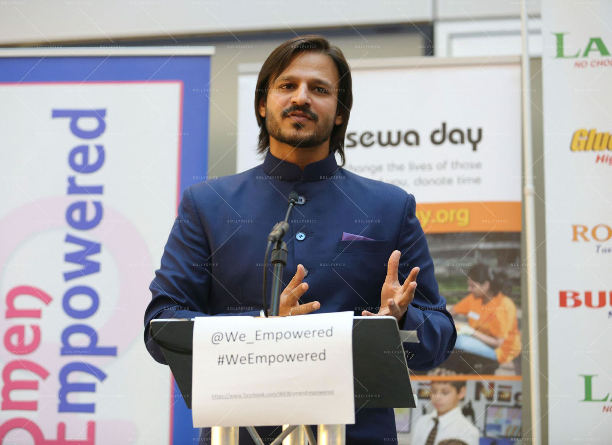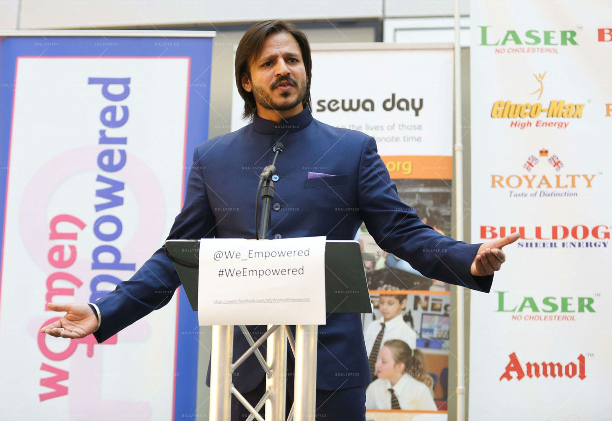 Each year since, on one day in the year people come together to "do sewa" for others . Last year, four years from inception Sewa Day projects were being held in 25 countries with over 250 projects and a staggering 75000 people taking part.
Best known as an award winning actor in films such as Company, Saathiya, Shoot Out at Lokandwala and Krish 3, Vivek's philanthropic work is understated but overwhelming. He has been awarded the Red & White Bravery Award in 2006 for helping rebuild a village which was severely hit by the Tsunami. He delivered 6 truck loads of relief to villages and adopted a Tsunami damaged village; he runs a school project near Devi offering education to underprivileged girls who have been abandoned by their families; he supports the Cancer Patients Aid Association and Banyan which rehabilitates homeless women with mental illnesses and many more. He has been recognised by FORBES Asia for his charity work. He is one of only 4 Indians on the list and the only Bollywood star and also the youngest. He has donated over $3m, helped raise over $25m but has also given something just as valuable if not more and that is his time.
Reena Ranger, Chairwoman & Founder of Women Empowered (WE) welcomed the guests to the event explaining that WE is a wholly social initiative which aims to empower women (and men) to make the best of their individual skills and talents aimed at Engaging, Encouraging, Empowering and Enabling women(and men) to do whatever that special thing is that makes a difference to their lives as they see it. She went on to say "The satisfaction and humility of doing good is reward enough with the added benefit of benefiting others –we make a living by what we get but a life by what we give. We must encourage philanthropy amongst ourselves; the world is a large place and it may seem like we cannot change it but if we each strive to make a change for one person then together we would have made a great difference. People such as Mr Oberoi, who have dedicated so much of their time towards helping those less fortunate, are a source of great inspiration to all of us."
She said she was delighted to have had the honour of introducing Sewa Day's newest ambassador and that Mr Oberoi was able to use Women Empowered as the platform to share his experience with others. She believed that this would encourage them to put their fears and doubts aside in order to take steps that would make a difference to their lives and those around them. She added that on a personal level she was inspired by taking part in a concept that was ingrained in her by her faith, upbringing and that having taken part personally in Sewa day projects and last October Women Empowered, at a small charity lunch, raised £1111 for Sewa Day towards its operating costs. She told us that Sewa day is a wholly transparent initiative and the money raised went towards its operating cost and all the time that volunteers give goes to helping mankind. She ended by emphasizing the highly effective but simple message that we can change the lives of many with little cost to ourselves and quoted Ralph Waldo Emerson who said, "to know that even one life has breathed easier because you have lived is to have succeeded." Reena Ranger, on behalf of WE presented the trustees of Sewa Day with a cheque for £5,000 to help them to continue their work. Another £2000 was raised on the night bringing the total to £7000 raised by the WE community.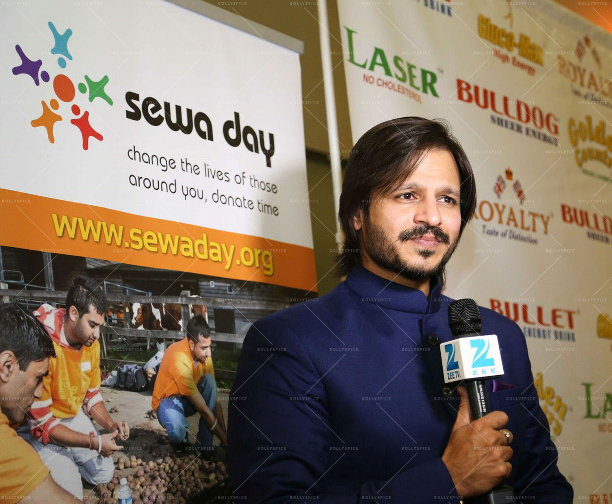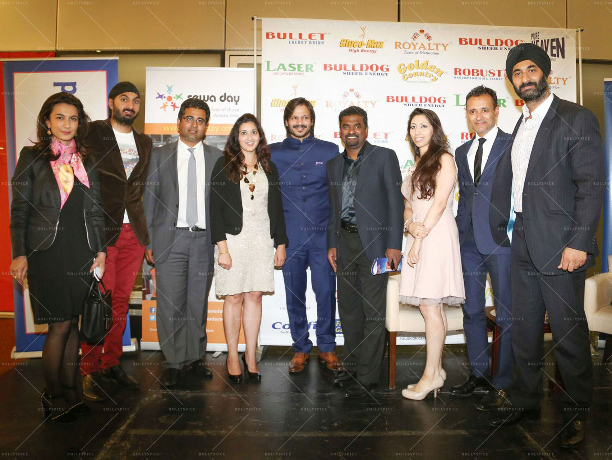 Manoj Ladwa, Founder and CEO of the MLS Chase Group and Sewa Day trustee addressed the audience and said: "Sewa is that special thing that will never come back to us once given. Vivek Oberoi, by pledging to be an ambassador further enforced his mission to support the cause. Sewa Day does not choose social activities, it is your choice and could be as simple as speaking for a little time with someone who was lonely."

Arup Ganguly, Chairman of Sewa Day said: "We are honoured and delighted to announce that Vivek Oberoi is going to serve as an Ambassador to Sewa Day. Through his public profile and activism, we hope that many others join hands with us on Sewa Day this year on 5th October, all over the world. On behalf of Sewa Day, I would also like to add my thanks to Reena Ranger & Women Empowered for their continued championing of our cause."

Vivek Oberoi touched the audience with heartfelt stories of his mother who he described as the epitome of Sewa, as she selflessly dedicated her efforts to caring for cancer patients and terminally ill patients daily. He reflected and endorsed the notion of women empowerment, attributing his own empowerment to his mother. Speaking of his own experiences and what awakened him to selflessly engage in sewa, he said: "I was going through a difficult point in my life, then one day my mum said I should come with her to the memorial hospital and I saw children dealing with cancer and my problems seemed ridiculous and so small in comparison. That kick-started my journey and I realised there was so much to do in life."
Mr Oberoi spoke in the tone of a true philanthropist, while endorsing the message of Sewa Day, "I try to reach out and tell people that this (Sewa) is incredible. I think Sewa Day is a great platform and that it should be a celebration of humanity. It's the most satisfying feeling. Let Sewa Day on October 5th be the beginning."
An integral part of the event involved a question-and-answer session hosted by the celebrated film-maker Gurinder Chadha OBE. She posed questions such as whether he felt his fame hindered or helped his charity work and his thoughts on how the inequalities in India would be addressed by the newly elected Indian Government. When asked on his views about charitable work being done in India, he touched upon some of his concerns saying that he felt that every religion had the concept of Sewa so deeply embedded in their culture, but unfortunately charity work had become a fashion of sorts and for those actually doing charitable work genuinely, they were becoming detraced from their work.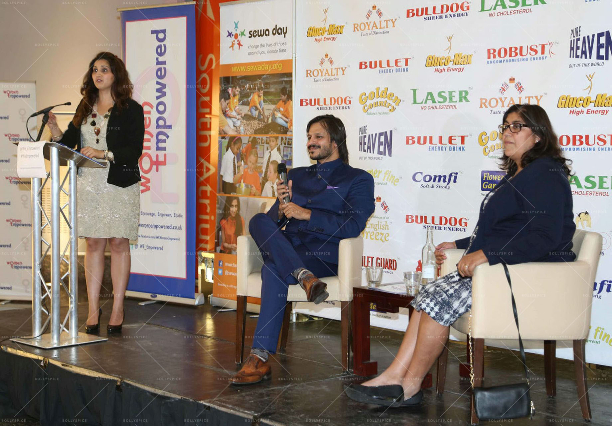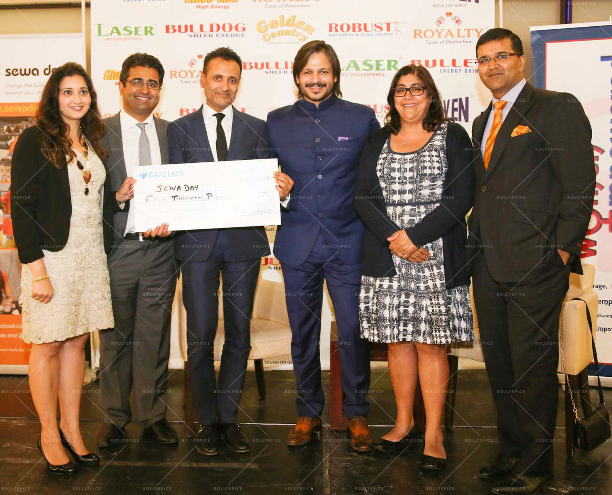 Sponsor of the event Harmeet Ahuja, CEO of Sun Mark Ltd said "At the core of our philanthropic values is the belief that we should do all that we can to help those who are less privileged in order to change lives and lift communities out of poverty. This is something we are constantly striving to achieve, and so as a result of this we are honoured to have partnered with the organisers of today's event." This was echoed by Natasha Mudhar, CEO & MD of Sterling Media who commented, "It was very moving to hear first-hand how Mr Oberoi's efforts have helped to rebuild lives. His unfettered commitment to 'selfless giving' coupled with his superstar appeal is testament to the fact that high profile individuals can influence for the betterment of society. We were delighted to support Women Empowered and Sewa Day for this momentous occasion. The work of these two organisations is inspiration for all."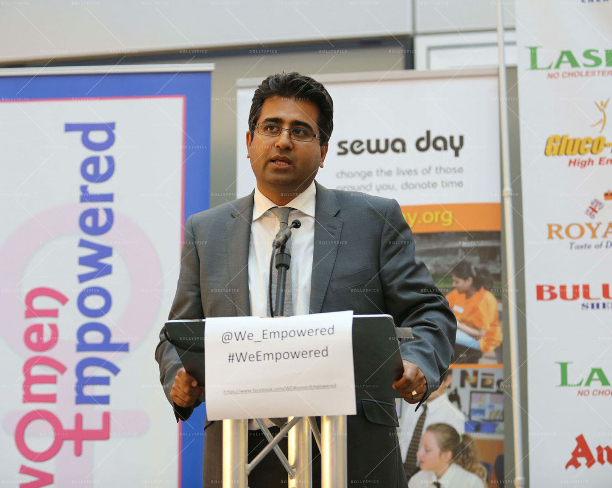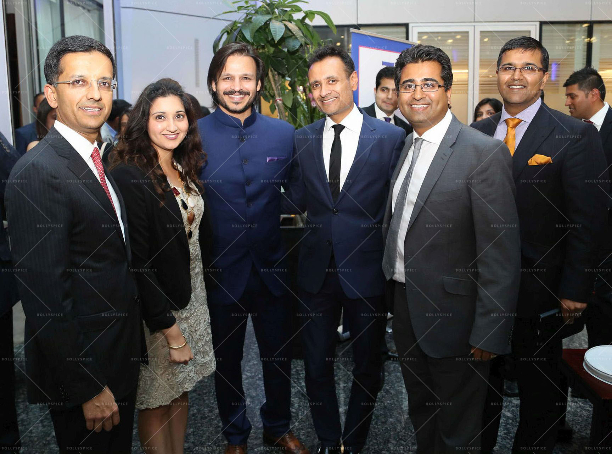 Reena Ranger ended by acknowledging the guests on the night giving special mention to Muttiah Muralitharan, the cricket legend and world record holding bowler, Yalda Hakim of the BBC, and England bowler Monty Panesar. She thanked all those involved with making the event a success and added, "This entire event shows you what Sewa can do. Everyone here today is volunteering or giving their time". She thanked Amit Patel of Count Photography, Dhruv Garvi of Zee TV, Gurinder Chadha OBE and various print media partners for their Sewa and went on to end that those people present would help to take the profound message delivered by Mr Oberoi to eyes and ears around the world and that this would set the wheels in motion for many more Sewa Projects worldwide. She said she was proud and honoured to have heard such inspiring words from a gentleman, in the truest sense of the word, first hand.