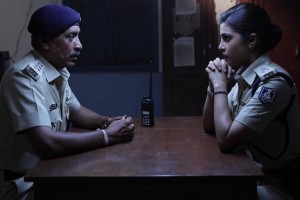 In spite of Prakash Jha's films being socio-politico in nature, the heroes in almost all of his films are known to be very macho in their approach as the protagonists, with the action element strongly stamped across. There has never been a compromise on showing the heroism of the protagonist. However, interestingly, while Jha's films have largely been male-dominated, he has never neglected the heroines of the film. He has in fact always shown them to be the upright strong women, upholding the morals of the society. And even in their most deglamourised avatars, the filmmaker has always lent them an earthy appeal aesthetically.
As a director, Jha has worked with all the top line heroines – right from Deepti Naval to shabana Azmi and then from Madhuri Dixit to Bipasha Basu, Deepika Padukone, Kareena Kapoor Khan and Katrina Kaif. But what sets the filmmaker apart are the kind of roles that he chalks out for the female leads that has strong socio-political roots and implications. The women characters are so strong that despite of the presence of the hero, they all have their own unique identity and the character is not just one-dimensional but has layers. So, no matter what the length of their roles, the actresses find themselves playing important characters that are crucial in the entire set up and not made to be a part of the film just as props, even though all the films are largely-hero-centric.
But with his upcoming film Jai GangaaJal, the director has gone a step ahead. Priyanka Chopra, who plays SP Abha Mathur, is the lead protagonist. But while she is the protagonist playing a cop, she is not trying to be a hero or macho in her approach. According to the filmmaker's vision, she is a woman and celebrates that.
The entire role is such that the gender is only incidental. The role could have been played by a hero and the film's story and even the action would have been just the same. Unlike several other films, Jai GangaaJal is set to break the gender barriers and forces one to look at the profession with respect irrespective of the fact if the cop is a woman or a man. It's the khakee that commands respect is the crux.