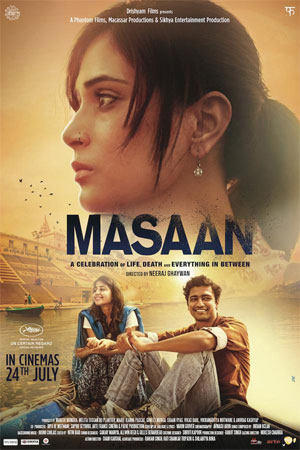 Tagged as "one of the finest Hindi films" and "technically brilliant", Masaan witnessed a strong fillip in ticket sales on Saturday – thanks to the strong and reliable word of mouth. Produced jointly by Drishyam Films, Phantom Films, Macassar Productions and Sikhya Entertainment, Masaan hit the Indian screens on Friday.
"In major cinema chains like PVR and Cinemax the film opened on Friday morning with an average occupancy of 17.5 to 18 percent. By Friday night, it rose to around 24 percent and by Saturday the average occupancy was 37.4 percent," Shiladitya Bora, CEO of Drishyam Films, said in a statement.
"In urban centres like PVR Anupam Saket (Delhi), the Saturday average occupancy was as high 89.30 percent, PVR MGF Gurgaon 85.60 percent, PVR Forum Bengaluru 79.40 percent, PVR Juhu Mumbai 78.50 percent, PVR Phoenix Mumbai 76 percent, PVR Andheri Mumbai 93.70 percent, PVR Director's Cut Delhi 91.50 percent, PVR Marketcity Bengaluru 87.60 percent, PVR Kukatpally Hyderabad 97.10 percent and so on," he added.
The film, which has opened in around 250 screens in the country, is looking stable to go into the second week with more shows.
"Excellent reviews coupled with very strong word of mouth resulted in full houses in almost all major multiplexes in urban centres on Saturday. We are confident that 'Masaan' will sustain in theatres for a good number of weeks making it also a success at the box office along with being critically acclaimed," said Manish Mundra of Drishyam Films.
Vikramaditya Motwane of Phantom Films also shared that the strong word of mouth and the "super reviews have added to the buzz around the film, and the ticket sales went up by almost double on Saturday".
The story of debut directorial of Neeraj Ghaywan revolves around four lives which intersect along the Ganga ghats in Benares: a low-caste boy falling hopelessly in love, a daughter ridden with guilt of a sexual encounter ending in a tragedy, a hapless father with fading morality, and a spirited child yearning for a family, long to escape the moral constructs of a small town.