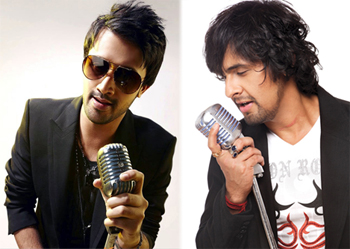 Get ready for Dhamaka 2012! Dhamaka means "explosion" and the show promises to be just that because performing live at the O2 will be Sonu Niigaam, Atif Aslam and the dance group Bolly Flex. Flex FX proudly brings you the aptly named show, Dhamaka 2012 at the world's most popular venue 'The O2' on Sunday 22nd April 2012.
Creating musical history, are two of the world's most sought after Asian voices – India's soul, Sonu Nigam and Pakistan's icon, Atif Aslam, together for the first time in history.
The venue is the world famous O2 arena, in the Royal Borough of Greenwich, which is part of London's Olympics in 2012, and is known as the centre of the earth. No better a place to celebrate the unity that music can bring.
Both international singing sensations will be performing live with their own full bands for 90 minutes. Each with perform all their Bollywood blockbusters, latest chart toppers, and their everlasting renowned hits. Also on the cards, is special tribute from both acts!
The spectacular dance group Bolly Flex, who UK viewers cheered on in the popular SKY TV show, 'Got To Dance' in 2011, will perform a grand opening to both halves of the show and introduce the star celebrities in a dynamic and artistic fashion. Guaranteed, are breathtaking, colourful and high energy performances.
Flex FX was founded in 2003 by Naz Choudhury as a dance group, and their first performance and launch was in the Millennium Dome, at the Festival of Asia in 2004. In 2007 Flex FX was commissioned by the European Union and produced Dhamaka 2007 with Atif Aslam and Jay Sean, alongside a UK cast of dancers and sold out the 5000 capacity Royal Albert Hall. Flex FX became a force to be reckoned with.
Young East London born and raised producer and artistic director Naz Choudhury shares: "Dhamaka has always played a major role to my journey and the Flex FX legacy, over the past few years. I can proudly say I have my dream line-up in Sonu and Atif. After my appearance on the BBC show, Dragons' Den, I nationally declared that I will do it and though the dragons didn't come on board, I had investors who immediately took the opportunity, and have waited for this big event to come together."
He adds: "Dhamaka doesn't represent race, faith or culture, it's about the passion for music, dance and unity. I'm proud to say it's about time a show of this calibre has come to my home town, the East End of London, and only for one night. Tickets are already selling like hot cakes, so I buying early will mean no disappointments."
Leena Patel, Dance captain of Bolly Flex looks forward to performing at this momentous concert: "We can't wait for the day Dhamaka comes alive and sets the O2 stage alight. Led by choreographer Naz Choudhury, we feel privileged to share the stage amongst legends. We will be performing 2 dazzling performances opening the stage for both artists and will give you a variety of dances from the world of Bollywood. If you liked our performances on the Sky1 show 'Got To Dance', than you haven't seen anything yet. Brace yourself, because we will be showing you the performances of our lives."
2012 sees Flex FX return to the Dome, which is now the world famous O2, a full circle back to where the journey began, in the 15,000 capacity O2 Arena. They proudly bring you the biggest Bollywood event of 2012.
Atif Aslam has worked within the cinema industry of India and Pakistan, singing songs in films like Tere Naal Love Ho Gaya, Race, Kismat Konnection, Ajab Prem Ki Ghazab Kahani, Prince, Bol, F.A.L.T.U and also also graced Hollywood with the award winning film, Man push cart, featuring songs from his album Jalpari.
He shares:

 "I'm very excited to return to Dhamaka at the O2 this April, It was my dream to perform in Royal Albert Hall and Flex FX made that happen for me in 2007 and now being the first Pakistani singer to play the world's greatest venue 'The O2', I'm truly honoured. It is historic for me, as I am performing on the same billing as the esteemed singer, Sonu Nigam for the first time. Our countries are coming together with this show and I look forward to giving the UK fans a Dhamakadar performance."


Multiple award winner, Sonu Niigaam has sung for some of the most famous films in Bollywood, like Kal Ho Naa Ho, Border, Taal, Fiza, Refugee, Paheli, Veer-Zaara, Main hoon na, Parineeta, Kabhi alvida naa kehna, Om Shanti Om, Jodhaa Akbar, Kurbaan, Dil Chahta Hai, Babul, 3 idiots the list goes on and on.
He tells us: 

"I'm thrilled to be a part of the Dhamaka event, with Flex FX, and moreover, to be on the world's most famous stage. The O2 has hosted all the greatest musicians, performers and entertainers and I want my performance to be remembered. This show is going be a visual spectacular as well as a musical extravaganza, alongside amazing dancers from the UK, and my full live band. It is also the first time that I will be sharing concert with Atif Aslam, who is a renowned singer from Pakistan. The meeting of our countries, in Royal Greenwich, London, is a rare gem and I can't wait to perform to all my UK supporters, critics and beloved fans."
Dhamaka makes history not just because of the line-up, but also the multicultural unity and power of bringing nations together in celebration, embracing London's Olympic year in world class fashion. It's back… It's Dhamaka – an explosion to your senses!
Tickets start at just £25! Book your tickets now visit www.theO2.co.uk. For more information about the show visit www.dhamaka.co.uk
Check out this cool video!
httpvh://youtu.be/SPb3mMAtRpM