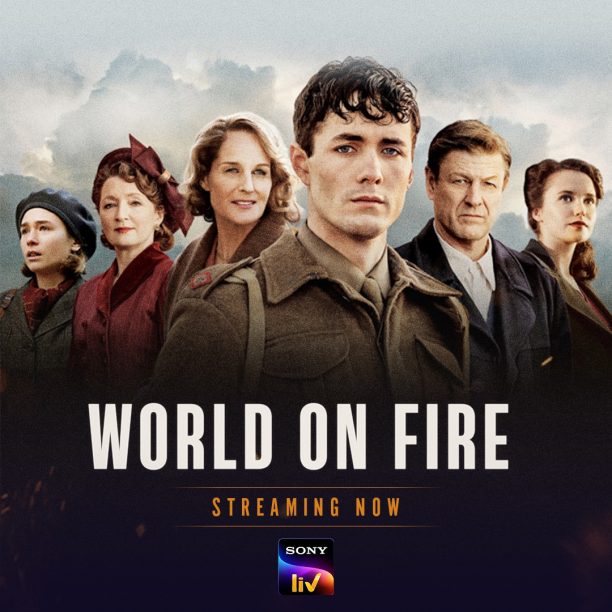 Over last many decades, quite a few films and series have been set around the second World War. Especially in the West, the subject has fascinated many filmmakers and actors for long. Hence, when a British series World on Fire has just been released on Sony LIV, it is exciting to check out what does creator Peter Bowker have to offer, and the perspective that he brings in with this epic 7-part series where each episode lasts for near 1 hour each.
The first thing that strikes about World on Fire is the kind of production values that come along with it. Never once do you think that it is a TV/web series in the offering. Made like a movie, right from the sets and locations to the kind of technical prowess that it comes with (action, cinematography, editing, sound, background score, costumes etc.), World on Fire impresses you with sheer authenticity that it comes with. Though you do watch the series on a small screen, everything about it basically screams 'big screen affair' which is very satisfying.
Of course, at the end of the day it's the story that needs to count and this is where World on Fire scores huge as it doesn't stay on to be one dimensional or monotonous and instead explores multiple tracks. There is a love story between an interpreter turned commanding officer (Jonah Hauer-King) and a jazz singer (Julia Brown) as well as another that goes sour with a waitress (Zofia Wichłacz). Then there are family angles with Sean Bean and Lesley Manville coming into picture. Story of a gay couple (Brian J. Smith, Parker Sawyers) is pitched in as well.
However, the scenes that really excite you, even as they arrive intermittently, are the ones featuring veteran Helen Hunt. As an American radio journalist who wants to report what's happening on Ground Zero at the World War with the rest of the world, she is forced to mince words in the times when the fear of Hitler is ruling all around. As a matter of fact her parallel track with a German family is indeed exciting as it brings in multiple dimension of where a country could be headed for by its ruler and what really do the citizens actually want.
To the credit of the show, despite a war setting, it doesn't turn out to be a war saga in entirety and that's due to the multiple aforementioned tracks. So what you get to see is drama, emotions, romance, music, dry humor, and family angles interspersed into the narrative with war action happening at regular intervals, hence resulting in a largely entertaining affair.
Moreover, this one is a truly multi-national series in the offering as you get to see actors from British, Polish, German and American nationalities coming together to create a saga of what really happened in Europe during the World War. In fact for those in India, there is a bit of reference to the country coming in as well, especially Calcutta, which receives more than a mention or two.
Of course, considering the fact that this is a British show, it isn't designed on the same lines (read, fast paced) as an American counterpart. This means it works mostly as slow burner and hence the pace is consistent without any major highs or lows coming in. Of course the action sequences do bring in volatility but beyond this World on Fire is quite word heavy, which means one needs to have the kind of appetite to witness a show where there are a lot of talks happening on screen.
As long as you are fine with this kind of entertainment and the core genre with the World War backdrop is exciting enough, World on Fire makes for a very good watch. Other than all the entertainment that it offers, the show also takes you into a deep dive journey into what really happened during the war.