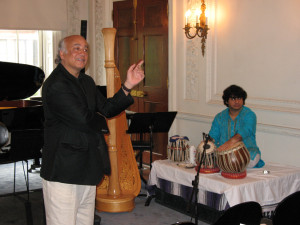 The World Premiere performances of Phoolan Devi: The Bandit Queen, a multi-media chamber opera by Shirish Korde, with a libretto by playwright Anusree Roy and directed by Tom Diamond, take place in New York City on June 26 and 27. The full-length, semi-staged shows are at 8pm at the Alvin Ailey Citigroup Theater and are co-presented by the Indo-American Arts Council and Da Capo Chamber Players.
The opera is a series of musically compelling and visually stunning scenes, a riveting dramatization that explores real (and re-imagined) events in the life of the notorious Phoolan Devi, an iconic woman in modern India.  Born into poverty, sold as a child bride, abducted by bandits, abused and victimized, imprisoned, elected to India's Parliament and then tragically gunned down in the streets of New Delhi in 2001, the Bandit Queen was just 37 at the time of her death.
The composer Shirish Korde states: "Phoolan Devi's life raises difficult and universal questions about violence and women. Her story is so compelling that it was imperative for me to expand my 2006 song cycle into this full length opera which only just begins to capture her extraordinary circumstances. To accomplish this with artistic collaborators of such high caliber is a great honor."
Aroon Shivdasani, founder and executive director of the Indo-American Arts Council declares: "I am delighted to be involved in this production.  The energy and strength of Phoolan Devi is particularly powerful in the context of today's awakening awareness of decades of brutality towards women!  Bravo Shirish!  What an amazingly timely Opera!"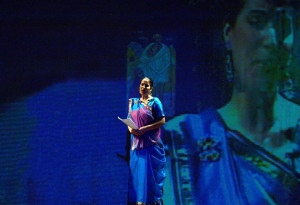 Shirish Korde's compelling score is a distinctive synthesis of Asian and contemporary Western traditions – among them are Indian classical singing, opera, jazz and hip hop. Early in the opera's development, the New York Times called it "a colorful, attractive piece, set on a lush bed of amplification… an entertaining stylistic fusion… with the kind of vivid exciting performance that draws Western composers to non-Western music."  Reviewing another workshop performance, the Boston Globe writer praised the work's "soaring vocal lines against glittering harmonic masses."
The award winning playwright/actor Anusree Roy has written a libretto that brilliantly brings to life this woman of so many contradictions who polarized the Indian population, dividing it between those who believed her to be a victim of violence and others who believed her to be a criminal turned politician or a modern day reincarnation of the Hindu goddess Durga.  The performers include Zorana Sadiq, soprano, and Dashon Burton, bass baritone; they are set against a backdrop of stunning visuals created by multi-media artist Raphaele Shirley.   The World Premiere is expertly directed by the internationally acclaimed opera director, Tom Diamond.
Phoolan Devi: The Bandit Queen premieres in New York City on June 26 and June 27, Friday and Saturday at 8pm.  Tickets are $25; seniors and students are $10, available online at www.smarttix.com or by calling 212.868.4444. More information on the chamber opera, artistic principals and performers may be found at www.thebanditqueen.com.