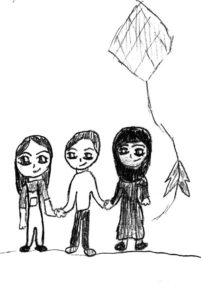 The Brooklyn Children's Theatre (BCT) is an after school musical theatre program serving over 1000 children in Brooklyn, New York. BCT was commissioned by the Doris Duke Foundation of Islamic Art to create four original musicals with Muslim protagonists for children to perform in. Two of these musicals will be premiering on December 9, 2016.
FAST FRIENDS is about children fasting for the first time during Ramadan. FAST FRIENDS was written by Amy White Graves and Steve Saari, with contributions from Aizzah Fatima.
SAILIMAI AND THE FOUR RIDDLES was written by By Scott Evan Davis, Kareem Fahmy, Aizzah Fatima & Chris Heller & the Summer 2016 Muslim Voices Playwriting class. SAILIMAI AND THE FOUR RIDDLES is based on an Islamic Chinese folk tale: Sailimai must look to her Muslim values to solve a riddle and save her father.
Amy White Graves, Executive Director of BCT states "When we started this project in the summer of 2015, it didn't occur to me how politically relevant and necessary this work would eventually be. We already had a lot of Muslim students in BCT, and it seemed like a natural course of action to use their culture to create a series of children's musicals. Working with our collaborators, Aizzah, Kareem, and the students from the Brooklyn Tech MSA has been a life changing experience. I hope that other non-Muslim people will see the material we have created and will learn about the beautiful aspects of Muslim culture."
One of the long term projects BCT is exploring will be producing these musicals nationwide, in places where people need to see Muslims as part of the community and in a positive light. Graves says "In October 2017, our four musicals will be available for licensing. It is our dream to have them produced by community and school groups across North America to help bring understanding and compassion between Muslim and non-Muslim communities."
Aizzah Fatima is an actress and writer whose credits include TV Shows: High Maintenance (HBO), The Good Wife (CBS). Plays she's written: Dirty Paki Lingerie (NYC, Toronto, UK (15 city tour), Pakistan, Turkmenistan), The Scholar (Memorial University, Canada), Google, It's Complicated (Pan Asian Rep, The Lark). She says, "Working with the BCT community has been one of the highlights of my year. We've spent the year creating plays about inclusion, and celebrating commonality as opposed to what makes us different. It has been a great experience collaborating with other artists and children to create stories based on a Muslim folktale, the kids' own experiences, and a little piece of recent history about how Eid became an official holiday in NYC public schools through a lot of hard work and determination by a group consisting of people of all faiths who didn't give up for 10 years on what they believed in. I hope people get to see a BCT production, or license these plays to be produced in their own theatre. It will affirm your faith in humanity."
There were many Muslim families involved with the process and many also believe this can be a start of something great and will help to create a dialogue. Ahsia Badi is the mother of two girls who participated in the summer program. Badi states, "The BCT musical theater was a wonderful experience for the girls to work in a warm, fun and friendly environment. The girls were able to explore their own creativity, through working on their own and collaborating with their peers. It was particularly exciting to have them work on a Muslim folktale, one that emphasized the values of kindness and acceptance – values that are important for all Americans. I saw the happiness in their eyes, and I also saw a pride and excitement to know other kids saw the Muslim folktale positively as well!"
It took a team of 11 people to put this project together: Amy White Graves, BCT Executive Director and playwright/teaching artist; Chris Heller, BCT Artistic Director and playwright/teaching artist; Scott Evan Davis, composer/teaching artist; Craig Baldwin, composer; Robert Yarnall, lyricist; Aizzah Fatima, playwright/consultant; Kareem Fahmy, consultant; Steve Saari, composer; Jen Clarke, grant director; Susan Lapidus, evaluator; Tajrean Rahman, MSA student liaison along with the 30+ children contributed during the Summer 2016 Muslim Voices Playwriting classes.
The Spring productions will be ALL OF U.S. and EID DECREED.
ALL OF U.S. is written by Scott Evan Davis, Kareem Fahmy, Amy White Graves, and a team of Muslim and non-Muslim students in our summer play writing class. In the play, Muslim and non-Muslim children give their different perspectives on what it means to be an American. EID DECREED is written by Aizzah Fatima, with music by Craig Baldwin and lyrics by Robert Yarnall. EID DECREED is about how Eid became a public school holiday after 10 years of petitioning by New York City school students.
The list of children who wrote the musicals:
ALL OF U.S. was written with the help of the following students: Zaba Azad, Miette Alt, Thandi Chikuhwa, Mariam Choudri, Ella Daillie, Salma Elrowmeim, Ayla Irshad, Faseer Kabir, Scarlet Keane-Lombardo, Clara Lewis-Jenkins, Abyan Malik, Rehmah Malik, Yusuf Malik, Mikaela Oppenheimer, Dawood Sajjad, Chloe Sequinot, Zelda Handel
SAILIMAI AND THE FOUR RIDDLES was written with the help of the following students: Zaba Azad, Anaiya Badi, Antalya Badi, Sasha Chajet Wides, Sonia Chajet Wides, Mohamed Elrowmeim, Salma Elrowmeim, Afia Farooki, Annabelle Marcinek, Madeleine Meyers-Kane, Adelaide Oppenheimer, Toby Pannone, Delphine Protopapas, Rudhba Rahman, Zarrar Rahman.
When a child performs in a play, they instantly learn about the character they are portraying and become sympathetic to that character's experience. Non-Muslim children will get to experience what a Muslim child experiences in their daily life. Muslim children will take pride in sharing their culture with people who might not know about it. The best way to cure hatred is with exposure to different cultures. Because children are often more understanding than adults, peace can happen with the cultural education of our children.
The two plays are premiering at the Brooklyn Music School Playhouse on Friday, December 9 at 5pm FAST FRIENDS will hit the stage and then at 7:15pm the curtain will rise on SALIMAI AND THE FOUR RIDDLES.
The shows then continue on through the weekend.