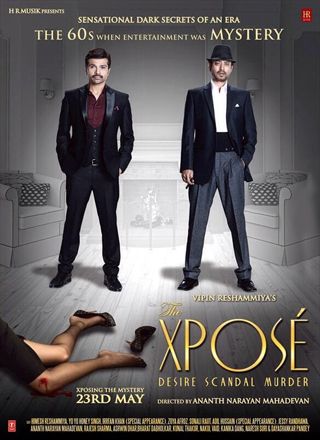 Set in the golden era of Bollywood of 1960's, The Xpose is a poor attempt at a whodunit plot, where the story revolves around the murder of an actress in a Bollywood party. This 80 minute musical thriller is a recipe that has gone horribly wrong for the National Award winner and director Anant Mahadevan, who is well known to have delivered screenplays like the famous Mee Sindhutai Sapkal.
Reportedly inspired by real-life events of Bollywood during the 60's, the movie had the potential to be a blockbuster hit. It was the poor screenplay and editing that killed the real quintessence of the film. The film's characters Zara and Chandni (played by Sonali Raut & Zoya Afroz) are reportedly based on Parveen Babi and Zeenat Aman.
The Plot
Vipin Reshammiya's The Xpose is a perfect fusion of music, murder mystery, drama and lots and lots of Himesh Reshammiya. Ravi Kumar (Himesh Reshammiya) is a cop turned self-congratulatory Southern superstar and is on the brink of making his grand entry into Bollywood (by throwing his hat to a stand 10 feet away). He is the nasal toned angry young man and a poker-faced badass who beats up people at will. The movie has also given Punjabi rapper, Yo Yo Honey Singh, his acting debut. He plays Kenny Damania aka KD who is a philandering music composer. KD is married to director Shabnam for his own benefits and has an extra marital affair with Zara.
Zara, a newcomer in the world of films, is the leading lady opposite Ravi Kumar in his new movie. Zara's ex-roommate Chandni also has the will to act and has signed her first movie. The ex-roommates have their highs and lows and end up in a cat-fight during an after-awards party when both hurl accusations against each other. Within the next few hours, Zara is murdered and our "langot ka pakka" hero turns from a tantrum throwing pompous star into a Sherlock Holmes when he begins investigating the murder.
What follows in the movie is Ravi's investigation on the homicide where every single character comes under the scanner. The real culprit manages to escape for a while, but eventually is "xposed" by our self-proclaimed super hero.
Performances
In comparison to his last few films, this can be touted as Himesh Reshammiya's best work by far. Though he does look flippant in some scenes, especially with dialogues like "Ravi Kumar langot ka bahut pakka hai, woh bistar pe neend ke alawa kuch nahin leta." There is a special moment in the film when HR tries to pull off a Salman Khan by saying "Tere shareer main itna khoon nahi hoga jitna Ravi Kumar ek baar main moot deta hai." (You don't have as much blood in your body, as Ravi Kumar can pee at a go). To be fair to HR, it is very difficult to deliver dialogues such as these with a straight face and I would like to give him credit for that.
Yo Yo Honey Singh in certain portions of the film has been wasted, but has done well overall. He has the correct comic timing but purely loses out on the character's nuances. The Xpose, perhaps was not the right choice for him to enter the world of Bollywood. Sonali Raut and Zoya Afroz have negligible expressions and have done a good job in "xposing" in the movie.
Irrfan Khan, who plays Alec D'Costa (a black ticket seller), is the anchor of the film. He opens the film introducing the characters and through his narration takes the story ahead with his own unique dialogue delivery.
Music
With HR and Yo Yo Honey Singh, one would have some high expectations with the music, but The Xpose delivers very ordinary tracks and average music. In addition to that, songs with funny lyrics like Ice-cream and Dard Dilo ke are very bizarre.
Dialogues
Bunty Rathore's dialogues needs a special mention here because of its sheer tone. It is loud and confident and is in line with Ravi Kumar's character.
Final Verdict
The Xpose is nothing like the thriller movies of the 1960s. It is a short futile presentation (under 2 hours) which knows that it is futile, but yet celebrates it. Come to think of it, a lot like a Yo Yo Honey Singh song.