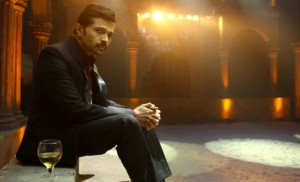 Himesh Reshammiya is high on his success as a composer and singer but when it came to acting somehow success has eluded him. The composer singer says that this time he will not let anything stop him with his upcoming film Xpose. The actor has oodles of weight for the role and has taken workshops. "I strongly believed in the character I played. The film is a whodunit murder mystery where everyone is a culprit. Whereas I am a cop turned superstar. The film is set in the 60's and is very stylish. I lost twenty pounds for the role and have taken workshops for six months," says Himesh.
While his first film was a super success the same can't be said about his other ventures. "I had five flops in a row but my debut venture as an actor was a hit. I analyzed my acting career. Since my first film had done very well it meant that the audience had accepted me as a hero. I realized that my passion and dedication towards my acting career was not as much as I put into music. I said I have somewhere lacked as an actor. Hence I lost weight, took workshops and put in hundred percent in my role as well. My trailers got a good response that means my dedication has worked to some extent. I am confident the audience will love the film too," he adds.
The film also stars rapper Yo Yo Honey Singh, newcomers Sonali Raut and Zoya Afroz in prominent roles. Actor Irrfan Khan will be seen in a cameo in the movie. But the actor in him sees no competition as far as Honey Singh is concerned, "I have watched Honey Singh in some videos and felt that he had the potentials of an actor. There's no competition between us, if he ever thought he was greater than me he would have never accepted the role of a negative character in my film. Both the characters of Sonali Raut and Zoya Afroz are inspired by actresses Parveen Babi and Zeenat Aman who were popular in the 80's. Their look has been inspired by them. Irrfan plays a prominent role. Everyone has done justice to their roles."
While he is busy composing for films like Action Jackson, Humshakals, Kick, All Is Well and Prem Ratan Dhan Payo, Himesh on the other hand has launched his own production house HR Films. "I plan to produce commercially viable films. I have a lot of plans, I plan to compose, sing, do international collaborations, Live Shows and music albums as well as produce films. I am working on my second film as a producer now. I have been busy composing and have around 300 new tunes for my own films as well as for other films," he reveals.
The multitasker that he is Himesh says he draws inspiration from the youth for his music and work, "I always keep the youth in mind when I compose they are the bench mark. That's how my last hit song "hookah bar" came into existence. At the same time I compose one song in my film for my music lovers. In this film too Sheeshe Ka Samundar is a melodious song sung by Rekha Bhardwaj and Ankit. It's a well written song," he informs.
He is also ready to release his debut international album titled '@ the edge' which also features a track by famous DJ-music producer Edward Maya. "It is ready for release the moment I am free from other responsibilities I will release it since it will need me to travel to 122 countries to promote the album" he concludes.
Credit: Shama Bhagat ErosNow.com