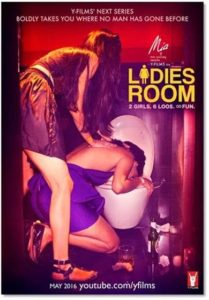 In the 6 odd months since Y-Films, the youth wing of Yash Raj Films, launched its original programming on YouTube, they've clocked over 40 million views through its massively successfully web series, Bang Baaja Baaraat and Man's World, it's heartwarming anthology of short films, Love Shots, and its game-changing initiative of creating India's first transgender band, The 6-Pack Band. Keeping with its exciting tradition of tackling unexpected spaces and putting forth fresh stories, its next series, Ladies Room, will boldly go where no man has gone before: the women's 'loo'.
A series shot entirely in six different ladies' rooms, it tells the story of two besties, Dingo & Khanna, who somehow always find themselves in the most incredible of situations in the most improbable of spaces, the washroom! Trying to survive one disaster after another in their lives, the six-part series will show Dingo & Khanna struggling to grow up even as they grow old.

Starring two actresses from the YRF talent roster in its lead, the talented Saba Azad, last seen in Y-Film's Mujhse Fraaandship Karoge and more recently 'The Big Date' on Love Shots and an electrifying new find, Shreya Dhanwanthary. The series is directed by Ashima Chibber, whose directorial debut was the hilarious critical and commercial hit, Mere Dad Ki Maruti. The comedy features the writing of Ratnabali Bhattacharjee and Neha Kaul Mehraand holds the singular feat of never showing men in their entirety.
Says Ashish Patil, Head of Y-Films, Producer, Ladies Room, "The women's washroom is a sacred space, where shit happens – literally & otherwise. A place where girls groom, gossip, laugh, cry, bitch & more. Women will find it completely relatable and guys will hopefully get the answer to the question that's been troubling mankind forever – why do women go to the loo in groups! We're thrilled to have a partner like Mia from Tanishq on board who help us make the girls and the show even cooler than it already is! 😉 Just like Dingo would pick up Khanna if she falls – right after she finishes laughing at her – we're glad they're on board to watch our backs!"
Ladies Room launches May 2016 on www.youtube.com/yfilms. Mia By Tanishq is the presenting sponsor of the comedy.