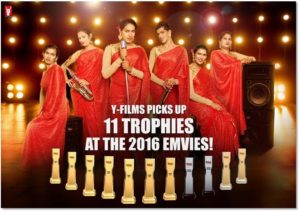 Y-Films, the Youth Wing of Yash Raj Films, has already been making waves with it's clutter-breaking content crossing 65 million views, clocking almost half a million subscribers, getting global media recognition besides bringing home India's 1st Webby and Cannes Grand Prix Glass Lion in less than 10 months. It just upped the ante by picking up 12 trophies at the prestigious 2016 EMVIES – the Media Impact & Effectiveness Awards organized by the Advertising Club Bombay. What makes these awards very special is that they're not just for creative ideas but also for the impact and reach the idea had.
The Y-Films hit list comprises 2 Bronze, 3 Silver & 7 Gold trophies where the best of the entire media & advertising industry competed. 2 for their web series Bang Baaja Baaraat with Lakme, 9 for India's 1st Transgender Band, the Brooke-Bond Red Label 6-Pack band and 1 for Y-Films overall as Best Media Partner of the Year – Digital. Thus making Y-Films the most awarded content creator in the digital space in India. A demonstration of it's ability to not just deliver great ideas that connect with audiences but ones that become powerful media solutions for partners.
Said Ashish Patil, Head of Y-Films, "We're truly blessed at Y-Films to have viewers who love the ballsy stuff we cook up. This mad haul at the EMVIES wouldn't have been possible if not for the incredible folks at Mindshare & Hindustan Unilever who have the balls to back these crazy ideas and push us for more. All we can say is gear up bro, we're just only getting started!"
Commenting on the awards, Gaurav Jeet Singh, Head Media Services, South Asia Hindustan Unilever added "We are very excited on winning an EMVIE, because it brings together what you work for through the years. It brings together our partners, key partner being, of course, Mindshare. The kind of work which these partners do for us is a result of fine determination and hard work. All the planners, all the young media planners in the agencies have done such brilliant work. So it means a lot."
Amin Lakhani, Leader, South Asia Mindshare, Fulcrum added "We are delighted with Y-films bagging the Media Partner of the Year- Digital this year. The 11 metals won at the Emvies demonstrate the seamless partnership across all three parties with meticulous planning and master creativity entrenched in the values of the brands we represent. This is a testimony to our belief that when creativity meets brand needs, that is when we strike Gold!"
Each trophy carries points depending on whether it's Gold/ Silver/ Bronze, which in turn contribute to 2 of the biggest awards of the evening.
Media Client of the Year – which went to Hindustan Unilever
Media Agency of the Year – to Mindshare
A lion's share of 130 points for both were contributed by Y-Films triggered ideas… showcasing what a truly great collaboration it's been between Media Agency, Client & Content Creator taking all 3 to the top of the leader boards. Here's to many more!
These are some of the significant awards…
Best Media Partner of the Year – Digital [Gold]
Best Use of Bollywood Celebrity in Media [Gold]
6-Pack Band
Best Media Innovation – Branded Content [Gold]
6-Pack Band
Best Media Innovation – Digital – Multiple Platform [Gold]
6-Pack Band
Best Media Innovation – Digital – Social Media [Gold]
6-Pack Band
Best Media Strategy – Consumer Products [Gold]
6-Pack Band
Best Media Innovation – Radio [Gold]
6-Pack Band
Best Media Innovation – Sponsorships [Silver]
Bang Baaja Baaraat
Best Media Research, Analytics – Proprietary Data [Silver]
6-Pack Band
Best Integrated Campaign – Consumer Products [Bronze]
6-Pack Band
Best Media Innovation – Digital Video [Bronze]
6-Pack Band