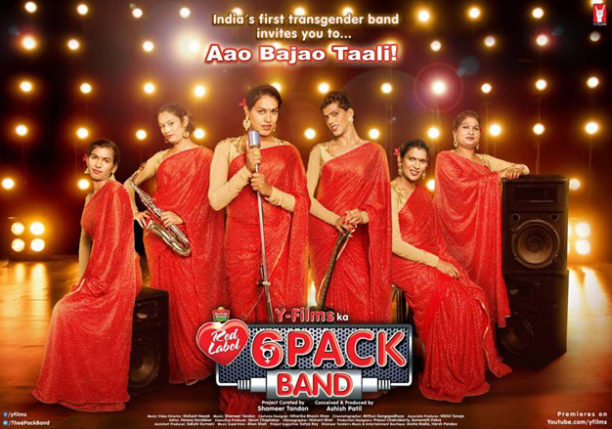 It's been over a year since Yash Raj Films' youth studio, Y-Films, launched the 6-Pack Band, India's first transgender pop band, and the accolades for it have not stopped flowing in. After bringing home India's India's 1st Cannes Grand Prix Glass Lion, the prestigious Webby Award, 10 EMVIES, while breaking boundaries, taboos, clocking up millions of views and getting global recognition, the band and Y-Films just got another feather in its cap.
The 6-Pack Band has just listed among 15 global campaigns on the influential The Gunn Reports' Cases for Creativity 2016, a round-up of the campaigns that have achieved the highest accolade in advertising, by winning both a Cannes Gold Lion for creativity and a Gold Effie award for effectiveness. Cases for Creativity is an annual study by James Hurman, author and founder of innovation consultancy 'Previously Unavailable', and the campaigns picked as part of it represent the ultimate industry achievement – of being the most awarded new work within the advertising industry.
Says Head of Y-Films, Ashish Patil, "The love that Y-Films has been receiving from the industry over the last year has been overwhelming but it is even more gratifying that our little 6-Pack Band and the LGBTQ community continue getting more respect and recognition in the mainstream. The band has been a labour of love for us, and a big shout out to Shamir Tandon, for curating the band, and the Brooke Bond Red Label team, for supporting it! Here's hoping that transgender equality becomes a reality in India someday… that would be a true achievement."
The 6-Pack Band, composed of 6 transgender singers hailing from India's 'Hijra' community, is an initiative conceived by Ashish Patil, who was recently called one of the '50 Top Creative People in the World' by AdAge Magazine, and is driven by Y-Films, to help further the cause of gender equality and transgender rights in India.
6-Pack Band gives a voice to the indomitable spirit of the community without trying to get preachy or patronizing. In a language and through a medium that our world understands and loves. Song & dance… Bollywood style! The campaign covers 6 songs, 6 music videos and some lovely insights into the community that has long lived on the fringes; waiting for the day the world opens its arms to them in acceptance.