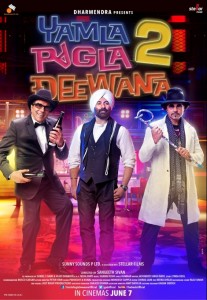 The Deol clan are back with their third family outing and their second installment as Yamla Pagla Deewana (YPD). With their first two films, Apne and YPD 1 both doing well, will YPD 2 give the Deols a hattrick success? With comedy films regularly breaking the 100 crore mark (Bol Bachchan, Housefull 2, Son of Sardar), will the Deols strike gold too? But above all with such passionate fan following and repertoire of films between the Deols, will YPD 2 live up to the expectations yet again? Read on to see what BollySpice thought…
The setting is different (London this time), the director is different (Samir Karnik is replaced by Santosh Sivan), the story is different (no link to the first film). However, the key characters, their roles and that distinct Punjabi flavour are all still there. There is not much to the story, as with most blockbuster comedies, so what you really go to watch is a bunch of funny scenes, dialogues and moments, weaved together with some good songs, a bit of action and some good comic performances. Sadly, there simply is not enough of these elements in YPD 2.
Director Sivan talked about having a bound script before they commenced shooting and being given helpful steers from Dharmendra on scenes as they were shot. However despite these claims, one does not get a feeling that this script was well thought out, therefore it fails to cater to the individual appeal of the Deols and ultimately satisfy the audience. Sunny is given some 'over the top' action scenes to suit his well established action hero tag, but this is no Ghayal or Ghatak. Dharmendra is given some funny lines and scenes to display his comic skill, as in classic films like Chupke Chupke, but sadly you will have seen most of these in the YPD 2 trailers already. Bobby never really managed to build up much of a unique brand for himself, so is alright in the various scenes he is given as the lover boy hero.
The supporting cast do not really manage to save YPD 2 either, despite having comic veterans such as Anupam Kher, Jonny Lever or Annu Kapoor. The two leading ladies are also instantly forgettable (Neha Sharma and Kristina Akheeva). Despite the title track being an old classic, the first YPD still had some memorable tunes, YPD 2 does not score at all in the music department. At two and a half hours long, there were moments where one felt a remote control could have been handy.
In conclusion, that 'magic' of the Deols was misplaced in YPD 2 and perhaps the novelty of seeing them together again too. YPD 2 is not as fun as its first part and nor does it pack the punch which most big budget comedy blockbusters are expected to do. For hardcore Deol fans, hopefully you will still enjoy it and see it as a fun extension of the first film. For the rest of us given the charm and sincerity of the Deol trio and brand, they should and will surely be back with another offering soon.