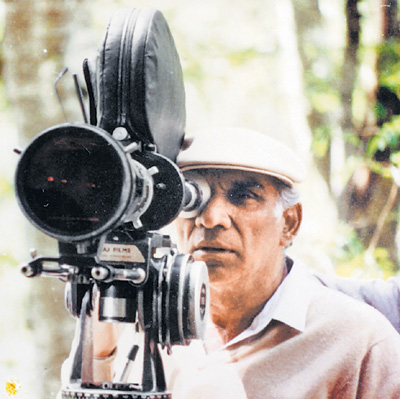 "I always believe that my films should give some hope to the man who comes to watch them for those three hours. If he goes home on an optimistic note, I would feel satisfied at having done my duty" – Yash Chopra
Today is an incredibly sad and shocking day for the Bollywood film industry and its fans as veteran director Mr Yash Chopra has died at the age of 80. Chopra, who is regarded by many as one of the greatest filmmakers to have ever emerged from the Indian film industry, was suffering from dengue fever for the past week. His condition had suddenly deteriorated and he passed away unexpectedly. A source from Lilavati hospital in Mumbai, where Chopra was being treated, gave the following statement to the Indian press. "He had been suffering from complications of dengue for a long time. He suffered from multi-organ failure, because of which he died."
Yash Chopra was busy this year filming for his new directorial project Jab Tak Hai Jaan, which stars Shah Rukh Khan, Katrina Kaif and Anushka Sharma. The film is scheduled to release in cinemas on 13 November 2012. Chopra still had one song left to shoot in Switzerland for the film, but was unable to do so after being taken into hospital for his illness.
Chopra was born in Lahore, British India on 27 September 1932. He began his career as an assistant director to his brother B.R. Chopra and made his directorial debut with Dhool Ka Phool (1959). The great auteur is known for making some of the finest commercial films to have ever surfaced from Hindi cinema. These include films such as Waqt (1964), Deewaar (1975), Kabhi Kabhie (1976), Silsila (1981), Chandni (1989), Lamhe (1991), Dil To Pagal Hai (1997) and Veer-Zaara (2004).
It can be said without hesitation that both India and Bollywood have lost an absolute legend today and he will be deeply missed. Our heartfelt condolences go to Yash's wife Pamela and his two sons Aditya and Uday for their sad loss.
Yash Chopra's body has been taken to YRF Studios. Stars who have been seen at YRF Studios are SRK, Amitabh Bachchan, KJo, Sanjay Dutt, Aishwarya, Riteish, Urmila & designer Manish Malhotra. Mr Chopra will be cremated on Monday October 22 at 3 pm at the Chandan Wadi crematorium in South Mumbai. People can pay their last respects at YRF Studio in Andheri West tomorrow from 9 am – 12 noon.