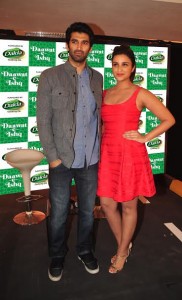 Yash Raj Films has tied up with India's leading edible oil brand, "Dalda Edible Oils" for its upcoming film, Daawat-e-Ishq for a brand association.
The movie starring Aditya Roy Kapur and Parineeti Chopra revolves around food and romance which made it the ideal platform for Dalda Edible Oils to partner with as the heritage brand is synonymous with great taste and the love for food.
Elaborating further on this association, Mr Sagar Boke, Marketing Head, Bunge India said, "We are very excited to partner with Daawat-e-Ishq as the film brings forth the love for food and passion for cooking. The association blends well with what brand Dalda stands for and conveys the message of enjoying food to the fullest. This association is the perfect platform to reach out to food lovers across the country."
The association will be promoted through a co-branded TVC, and a special contest on Dalda's 'Dial D' platform where participants can give a missed call on 0-80806 99999 and 5 lucky winners get the chance to meet & greet with the lead cast of the film.
Business & Creative Head, Vice President, [Y-Films, Brand Partnerships, Talent], Mr. Ashish Patil, said, "Yash Raj is synonymous with romance and Dalda cooking oils with food. So, it only made sense to partner on a film where food was at the heart of a romantic love story. We look forward to cooking interesting things together in the near future. "
Dalda Edible Oils in the past has successfully associated with Junior MasterChef as well. The brand was seamlessly showcased in the episodes through product placements and branding with a dedicated episode.
Daawat-e-Ishq released on 19th September, 2014.