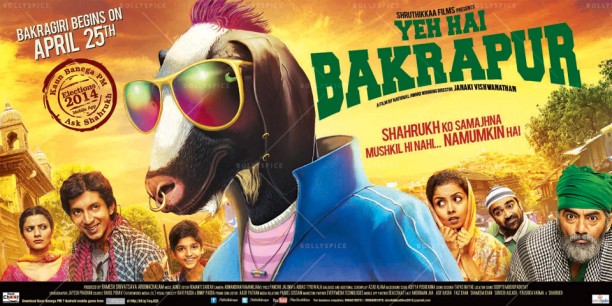 Agnee, the music producers and composers for Yeh Hai Bakrapur, have made the music of the film available for free. The first song, 'Pair Anaadi' can be downloaded at https://www.facebook.com/agneelive. Agnee has composed and recorded two more songs for the film, both of which shall also be available for free download on the day of their release.
Speaking about this initiative, Mohan and Koco from Agnee said, "All the songs on the album have been super fun to record, and the collaborations we've had on the album have been phenomenal. We're super excited about the way they've turned out. We've decided to release the songs for free and try and get the listeners to act on a message we want to give out, and we're hoping they'll follow through."
Each of the three songs from the album will have a message associated with it, something unprecedented for any film music release in India. A highlight of the album, 'Pair Anaadi' inspires the listener to go out and vote this election season, doing his bit towards making a difference. If listeners like the second song which is yet to be released, they can contribute to 'Dharavi Rocks', which is an educational music and dance project initiated by the Acorn Foundation, an NGO working with slum kids and rag pickers. Agnee has been associated with the project since its inception.
Director Janaki Vishwanathan commented, "We are ecstatic with the positive response being received for the trailer and first song of Yeh Hai Bakrapur. The anticipation for the film's release is heartening and we want all music lovers to be able to enjoy the songs from the film."
Yeh Hai Bakrapur is the story of the Qureshi family and their pet goat Shahrukh, who acquires rock star status in his village and beyond. Written and directed by Janaki Vishwanathan, known for her National Award winning film Kutty, in Tamil, and produced by Ramesh Sriivatsava Aruunachalam, Yeh Hai Bakrapur is slated to release on 9th May, 2014.