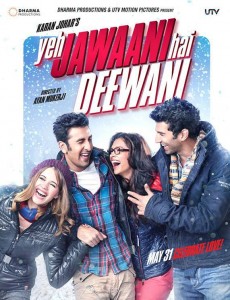 After being tormented with teasers, songs and promos, we are finally able to catch one of the most awaited Bollywood film of 2013; Ayan Mukerji's Yeh Jawaani Hai Deewani. Starring Ranbir Kapoor and Deepika Padukone in the leading roles, with Kalki Koechlin and Aditya Roy Kapoor in supporting roles, the film attempts to provide us with a cocktail of youth, love and madness. It is based on four friends who embark on an expedition trip where they get into a whole lot of mischief. Bookworm Naina (Deepika Padukone) uses this trip to let herself free and embrace her youth, with Bunny AKA Kabir (Ranbir Kapoor), Aditi (Kalki Koechlin) and Avi (Aditya Roy Kapoor) helping her all the way. However, just as Naina and Bunny get intimate with each other, situations result in the two drifting apart; since Bunny reveals that he has been offered a university scholarship abroad. Eight years later, Bunny and Naina meet again at Aditi's wedding celebrations. Will the two finally come together or do they decide to go their separate ways? You will have to watch Yeh Jawaani Hai Deewani to uncover how this love story concludes.
Yeh Jawaani Hai Deewani does provide entertainment, breath-taking cinematography and a fresh concept to Hindi Cinema with regards to the theme of the 21st century youth. Yet the script could have been strengthened to a certain extent in order to make the story more intense and gripping. Having said this, don't be deterred from watching a very graciously made film that has various positive qualities to it. It is a film that will not only appeal to today's Indian and South Asian youth, but also the diaspora. Following his directorial debut with Wake up Sid (2009), Ayan Mukerji manages to prove once again that he is a director who is full of talent and is able to provide his audiences with a range of creative styles that will be highly valued.
Ranbir Kapoor is superb as the loveable and charismatic Bunny and his performance goes from strength to strength in this film. After having starred in unconventional films like Rockstar (2011) and Barfi! (2012), you will very much develop a strong respect for Ranbir for having taken on a film that is done in traditional Bollywood style. The beautiful Deepika Padukone is very good as the girl in search of her youth and provides a very modest performance. Though many will agree that she was even more phenomenal to watch as the feisty Veronica in Cocktail (2012), where her character from this film was more dramatic. However, the woman who steals the show is Kalki Koechlin as the one-of-a-kind Aditi. Kalki provides a robust and praiseworthy performance in her supporting role. Her Hindi is top-notch and it can be said with confidence that she will go far within the Indian film industry due to her work in this film. The same cannot be said for Evelyn Sharma, who was just cringe-worthy to watch in her brief appearance. Her Hindi was atrocious and she is not convincing at all via her character. Aditya Roy Kapoor is solid in his role as Bunny's best friend and provides the correct dose of drama and humour which this film required. All in all, one of the things which made Yeh Jawaani Hai Deewani a great watch was the performances from the four key actors. They were perfectly suited to their roles and you cannot imagine them switching places at all.
The soundtrack to Yeh Jawaani Hai Deewani is both refreshing and youthful in nature. Pritam has provided us with some genuinely brilliant music to accompany this film, all of which have been well picturized on the leads. These include 'Badtameez Dil,' 'Balam Pichkari,' 'Dilli Wali Girlfriend,' 'Subhanallah,' and 'Ghagra,' where the Dhak Dhak girl Madhuri Dixit makes a graceful appearance alongside Ranbir for a special number. After having watched Yeh Jawaani Hai Deewani, you will find yourself only loving the soundtrack even more and will end up listening to the songs again and again due to their catchy flavours.
Overall, Yeh Jawaani Hai Deewani lives up to its title and will offer all you Bollywood lovers with the cinematic entertainment that you are craving for. Had more work been put into its script; then perhaps it would have been even more pleasurable to watch. However, it is still a very well-presented film which contains all the ingredients of a great Bollywood romance. Thus, go and see a film which celebrates nothing but jawaani aur pyaar (youth and love)!