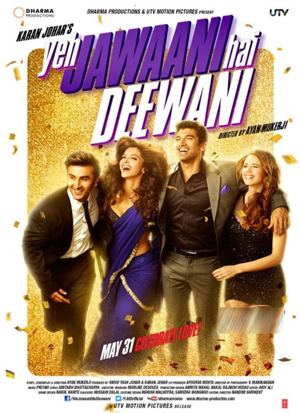 Ayan Mukerji's Yeh Jawaani Hai Deewani is arguably the most highly-anticipated Bollywood films of 2013. It is based on the story of four characters that experience the journey of youth together. Starring superstars Ranbir Kapoor and Deepika Padukone in the leading roles, this is their second film together as an on-screen couple following the 2008 hit Bachna Ae Haseeno. Produced under Dharma Productions, the film also stars Aditya Roy Kapur and Kalki Koechin in supporting roles, and is all set for release on 31 May 2013. The music to Yeh Jawaani Hai Deewani has been composed by the talented Pritam, who has given us previous hit albums like Barfi! (2012) and Cocktail (2012). The lyrics have been penned by Amitabh Bhattacharya, who has written songs for films like Band Baaja Baaraat (2010) and Agneepath (2012). So given the huge buzz that is surrounding Yeh Jawaani Hai Deewani, does it deliver when it comes to its music? Read onto uncover our verdict!
The first track in the album is Badtameez Dil, which is largely performed by Benny Dayal, with Shefali Alvares making a short vocal appearance. I love this jazzy up-tempo number which is flavoursome and highly addictive. There are portions of the lyrics which clearly contain gibberish; but are nevertheless enjoyable to hear. This is perhaps one of my favourite Benny Dayal songs and he performs with energy and enthusiasm throughout. Overall, Pritam has done an excellent job with this one and hence delvers a knockout track.
Next up is Dilliwaali Girlfriend, which is performed by Arjit Singh and Sunidhi Chauhan. The composition contains pure 'desi' music that has been interspersed with techno elements, that ultimately gives it a cool edge. Though both singers perform very well in this song, Arjit undoubtedly stands out the most. His charismatic voice contributes vitally in keeping this song alive from beginning to end. Though the lyrics are somewhat questionable, this is one tune you should not miss out on hearing!
Following this, we have Balam Pichkari, sung by Vishal Dadlani and Shalmani Kholgade. This one contains the use of a range of Indian, as well as Western instruments such as the dhol drums, harmonium, violin and the tabla. I love this song to the core, as the rhythms just make you want to get up and dance to it 'Indian style.' Both the male and female vocals are stupendous and they complement well with the general tone of the music. As shown in the film's promos, it is a Holi song. Hence, I am pretty sure that by next Holi, the Indian youth will be gathering in parks and other open spaces and grooving to this song! This one is definitely my favourite song in the entire album so you should definitely check it out. Kudos to Pritam on this one!
Ghagra is next and is performed by Vishal Dadlani and Rekha Bhardwaj. I very much appreciated the way in which the tabla drums have been executed in this particular song, given that it is an instrument that is being used far less in today's Bollywood music. Rekha's vocals certainly contribute in solidifying the folk theme of this song and thus deliver a sensational performance. This is definitely a song which will grow in popularity, if not now, then after the film has released.
Next up is Illahi, which is sung by Mohit Chauhan. This one works overall and is very much enjoyable to hear due to the catchy guitar samples. However, the highlight of this song is Mohit's wonderful voice, which is highly masculine in nature. He performs with immense skill and therefore; no other singer will have done this song justice, in contrast to Mohit. The more songs he sings, the more amazing his voice sounds!
There is also a Reprise Version of 'Illahi' included in the album, which is sung by Arjit Singh. I personally found the vocals and the arrangement of the original version to be more gripping compared to this one. Arjit is a very talented singer, but his voice does not go well with this song. It was unnecessarily included in the album and could have done without.
Following this, we have Kabira, which is performed by Rekha Bhardwaj and Tochi Raina. This one did not work for me and I found it to be very average overall. The music was not as flavoursome compared to the other tracks in the album and the vocal could also have been much stronger. However, perhaps it may attract many listeners after the film has released and once we have been exposed to its picturization.
There is also an Encore Version to 'Kabira,' which has been performed by Harshdeep Kaur and Arjit Singh. Honestly, I found the Encore Version to be more enjoyable, due to the Punjabi flavours that have been incorporated into it. Harshdeep is as superb as ever and she sings with passion and soul. Definitely one not to miss out on!
Finally we have Subhanallah, which features Sreeram and Shilpa Rao in the lead vocals. This is another wonderfully composed song by Pritam, with great lyrics from Amitabh also. It has a nice romantic feeling to it and I am sure it will go onto win the hearts of many listeners. In general, there is really nothing much to complain about this song, since it contains the right beats and vocals that make it a cool track to listen to!
To sum up, Yeh Jawaani Hai Deewani is a delicious album that will surely satisfy your musical needs. Pritam and Amitabh Bhattacharya have carved a splendid soundtrack, which will certainly go onto become one of the top Bollywood albums of 2013. There are a range of amazing songs in this album that contain the right ingredients which will ultimately enthral you. Therefore, make the time to listen to Yeh Jawaani Hai Deewani. You will be a fool to miss out on this one!