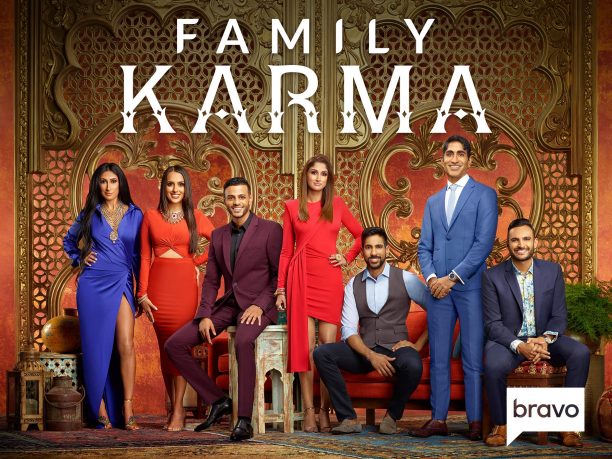 During these tough times, a show like Bravo's Family Karma is the spice you didn't even know you needed for that bland daal you've been eating during your self-quarantine.
What is so cool, except that the show makes everyone want to see more, is that Bravo's Family Karma made TV history because it features an all-Indian cast.
As a first generation Indian-American, I finally felt myself being represented in Family Karma. That thought did immediately get squashed when I realized I wasn't anything like them, with their ultra wealthy lifestyles and life-size statues of themselves, but I could not stop watching. A highly addictive, humorous reality tv show starring an all desi cast of seven friends and their multigenerational families in Miami.
In the first two episodes, we are introduced to Anisha Ramakrishna, Monica Vaswani, Brian Benni, Vishal Parvani, Amrit Kapai, Shaan Patel, Bali Chainani and their moms, the auntie gang.
As these aunties became friends, so did their children over the course of 25 years. As Vishal stated in the first episode, "They had arranged marriages, we had arranged friendships." Through dance classes and temple, these seven friends have been interconnected most of their lives. Now these children have grown up and have moved back home to live with their parents due to financial or personal reasons.
We can't have a show with an all desi cast and not have the pressure of getting married and having kids. Watch this show for Brian and Monica's "will they-won't they" love story. As Vishal tries to sweep everything under the rug, we're ready to flip it over and see if Vishal and Richa will ever have their roka ceremony despite Richa's mom's wishes. And as Anisha sets up her career as a fashion design entrepreneur in her 30s, her grandfather states "You should get married as soon as possible because we don't know when menopause will set in." As the hilarity ensues and the drama increases at the Diwali gala between the aunties, I can't look away and see what happens next.
Catch the first episode on YouTube and plan to get addicted to Family Karma.

Be sure to catch up the second episode and then watch the third episode tonight on Bravo 9PM EST/8 PM CST.
Stay tuned for more!