Many of B-Towns infamous celebrities are regularly snapped at candid events in their comfiest pair of jeans, casual shirts and those cosy pair of loafers. From the likes of Shah Rukh Khan, Akshay Kumar and Aamir Khan, all these heroes prefer to don the understated, informal look! The upcoming and younger generation of B-Town actors, however, are often snapped looking their dapper best! Dressed in a crisp white shirt, a fitted blazer and immaculately polished shoes – these are the stars that often make a fashionable statement. Bollyspice takes a peek into who pulls off the suited and booted look like no other, and observes which of these young stars are looking hot, whilst some of them…not so hot!
Imran Khan: Grey Suited Glory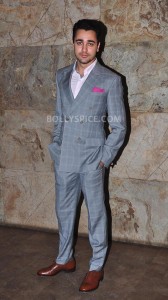 Contrary to his casual appearances across films such as
I Hate Luv Story
's,
Ek Main aur Ek Tu
and his next upcoming release
Gori Tere Pyaar Mein
, Imran Khan prefers to go that extra mile beyond the camera and dress up in his favourite suits. 
He has often gone on record to say that dressing up in formals is the easiest and most fashionable. Living up to his statement, here we have Imran d
ressed in a grey plaid suit indeed pulling off the fashionably suave look. Whilst those terracotta glazed shoes appear a little out of place at the first glance, they do in fact bring out the finer details in the suit- including those vintage style blazer buttons.
---
Arjun Kapoor: Royal Navy Classic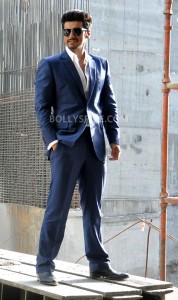 Not only does this young star enjoy looking his finest at candid events in the perfect fitted blazer and shirt, he also enjoys being snapped for magazine endorsements in some of the most sophisticated suits. In fact, Arjun Kapoor is one particular actor who does not seem to create much a buzz in his casual appearances, and often makes heads turn when carrying off the suited and booted look. Posing in a enigmatic deep blue suit, a crisp white shirt with tie, Arjun is oozing sophistication and sensuality in equal measure.
---
Sidharth Malhotra: Bold Black Tux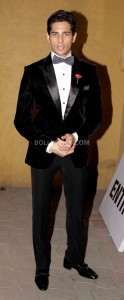 Sidharth Malhotra has to be one of the most charming young stars of the fraternity today and since his debut in Student of the Year, ladies worldwide have been left breathless. Unfortunately, however, the same cannot be said about Sidharth when he is spotted in a formal avatar. Indeed, he has often been spotted dressed-up in similar ways at many events, but this is not to say it has worked for him! Here, Sidharth is wearing a clean black tuxedo with a pristine white shirt. Yet, he appears somewhat uncomfortable and overtly mature. Given his boy-next-door image, I'm not too sure if a black tuxedo and bow tie does justice!
---
Ranveer Singh: Ebony Draped Convenience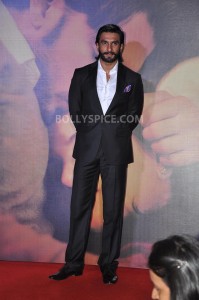 As you may be aware, Ranveer Singh has taken the time to grow his facial hair and tresses for films such as Lootera and the upcoming drama Ramleela. I have often questioned whether the new look brings out the best of his features, and to top it off, I further question whether the suited and booted look works well with this scruffy image? Bringing answers to my questions after seeing this snap, I have to admit that Ranveer has not been capable of pulling off the charismatic formal look. It almost appears as if he has opted to wear this black suit out of convenience, without taking into consideration his under-groomed appearance.
---
Shahid Kapoor: Charcoal Chic Ensemble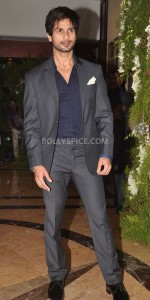 One particular young charmer of the industry happens to master the formal look every time. Shahid Kapoor appears comfortable and relaxed in both informal and formal styles of dressing, however, the way in which he carries off the formal look has been often appreciated. Wearing a charcoaled coloured ensemble with a deep blue shirt, Shahid oozes professionalism and casualness in equal measure. He proves that when wearing the formal look you should master wearing it according to your personal style. Shahid needs no ties or lavish white shirts to make a formal statement, as he is already making a quirky fashion statement in his very own personalised formal appearance.