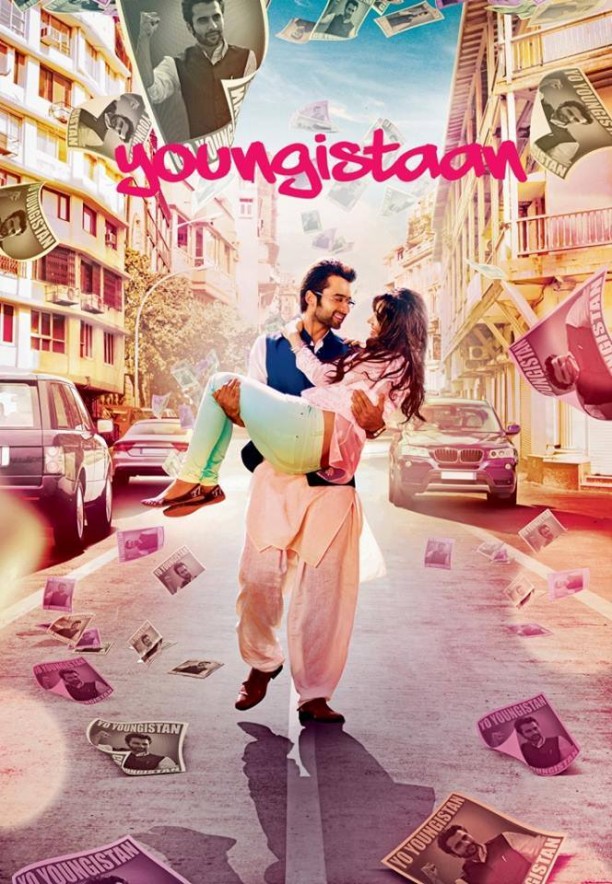 MSM Motion Pictures along with Pooja Entertainment & Films Ltd, unveiled the first look of their upcoming movie Youngistaan, starring Jackky Bhagnani, Neha Sharma, late Farooq Shaikh, Boman Irani etc.
Youngistaan is a story that stands for the youth of the country. A beautiful depiction of emotions and adoration between a modern couple set against the Indian political scenario. A young man, Abhimanyu Kaul played by Jackky Bhagnani after sudden turn of events is expected to fill his father's shoes as the 'Prime Minister' of India. This successful young gamer settled in Japan is summoned to come to India to be with his father. This sweet relationship of Abhimanyu Kaul and Anwita then stands the test of time when Abhimanyu is torn apart between his calling for the nation and his love interest.
The trailer launch was led by a special shradhanjali (tribute) by the lead protagonist Jackky Bhagnani along with the entire cast who convened to pay special accolades to legendary actor late Farooq Shaikh. As a special gesture to mark their last respects to the legend, the entire team of Youngistaan showcased a special montage dedicated to him.
NP Singh, Chief Executive Officer, Multi Screen Media Pvt Limited said, "We at MSM Motion Pictures along with Pooja Entertainment and Films Ltd present Youngistaan which will spell the change in the way this country responds to movies and the message in the film. More than fifty percent of the population of this country are youth and if we do not address their concerns and interests then we are failing the next generation. Entertainment too plays a vital role in changing the face of a nation. Youngistaan will certainly leave a strong mark on the minds of the people who are responsible and want to pave a bright future for their country. Apart from meaningful content, Youngistaan is also backed by great talent like Jackky and Neha, ace music composer Jeet Ganguly & Sneha Khanwalkar, and director Syed Afzal Ahmad. Youngistaan is the voice of today's youth."
Co-producer Mr. Vashu Bhagnani Pooja Entertainment & Films Ltd added, "Youngistaan is an exceptional story that represents the progressive youth of this nation. The story revolves around the lead protagonist Abhimanyu and traces the ups and downs in his life. From an ordinary boy who is living an ordinary life in Japan, to becoming the nominated Prime Minister of the biggest democracy of the world, Youngistaan will touch upon the different facets of Abhimanyu's life that eventually will turn the course of events in his favour and help him emerge as a hero. And along with the first look launch of the movie, we are also paying a special tribute to the legendary actor late Farooq Ji. It was honour to work with him and it's very unfortunate that he is not amongst us today. Farooq ji who will always be remembered as someone who was humble, polite and his warmth will be immensely missed."
Jackky Bhagnani Youngistaan star states, "Youngistaan is a complete entertainer that caters to the fervent and enthusiastic youth of our nation. It centres around the lives of today's youth, who want to be heard and want to make a difference. The movie also traces a beautiful love –relationship between two individuals, whose love has to face the test of time in adverse conditions.  Youngistaan is a very special movie will always remain close to my heart because I got the opportunity to work with the legendary Farooq Shaikh Ji. I would always remember him as someone who always guided and supported me in whatever I did. He was my constant inspiration and I will miss him dearly. Youngistaan is a movie for today's generation."
Youngistaan with its stellar cast and promising narrative and content will appeal to the Youth of the nation. Slated to release on March 28th Youngistaan is soon going to take entire nation by storm!!!
[bolt id="580316″]
This slideshow requires JavaScript.