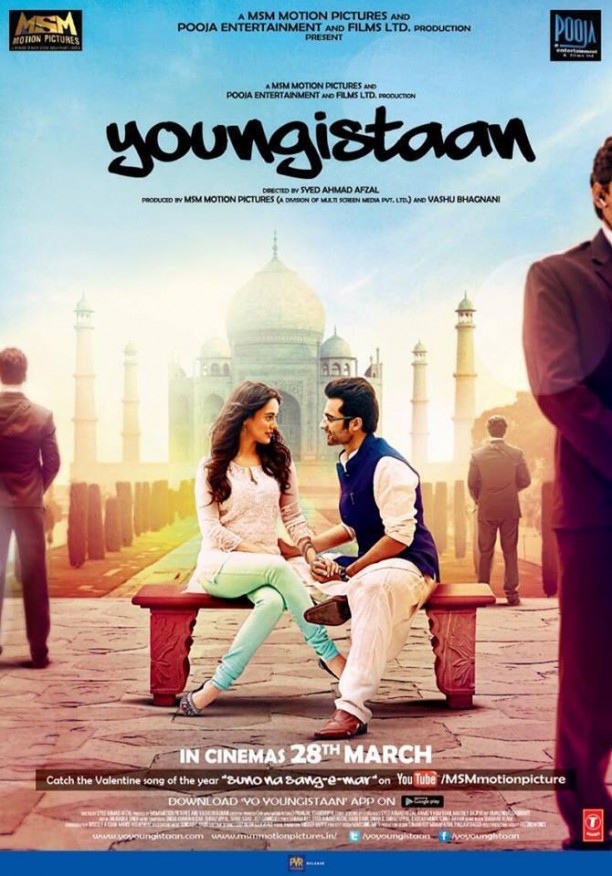 Jackky Bhagnani takes another shot at making a place for himself in the hearts of the audiences and in the industry this Friday. This time around under the care of debutant director Syed Ahmad Afzal. Deemed as an unofficial remake of Telugu critically acclaimed film Leader directed by Sekhar Kammula starring Rana Daggubati, Priya Anand and Richa Chaddah, Youngistaan comes wisely placed at the time of Indian elections.
At the outset it has to be agreed that the concept, whether or not inspired by Kammula's Leader has a lot of merit. Sadly that is the reason why Youngistaan disappoints to a great extent. As an audience member you're eager to see the journey unfold of a young budding PM of the largest democracy of the world. You're as intrigued to find how he's going to merge the old school thoughts and the youth outlook into one. You can't wait to see him juggle a love life, cabinet meetings and paparazzi all at that the same time. However, sadly writers Syed Afzal, Ramiz Khan and Maitrey Bajpai dangle such promising twists and turns in front of you yet never explore them to their full extent.
It seemed like the writers had landmark scenes or rather punch lines set up for the audiences' reaction and then just mixed them together to deliver a film. The flow is choppy and no one aspect is done complete justice to but rather left incomplete. For example, one doesn't quite fathom how Japan based tech genius Abhimanyu, who has gone out of his way to stay away from his father' political linage, so comfortably gets the confidence to propose grand policy changes and deliver power packed speeches.  Perhaps making Abhimanyu's life so far removed from politics was too unrealistic of a writing liberty considering he is to blend within Indian politics 30-40 minutes into the film. In this aspect Sekhar Kammula's Leader fared far better as it showed the gradual development of the young CM into a great 'leader'.
Secondly, you cannot help feeling the representation of politics and what it takes to talk to the population at large is done with a rather naive perspective. Bold steps to reduce tax revenue in the name of helping the youth and making the people accept you with a live-in partner who later is discovered to be pregnant are just things you don't see happening overnight in real-life politics in India, however on-screen here they do. Whether you chalk it up to the make-believe world of cinema or naive writing will be for you decide.
The other major downside of the film is the love interest of Abhimanyu's that is a key element in the script. Sadly as an audience you seldom empathise with Anvi, the girlfriend who isn't overjoyed at the idea of her boyfriend leading a country of over 1 billion people. You can relate to her situation but the performance does not ensure you empathise. You find her to be quite the burdensome relationship in Abhi's life. Again this aspect was far better tackled in Rana starrer Leader where the love interests were very finely etched.
However, that's not to say that it is all downhill with Youngistaan. There are moments of cinematic rejoice such as the opening post interval scene when the young Acting-PM bluntly accepts the controversial side of his life and at the same time connects with the greatest percentage of his voters, the youth. The second impactful moment comes when Abhimanyu delivers his campaign speech and another at the UN. Maybe naive in its content but delivered convincingly enough that you buy into it for the moment.
Needless to say that though not a flawless performance, Jackky Bhagnani is a big reason why the film works in the moments that it does. The actor for once does not sleep walk through the role and gives his best to the content delivered to him. He surprises in emotional scenes post Abhimanyu's father's death. Sadly the same cannot be said for Neha Sharma. She overdoes the melodrama and it doesn't help that her character was one of the major downsides of the film.
There are two reasons you continue to sit in your seat throughout the duration of the film. The first being the potential filled concept and second being the late Mr. Farooq Sheikh who delivers a gem of a performance as he finally bids us adieu. His character's relationship with that of Jackky's is very beautifully penned and their scenes together are what you truly look forward to.
Music of Youngistaan leaves quite an impact as an album however it cannot be denied that Tanki does intrude on the screenplay at times. In fact, this whole introductory portion shot in Japan could have truly be done without. The rest of the tracks in the album are very well utilised.
On the whole Youngistaan is definitely not the most unimpressive film around however nor does it impress you enough to rave about it the moment you walk out of the cinema hall. The film has impactful moments and major lulls also. Jackky does pleasantly surprise you but his performance at points does leave a lot to be desired hence a demand for an actor whose screen presence is a bit more grand yet has the youthful charm the role demanded. Once again you cannot help making the comparison to Rana's performance in Kammula's Leader where his screen presence ensured the job was half done.
Had Youngistaan stuck true to its source material, Sekhar Kammula's Leader, and avoided glossing it over to make it 'Bollywood-ised" and had it had a more impactful lead cast we would have had a gem of a film truly worthy of your attention. Alas we're left with something that is not even half baked, rather quarter baked. Do yourselves a favour and get the subtitled version of the Telugu original because whilst the subject is definitely worthy of a watch, this adaptation of it is mostly certainly is not.