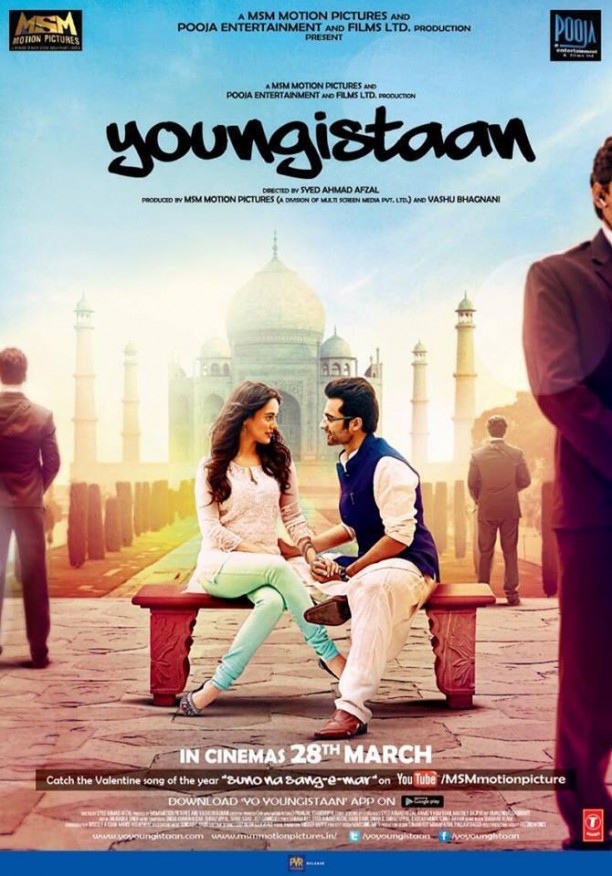 Youngistaan follows the life of Abhimanyu (Jackky Bhagnani of F.A.L.T.U fame) who unexpectedly finds himself in the political spotlight after the sudden death of his father, the Prime Minister of India (Boman Irani – 3 Idiots). The film has been in the media of late due to Bhagnani's styling in the film being a dead ringer for Rahul Gandhi's wardrobe, as well as being the last film featuring the late Farooque Shaikh. Moreover, Youngistaan also marks another notch in Bhagnani's continuous attempts to carve a niche for himself in the industry.
The soundtrack features 4 songs, composed by Jeet Ganguly (Aashqui 2), Shiraz Uppal, Sneha Khanwalkar (Gangs of Wasseypur), Shree D and Ishq Bector (Besharam). Lyrics have been penned by Ahmad Afzal, Shakeel Sohail, Kausar Munir and Jackky Bhagnani.
Suno Na Sangemarmar hit audiences around Valentines Day and quickly became a crowd pleaser. Arjit Singh croons this melodious romantic track recycled from Ganguly's 'Ki Tore Koke' from Bengali film Rangbazz. Lyrics are effective if not entirely eloquent, however, the parallels drawn with the Taj Mahal are endearing. If you find it too slow, the track's remixed version cranks the tempo and delivers an impressive alternative to the original.
Prominent Pakistani singer-composer Shiraz Uppal's Mere Khuda is a decently composed rock ballad but the format borders on mediocrity at the end of the day. In comparison, his second composition, a qawaali titled Daata Ki Diwani, carries a lot more depth and aesthetics, musically as well as lyrically. Rafaqat Ali Khan behind the mike only makes the track more delightful.
Tanki is train wreck in all respects. Khanwalkar's attempt at creating a track akin to Japanese pop (the track is picturised in Japan) is in bad taste while the lyrics are plain ludicrous. The change in vocalists for the second version makes no difference what so ever in salvaging the track.
The title track, Youngistaan, makes a decent effort at being an awe-inspiring yet trendy revolutionary number. Musically, it is a powerful number with vocal talents to match but ultimately fails due to trialled and tested lyrics, almost bordering on stereotypical. There has to be a better way to depict revolutionary youth other than stringing some slangs and YOs together for lyrics. The remix of the track is similarly well arranged but unimpressive as far as the lyrics are concerned.     
Youngistaan belongs to Ganguly and Uppal who manage to make up for the dismal Tanki and the mediocre title track by a thin margin. Suno Na Sangemarmar is undoubtedly the winning number while nuanced listeners will find Mere Khuda and Daata Ki Diwani more appealing. If you can overlook the lyrics, possibly in the face of an inspiring picturisation, the title track may be listenable but Tanki is dead on arrival.
Youngistaan also stars Neha Sharma (Teri Meri Kahaani and Kya Super Kool Hai Hum) in a pivotal role and hits screens 28 March 2014.