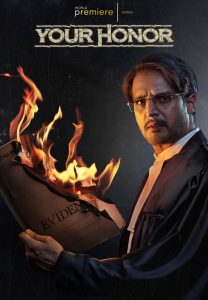 Your Honor (Sony LIV, 12 Episodes)
Starring Jimmy Sheirgill, Varun Badola, Mita Vashisht
Directed by E Niwas
That's what two brilliant actors can do to you. Every time Jimmy Sheirgill and Mita Vashisht are on screen together, you want to see just where their conversation is going. The words they speak seductively encircle their cat-and-mouse game in this energetic engrossing and altogether gripping tale of empowerment privilege and their misuse.
Set in the rugged unkempt heartland where the privileged can get away with murder, literally, and adapted from the Israeli mini- series Kvodo, Your Honor features the ever-dependable Sheirgill as Bishan Khosla, a High Court judge who just weeks before his promotion encounters an unexpected snag: his 18-year old son is involved in a hit-and run which could finish off the Judge's career. The Judge takes the help of a Bihari friend to 'fix' the situation . But before we can say Bishan Accomplished, there is hell to pay.
The story, though not novel or unique in its age-old conflict between duty and family, derives its renewed vigour from the principal performances , and from director E Niwas's propensity to use the unlimited digital space judiciously, slicing through the tension with cuts and leaps in the narrative that are unforgiving in their determination to hold our attention.
It helps the narrative tremendously that the actors are seasoned troupers who know where to draw the line between thrill and shrill . The dramatic tension is seldom over-punctuated, and we are involved in the proceedings to the very end without the tale ever meandering too far from its principal plot.
Jimmy Sheirgill, though a tad too young to play a 50-plus judge pulls off the dilemma of a helpless father with subtle shades of anguish and rage. He gets some splendid support from Vashisht of course, but also the neglected Varun Bandola who is reliably in-character as Judge Bishan Khosla's friend and protégé Kashi who must now pay back favours in illegal ways.
Sheirgill also shares an interesting love-hate relationship with his mother-in-law, played by Suhasini Mulay who is shown to be constantly smoking for no particular reason except to show her unconventional streak. But it's Vashisht's sly cop act that furnishes a vinegary flavour to her conversations with the Judge in the dock. Vashisht plays the cop as a mixture of attentive and disdainful . I just couldn't take my eyes of her stolen steely scornful glances at the guilty-as-sin Judge.
What doesn't work is the father-son relationship probably because we don't know where the callowness of the son's character ends, and the callowness of the actor playing the son begins. But it's all for the best , as Sheirgill's relationship with his son is meant to be uneasy .
Though I found some of the off-and-on Bihari accent a little distracting(and please there is more to Bihari hospitality than Litti and Chokha) on the whole this gripping story of a principled judge straying from the straight-and-narrow path zigzags its way expertly through the elaborate labyrinth in the original.Must watch.