ISHAQZAADE
Ishaqzaade hain jitne fasano mein, milte hain kahan ab jahanon mein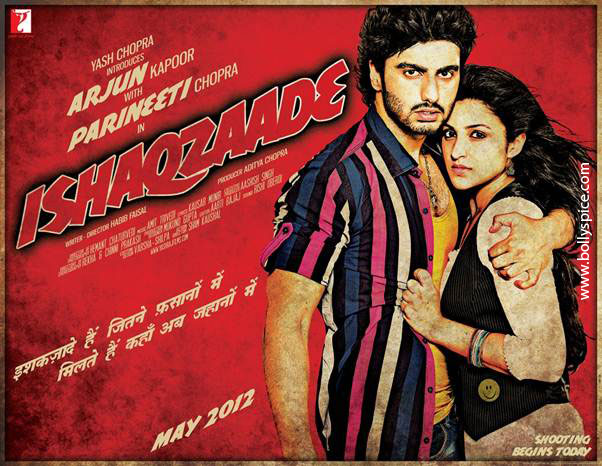 Yash Raj Films has announced its next project, Ishaqzaade! Written and directed by Habib Faisal and produced by Aditya Chopra, the film is the debut for Arjun Kapoor who will be seen opposite Parineeti Chopra. Ishaqzaade went to the floor today and the movie is scheduled for a May 2012 release.
The Story
Rising from the ashes of hooliganism and small town clan wars, comes the love story of a passion ignited by hatred.
Two people. Born to hate. Destined to love.
Follow the story of the ishaqzaade's as their turbulent journey unfolds in the often unrealistic and daunting political confines of rural India.
We have the exclusive list of the esteemed crew working on Ishaqzaade
The Team
Habib Faisal, the award winning director of Do Dooni Chaar and an award winning writer (Band Baaja Baaraat), has also put together a team of immensely talented people, all with tremendous critical acclaim:
Hemant Chaturvedi (Company – 2002, Maqbool – 2004 & Kurbaan – 2009) is the Directo Of Photography.
Amit Trivedi (National & Filmfare Award for Dev:D and Filmfare Award for Udaan – 2010 & acclaimed musical score for No One Killed Jessica – 2011) is composing the music with lyrics by Kausar Munir (Tashan – 2008).
Mukund Gupta, who won the award for best Production Designer for Do Dooni Chaar, is doing the production design.
Aarti Bajaj (Do Dooni Chaar – 2010, Jab We Met – 2007, Dev:D – 2009, No One Killed Jessica – 2011, Rockstar – 2011, apart from several others) will be editing the film.
Rekha & Chinni Prakash, National Award winners for Jodhaa Akbar and with a long list of outstanding achievements credited to their names over the years, will be choreographing the film.
And Sham Kaushal, greatly respected and much awarded for Krrish and Kaminey, is the action director.
BollySpice will be bringing you all the exclusive news on this exciting new project so watch this space for much more!