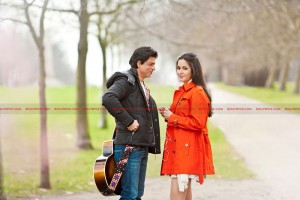 As we said in our last article we need to wait to find out from YRF if London Ishq it is. Well, now we have confirmation that in fact London Ishq it is not.
In a press statement YRF said, "Yash Chopra Movie Still Untitled"
The as yet untitled film, starring Shahrukh Khan, Katrina Kaif and Anushka Sharma, started shooting for its first schedule in the third week of February in London and has created a huge interest and buzz all around.
The film also brings together the award winning pair of A. R. Rahman and Gulzar, who along with Yash Chopra, are working on creating some wonderful and meaningful music.
The film is scheduled for a Diwali 2012 release, the festive time when Yash Chopra movies over the years have lit up homes worldwide.
In the meantime, please await our announcement of the title of this much awaited film."
So now the curiosity is it a song? A scene? Or just they are shooting in London and SRK and Katrina are Ishqing? (is that even a word?) Sadly, we have to wait until Diwali to find out but we, like you, cannot wait!