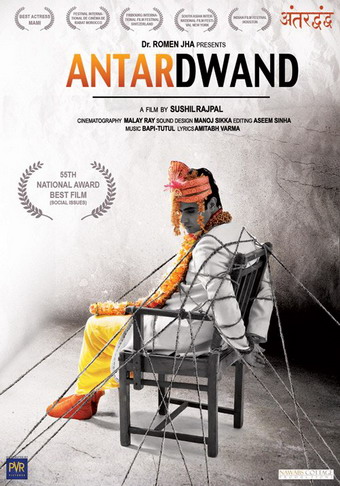 The YRF Home Entertainment catalogue is the most admired label with the growing popularity of home viewing of films. YRF Home Entertainment products are released and marketed not only in India but all over the world including the UK, USA and UAE.
YRF Home Entertainment is now pleased and proud to announce the highly anticipated DVD, VCD & Digital Release of the National Award winning film Antardwand starring Raj Singh Chaudhary and Swati Sen along with Vinay Pathak and Akhilendra Mishra.
Co-writer, producer and director Sushil Rajpal, said the film is 'a true story based on groom kidnapping set against the back drop of Bihar. Groom abduction or "pakrauah shaadi" – a widespread phenomenon in Bihar and Eastern UP is touched upon in Antardwand.
The film is a peep into the reality that is mofussil India, a feudal India refusing to die, it's a story where everybody involved pay a heavy price for the ugly patriarchal power play… it's a society rotting while the country surges ahead to be a global power. Antardwand is a film that stokes the sensitive, thinking viewer's ire, concern and empathy.
Since its theatrical release on August 27 2010, Antardwand has won numerous awards and rave reviews from fans and critics alike. Along with winning the prestigious 55th National Film Award for the Best Film On Social Issues, the film has also won the Best Film Award at The Jagran Film Festival and Best Actress Award at MAMI. Some of the glowing reviews include comments from prominent filmmakers:
Rajkumar Hirani: "An amazing story, honestly told… must watch"
Anurag Kashyup: "A thriller…a reality check and a point made"
Imtiaz Ali: "A film that touches your heart"
Antardwand is a must-see if you haven't already and a great film to add to your YRF Home Entertainment movie collection!