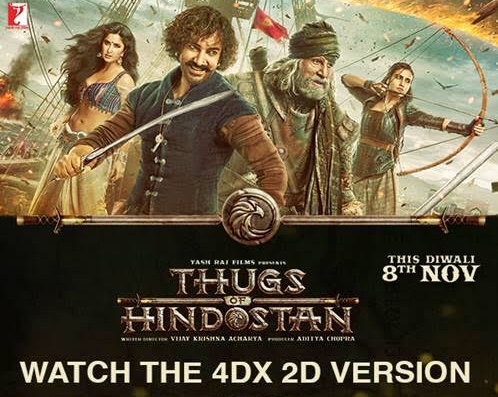 Thugs of Hindostan is definitely India's biggest film ever! Now, Yash Raj Films is taking this extravagant action-adventure to a whole new level of cinematic experience. The Amitabh Bachchan- Aamir Khan starrer will be released in 4DX, the latest movie theatre immersive experience that has taken the world by storm.
Thugs of Hindostan, the action packed mythical mega flick set on the high seas, will release in 4DX at PVR Cinemas and Cinepolis Cinemas in India. VOX theatres in UAE – Oman, Qatar, Egypt and Lebanon. In the United Kingdom, Cineworld will feature the film in 4DX. KNCC will show it in Kuwait, and Mars cinemas in Turkey. The film will also release in this innovative, mega sensory experience in France.
Watching a film in 4DX is like being a part of the story in more ways than one. One can touch, feel and sense many moments that happens onscreen. From explosions of fog, smoke or a gentle breeze, this viewing experience makes a viewer feel all of it, while sitting on specially designed seats with specially positioned sound systems. One can also smell different scents and feel a turbulent storm raging onscreen. While watching Thugs of Hindostan, details of a raging sea, an action packed battle and elements like sword fights and changes in weather will be felt vividly on 4DX. One can also feel bubbles and droplets of rain. This technology is the ultimate in state of the art technology delivering a fully immersive cinematic experience. Inside every dedicated 4DX auditorium, motion chairs and environmental effects such as wind, bubbles, and scent work in perfect synchronicity with the action on screen. By taking Thugs to a 4DX experience, Yash Raj Films has taken a quantum leap for Hindi cinema to a whole new way of enjoying the magic of movies.
Yash Raj Films Thugs of Hindostan is the biggest visual spectacle hitting the big screen this Diwali. It boasts of a larger than life, never seen before action extravaganza and an incredible casting coup that brings together two of the biggest legends of Indian cinema, Amitabh Bachchan and Aamir Khan on screen for the first time. The film also stars Katrina Kaif and Fatima Sana Shaikh.
Thugs of Hindostan has been directed by Vijay Krishna Acharya and produced by Aditya Chopra. It is set to release on November 8, a national holiday, in Hindi, Tamil and Telugu.