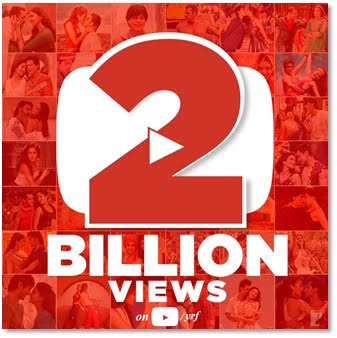 YRF's main YouTube channel (www.youtube.com/yrf) has hit the 2 billion view benchmark, strengthening its standing as one of the leading channels in the film and animation category from India.
YRF started its channel back in 2006 and has already amassed more than 5 million subscribers and over 3 billion views collectively across its channel network. With over 6000 entertaining videos, YRF currently boasts of 44 YouTube channels in its network.
"Such an accelerated growth only indicates the potential of the digital medium in promoting Hindi cinema content worldwide. We're proud of reaching this milestone and will continue our endeavour to entertain audiences globally." said Anand Gurnani, Vice President – Digital, Yash Raj Films Pvt. Ltd.
With no further ado, here are YRF's YouTube channel highlights. Next stop? Five billion views.
» In the 'Film & Animation' category, YRF's YouTube channel features at #1 in India and at #9 worldwide.
» In the most-viewed and most-subscribed category, the channel ranks at #7 in India.
» YRF's Sultan trailer has become the most-liked Bollywood trailer on YouTube with over 26 million views.
» The channel features 36 videos that have clocked over 10 million views each.
» 'Jabra Fan' song video from Fan is the one of the few songs to reach fastest 50 million views.
» 'Kamli' song video from Dhoom:3 remains the most popular and most-viewed video on the channel, with over 97 million views so far & counting.