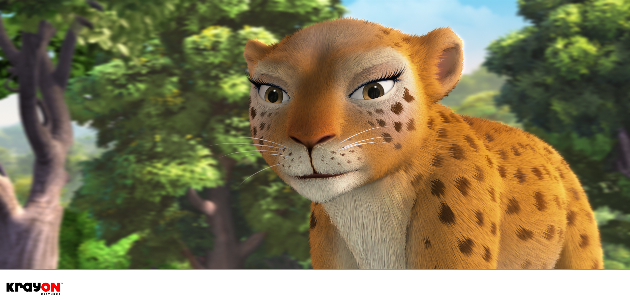 We have been telling you about the exciting animated film by Nikhil Advani title Delhi Safari, which is set to hit theaters on October 19th. Jungle animals threatened with deforestation fight back against the Indian government in the upcoming 3D animated adventure. Providing comedic fun for audiences of all ages the film features an all-star voice cast including Govinda as a militant monkey, Akshaye Khanna as a rogue parrot, Urmila Matondkar as a determined queen, Swini Khara as the cute cub Yuvi and Boman Irani as a know-it-all-bear. It also boasts music by the great Shakhar-Ehsaan-Loy! Delhi Safari won the Best Animated Feature Film award at FICCI FRAMES 2012 and has been endorsed by PETA (People for the Ethical Treatment of Animals). It will also be released with an English version of the film features voices by Jason Alexander, Brad Garrett, Vanessa Williams, Jane Lynch, Christopher Lloyd and Cary Elwes.
Now a very cool thing has happened the cute leopard Yuvi the brave and adorable cub is going to be Borivali's Sanjay Gandhi National Park Mascot!
Talking about why they chose Yuvi as the mascot, Sunil Limaye, Chief Conservator of Forests & Director SGNP said, "The leopard cubs in SGNP share the same problem as Yuvi in ther film. The National park is their rightful home and its getting encroached upon from time to time. Because of man/animal conflict the leopards are getting killed and their lives are in constant threat. Yuvi would stand for all their problems!!"
Not only that he intends to put up banners (20×10), not only inside the park but along the border of national park, "All the animals in the park face issues like loitering, noise and constant encroachment. Putting normal banners with real animals will not interest anyone to look at it. Since Yuvi and the characters in the film are attractive and good, it would be a best idea to use them instead."
He also stated a project Save Mumbai National Park and says those who support the park are excited and thankful Delhi Safari has been made and is getting a worldwide release. "All the members are grateful that such a movie is been made and is helping them in their cause."
Delhi Safari synopsis: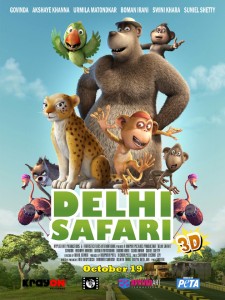 Just another day! The animals of Borivali National Park wake up and go about their business as usual. It is an ordinary day for each of them except Yuvi, the young leopard cub. For him it is going to be a day that will change his life forever. For today is the day that he will learn the importance of tradition from his father Sultan – Leader of the Leopards. But his lessons will remain unfinished and end in tragedy, as Sultan will find himself surrounded by humans that will hunt him down and kill him. Humans who have only one agenda – clear the forests, kill the animals, and construct multi-story buildings.
So begins the story. A story of how a group of animals – a leopard cub named Yuvi and his mother Begum along with Bajrangi the hot tempered monkey and Dr. Bagga the bear, his anger management guru – decide to take their petition to the leader of the humans in Delhi… the ministers that work in the parliament. To reach this impossible achievement they must do two things. One – kidnap Alex the parrot who can speak the language of the humans and so will become the voice of the animals. And two – travel from Bombay to Delhi. The journey across the country becomes a journey where enemies become friends and a family comes together to fight for what rightfully belongs to them.
Check out the trailer too!