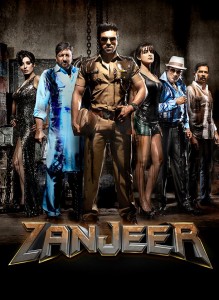 The biggest hurdle that a remake has to cross is the passion of the fans of the original. Zanjeer 1974 was no ordinary film. There was so much to this film that made it extraordinary: classic in status, the Angry Young Man icon for Amitabh Bachchan, the genre shift from romance to action with story-telling and let's not forget Mona Darling. Pretty hefty stuff if you think about it. Nevertheless, the fresh team for Zanjeer 2013 headed by Apoorva Lakhia, has had a debut, a comeback of sorts and enough off screen drama to give a bit of original hype to the remake. But hype doesn't make up for audience impact nor an entertaining story. Ok so the original film was of the same simple story of revenge and action and yes, it had a bigger hand in Amitabh's life than played by Ram Charan. But in the end, the fact that this remake falls prey to being a poorly made remake shows that not all films can be adapted to the times and times have changed.
The story has been seen enough times for anyone to pick a screenshot and know what is to happen next so no attempt to bore with the details will be made.
Most people will tell you that doing cliche is no rocket science, something this writer too has done in the past. Yet it comes back to one thing. The era of films have changed. The audience has changed. So yes, Zanjeer is your typical masaledaar fest with enough throwback to show respect to the original but enough ingenuity to pack in its own garam quotient. However it all falls flat on the questionable writing skill of Suresh Nair and Apoorva Lakhia. There is no suspense, no build up to the climax, not even a smoky effect of 'expect the unexpected'. Everything just goes by the checklist and like the dialogue, makes no bones about being crass. Right from the Shaqila Bano item number to the logic-lessness.
Yet the good versus evil caper has its moments and that is thanks to the cast and their performance. Namely evil Sanjay Dutt turned good Sanjay Dutt and the two junior artists that play Amar and Prem. Playing the Pathan 'Sher Khan' is like cheesecake for Sanjay and he turns out to be the only one that stays in character for the entire film. Right from lead Ram Charan, who goes from being strict and stern as Vijay Khanna then comical when Amar-Prem turn up for rib-tickling, to Prakashraj, as he goes from being nothing but evil with confidence Teja in one scene to an old guy with a penchant to rhyme everything he says. Even Atul Kulkarni, playing a street-smart journalist with integrity Jay Dev, has a blonde moment.
But also, even with the cast, one has to wonder what was going on in the minds of the makers. Fair enough, Ram Charan steps back into the newbie-ville he catapulted out of with his Telugu film Magadheera, with his Hindi debut and the actor does try very hard. But when it comes to acting, if your face is motionless, your voice plays a huge role in saving you and his dubbing voice simply falls flat. A decision that cost Ram Charan crucial brownie points. Not to mention it was barely in sync with his lip movement. Priyanka Chopra was probably having starter troubles with the return to leading lady or was too preoccupied with her music career to notice how ridiculous her 'simple NRI ladki role was, even if it was fleshed out more than Jaya Bachchan's in the original. Mahi Gill was only there for shock value and a few funnies but there was no shock to add value.
It's not to say these people aren't talented since each has their respective filmographies does show it and that may be the reason for Gautam Parvi for casting them. But what happened, Apoorva? Resources to make worthy return to direction after 5 years, and we get nothing. Lack of vision maybe. Due credit should be given and in this case, the cinematography by R.J. Gururaj is crisp. Editing or production design by Chintu Singh and Sunil Nigevkar respectively werent half bad but for dollar value floating in the rumour mill, one would have expected much more. Yet when the ships captain is directing you into the iceberg, it doesn't matter if the Titanic looked good.
Final call for Zanjeer boils down to simple things. Noone could undo self inflicted shackles. And Sanjay Dutt is the savior among the slaughtered.